CAMERA was instrumental in convincing the Newseum, Washington, D.C.'s journalism museum, to "reevaluate" its decision to add the names of two Hamas members to its "Journalists' Memorial." The following chronology charts developments leading to Newseum officials' announcement of the change just before the May 13 honors ceremony:
Thursday Morning, May 9, 2013:
The Weekly Standard posts "Newseum to Add Two Dead Terrorists to 'Journalists Memorial," by Daniel Halper. The item links to Newseum's own announcement, with pictures and short biography of each honoree.
Thursday Noon, May 9:
CAMERA Washington left a voice mail message for Scott Williams, Newseum vice president of sales and marketing, asking to speak with him regarding the decision to honor Hamas, Syrian State Television, Iranian Press TV and other terrorist-affiliated "journalists."
1:34 p.m., May 9:
1st CAMERA e-mail to Williams, copied to Jonathan Thompson, Newseum manager of media relations, detailing the disqualifications of Hamas TV crewmen Mahmoud Al-Kumi and Hussam Salama, and other honoree-designates and urging the Newseum to reconsider and strike their names.
3:34 p.m., May 9:
2nd CAMERA e-mail to William, copied to Thompson and Cathy Trost, Newseum Vice President of Exhibits and Programs, stressing that Basel Tawfiq Youssef, of Syrian State Television, other Syrian state media representatives and a staffer from Iran's English-language Press TV propaganda arm operated in a manner similar to al-Kumi and Salama and asking to speak with Newseum officials as soon as possible.
12:40 a.m. Friday, May 10:
BuzzFeed Web site posts "Think Tank Could Pull Event From Newseum Over Hamas Memorial" by staffer Rosie Gray. Quotes Cliff May, president of the Foundation for the Defense of Democracies: "I know the difference between a reporter and a terrorist propagandist. I'm hopeful that the folks at the Newseum also are able to make such distinctions."
3:56 p.m., May 10:
JTA posts news brief "Newseum upholds decision to include Palestinian 'terrorists' on honor list." Notes Israeli embassy request via Twitter to "take a 2nd look" and Human Rights Watch's claim the two were noncombatants wrongfully killed by Israel.

Friday, 11:15 a.m., May 10:
CAMERA Alert "Newseum to Honor Hamas Members, Syrian and Iranian Propagandists as 'Fallen Journalists'" sent to e-mail letter-writing team members.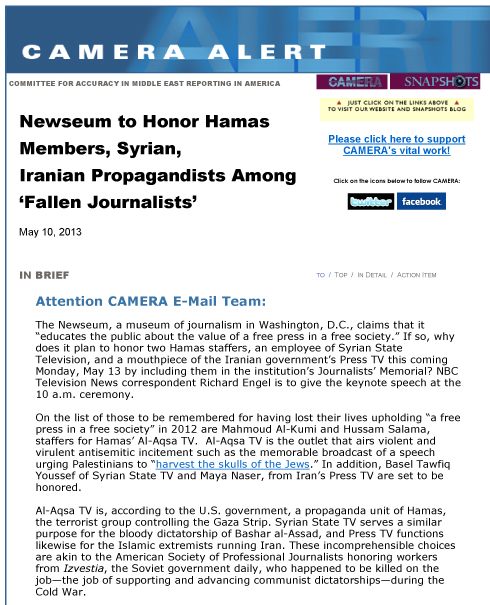 Sunday, 9 p.m., May 12:
Washington Examiner publishes Op-Ed by CAMERA's Eric Rozenman, "Newseum Discredits Itself by Honoring Terrorists."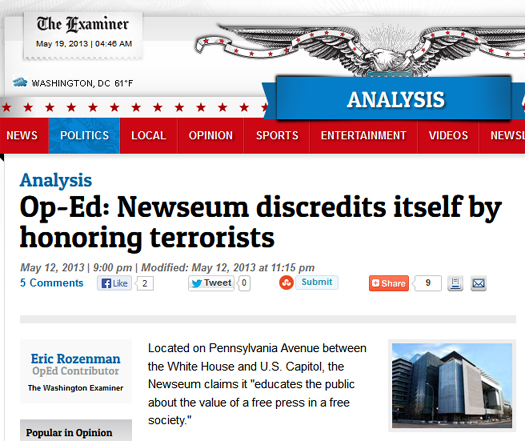 Monday morning, May 13:
Examiner print edition publishes CAMERA's Op-Ed.
Monday morning:
USA Today (Gannett-owned; Gannett funds Newseum's Freedom Forum) publishes Newseum ad "Honoring Fallen Journalists," which includes al-Kumi, Salama and Syrian state media and Iranian Press TV honorees.
6:02 a.m. Monday:
The Times of Israel posts "ADL raps journalism museum for honoring Hamas cameramen; Group charges move by Newseum in Washington is 'an insult to other journalists'; museum defends choice," by Haviv Rettig Gur. Article says ADL acted on Sunday (May 12).
7:53 a.m., Monday:
CAMERA Snapshots blog posts "Update: CAMERA Op-Ed: Newseum Discredits Itself" with information that Newseum is "reevaluating" al-Kumi and Salama's eligibility for its "Journalists' Memorial" and link to Washington Examiner column.
10:29 a.m., Monday:
Huffington Post publishes "Newseum Reverses Decision to Honor Hamas-Linked Journalists Following Pressure" by Michael Calderone. The last paragraph says "On Sunday night, Anti-Defamation League national director Abraham Foxman joined several other groups in condemning the plan to include the two [Hamas] men on the wall."
11:12 a.m., Monday:
JTA posts "Newseum reconsidering honor for slain cameramen linked to Hamas." Article notes:
A number of pro-Israel groups, including CAMERA, the Anti-Defamation League and the American Jewish Committee, had called on the Newseum to rescind the honor.

In an Op-Ed for the Examiner newspaper, Eric Rozenman, CAMERA's Washington director, said it was anomalous to honor employees of organizations that are instrumental in repressing free expression. … "
(This chronology does not include all calls and e-mails to and from CAMERA Washington to other concerned organizations and potentially interested news media.)