Huffington Post Arabic has shuttered its doors. Leaving aside what prompted the powers that be to discontinue publishing their materials under the well-known and longstanding Huffington Post brand, it's important to note that, with the closing of the Arabic site, the Muslim Brotherhood and its supporters, such as Hamas, have lost an important mouthpiece.
Shortly after Huffington Post Arabic's 2015 launch, The Guardian's Brian Whitaker charged "that [Wadah Khanfar] the editorial director of Huffington Post's Arabic offshoot is a Qatari known for his pro-Islamist stance and its Egyptian editor-in-chief is a self-declared member of the Muslim Brotherhood."
Khanfar, the former editorial director of Huffington Post Arabic, previously served as director general of Qatar's Al Jazeera. A synergy between the two news outlets, with Khanfar as the apparent conduit, foreshadowed his later role at the American site.
While the web site operated thanks to the American principle of freedom of the press, on numerous occasions it failed to uphold key Western tenets of professional journalism. For instance, there was not a single other media outlet in the Arabic language that operated with the pretense of providing serious coverage, and yet which simultaneously gave voice to expressions like "the Zionist enemy" or "the Israeli entity." In addition, no other Western news site so diligently served the role as spokesperson for senior Hamas members by republishing declarations previously appearing in Hamas media outlets. Moreover, Huffington Post Arabic violated a basic journalistic standard by using Hamas material without informing its readers of the source.
Thus, the Huffington Post did not manage to impart professional journalistic standards and practices for serious coverage into the realm of Arabic-language Western media outlets. To the contrary, from the moment that a Qatari company gained ownership of the Arabic site, it served as a tool in the political and media conflict between Doha and a number of Arab and Gulf capitals. Qatar's fingerprints were all over the Huffington Post site, and this carries over into the new incarnation of the site, Arabi Post.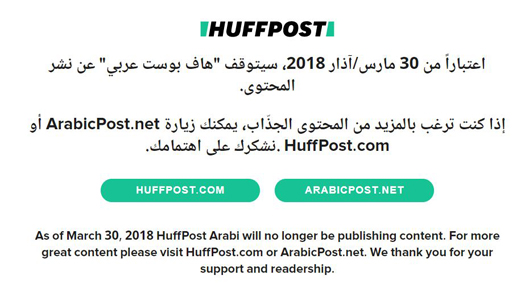 While it was possible to send feedback and even prompt corrections at Huffington Post Arabic, the new site does not provide any means of communication. Nor does it provide any information about its ownership. It is not possible to verify whether Huffington Post Arabic editors maintain their positions at the new site. In any event, as the Arabic proverb says: "The ass who goes looking for horns returns without ears." The Huffington Post Arabic editors attempt to plant a new discourse into Arabic-language Western media outlets was a failure, costing them the Huffington Post imprimatur.
For the Arabic version of this post, please see CAMERA Arabic.