On April 5, it was back to work for Laila Odeh, France24 Arabic's veteran Jerusalem correspondent after sitting at home briefly in the wake of a devastating CAMERA Arabic exposé detailing her social media posts celebrating terrorists as "martyrs" who "ascended to the highest heavens." Odeh's return also signaled a return to business as usual — in this case, egregious anti-Israel coverage — for her colleagues at the Arabic service of the publicly-funded French network.
Though the network last month confirmed CAMERA Arabic's findings about Odeh's hateful, unprofessional activity, France24 executives in Paris inexplicably permitted her to return to her position without even requiring retractions, let alone an apology. CAMERA previously warned that this move is not only offensive towards Jews and Israelis, but also broadcasts a clear and dangerous message to the cadre of France24 Arabic journalists for whom professional practices of ethical journalism are subordinate to an extreme anti-Israel agenda: the Jewish people and state are fair game.
As Odeh joyfully settled back into work during a particularly volatile time of increased violence — just two days before two Arab terror attacks which claimed four more innocent civilians, British-Israeli sisters Maia (20) and Rina Dee (16), their mother Lucy, and Italian tourist Alessandro Parini — CAMERA Arabic's prediction of troubled coverage has proven to be well founded.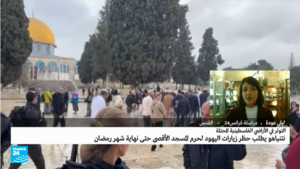 Within the 48 hour period between Odeh's return and the West Bank terror attack targeting the Dee family, France24 Arabic reporters repeatedly rehashed a favorite libel from last Ramadan. In their distorted telling, Jewish civilians visiting (and, occasionally, praying) outdoors on Jerusalem's Temple Mount, Judaism's holiest site and the third most sacred site in Islam, are "settlers storming al-Aqsa Mosque."
Days before her suspension in early March, Odeh cited "settlers storming al-Aqsa Mosque." Immediately upon her return, she was nominally more guardedly replaced "settlers" with "observant Jews" and "al-Aqsa Mosque" with "al-Aqsa Mosque compound." But, in repeated instances, she persisted using the term "storming" in reference to their visit.
Shortly after Odeh's return, pundit Khaled Gharabli also cited "settlers storming al-Aqsa Mosque compound," and later on referred to the entire compound as "the Mosque." Additionally, for the third time in two years, he questioned on air the ancient location of the Jewish Temple, ascribing this historical fact to a "belief" possessed by "some" in Israel.
Ramallah correspondent Majed Said went a step further. On top of citing "settlers storming blessed al-Aqsa Mosque," he also referred to the Gazans who launched rockets at Israel's civilian population as "the Palestinian resistance."
And finally, Taoufik Mjaied hosted a special guest to discuss "the settlers" and the way that they "storm al-Aqsa Mosque." The alleged expert on the topic was, to quote Mjaied, "journalist" Rabee' 'Eid, identified as "a Palestinian from Haifa." Known to English news readers as the student who heckled Barack Obama's Jerusalem speech in 2013, this is how 'Eid last month described his journalistic work: "My work as a journalist, and even as a film director, never means to be impartial. I am biased in favor of my Palestinian people and its just cause of liberation from the barbaric settler-colonialist regime that we live under, and all the evil it stands for … ."
In the same March 2023 interview, 'Eid also said that the "colonialist" regime, referring to Israel in its entirety, which he, as a resident of "occupied Haifa," is subjected to, is the last in the world which is yet to be "dismantled."
'Eid's latest project is a series of publications charging that Deutsche Welle's antisemitism probe was biased towards Zionism. Working with Moshe Zuckermann, 'Eid served as an apologist for Deutsche Welle employees dismissed from their positions, whitewashing their social media posts containing Holocaust denial, support for killing Jewish civilians and statements on Jews "controlling people's brains through art, media and music."
In other words, France24's special guest offering his expertise on "settlers storming al-Aqsa" is an antisemitism apologist who thinks Israel should be dismantled altogether.
Notably, this partisan language is only abundant in France24's original Arabic material. When the outlet reproduces Arabic reports from Agence France Presse, for example, basic journalistic standards appear once again. For instance, an April 5 AFP article published on France24's Arabic site reported: "Palestinians reject the admittance of Jews into the Jerusalem sanctuary and their prayer inside it. They consider these acts of 'storming' a provocation against them."