Potentially Millions
of C-SPAN (Cable-Satellite Public Affairs Network) viewers were subjected to a live broadcast of a one-day conference titled, "The Israel Lobby and American Policy," at the National Press Club in Washington, D.C. Ostensibly aiming to analyze the role that the "Israel lobby" plays in the U.S.-Israel relationship and determine if it is positive or negative for both countries, the conference provided only anti-Israel speakers who slammed Israel and its supporters particularly the American Israel Public Affairs Committee (AIPAC) and Christian Zionists. Included was a swipe at Committee for Accuracy in Middle East Reporting in America (CAMERA).
The March 2 event
hosted by Institute for Research: Middle Eastern Policy (IRmep) and American Educational Trust (AET), opened with this remark: "We would like to welcome you all to today's conference. Once again the conference is convening on the eve of the annual AIPAC convention where a bipartisan group of Congressmen and officials will gather to reaffirm their unwavering support for the state of Israel." (AET's Dale Sprusansky).
Thus, the conference was scheduled slightly ahead of the AIPAC conference (held on the following Monday, March 5), aiming to discredit it and supporters of Israel. The IRmep/AET event was re-broadcast on March 5. C-SPAN's online blurb promoting the event, claims that it provides "a broad overview of the U.S. and international response to the Israeli-Palestinian situation and the role of special interest groups. They also provided historical and legal context to argue how the Israel lobby influences Middle East policy."
Grant Smith, Director of IRmep, set the tone for the speakers to come in his conference-opening monologue exaggerating the influence of supporters of Israel ("Israel lobby") and falsely claiming that such influence victimizes voters:
• "The Israel lobby … is an eco system of organizations that advance Israel at very many levels, and this is on track to be a $6.3 billion industry in 2020. Nearly 500 separate medium sized to major organizations, with certainly AIPAC and the American Jewish Committee and the Anti-Defamation League and many others at the top …"
Whether exaggerated or not, the true numbers are most likely matched or exceeded by the anti-Israel side which includes IRmep and AET as well as, among others, the rulers of several oil-rich Arab countries.
• "The Christian evangelical wing, which is highly supportive of Israel and overwhelmingly voted for Trump, has become absolutely vital to the lobby. And within the Israel lobby eco system, it's become a player. Christians United for Israel [CUFI], the International Fellowship of Christians and Jews [IFCJ] are financially inconsequential, if you add it up, compared to the mainline Israel lobby support organizations, but their votes are not inconsequential… we've got 80 million Christian evangelicals and 95 percent of them say that Israel is a primary or important factor in selecting their presidential candidate."
Curious is the assertion that CUFI and IFCJ are "financially inconsequential" compared to the "mainline Israel lobby support organizations." It's likely untrue regarding CUFI or its founder and national chairman John Hagee. Meanwhile, IFCJ is not a "lobbying" group. It is mainly, if not exclusively, devoted to assisting impoverished Jews residing in Europe or Israel. A subsequent speaker, Thomas Getman, a Christian theologian, falsely impugned Christian supporters of Israel (more below).
• "The approach to the Middle East in terms of the Republican and Democratic party platforms in 2016 were nearly identical. Republican planks, a little bit more strident, but they're basically asserting shared values, no daylight in policy between the two parties and essentially no choice for voters."
Smith would have viewers falsely believe that the two parties are indifferent to voters in terms of support for Israel. This is demonstrably false. Claiming a sharp reduction in support among all Americans for Israel over the past several years, except for Republicans, Smith, displaying a chart, asserted: "In this Pew Research survey of American adults, January 10-15 of this year, we can see that support simply among Democrats and independents for Israel, has tanked at 27 percent and 42 percent sympathy respectively… Among the Republicans, there's near unanimous sympathy for Israel."
But the Gallup organization's polling contradicts this. Gallup's polling, during February 1-10 of 2018, shows that Democrat support for Israel (in the conflict with the Palestinians) is essentially the same in 2018 (49 percent) as it was when President Obama took office in 2008 (48 percent). Just 27 percent of Democrats today favor the Palestinians. Just 19 percent of Americans today sympathize more with the Palestinians than with the Israelis. When asked simply whether they viewed Israel favorably (rather than to choose a side in the conflict with the Palestinians), 83 percent of Republicans, 72 percent of independents and 64 percent of Democrats view Israel favorably.
The Israel lobby spends a significant amount of resources pressuring the media in trying to shape the narrative, and there are specialty organizations such as the Committee for Accuracy in Middle East Reporting in America [CAMERA] and Facts and Logic About the Middle East [FLAME] and the Israel Project, that do nothing else, but such as watching who comments on C-SPAN every morning and then making a big deal out of it if it's not particularly happy about [the comments on] U.S.-Middle East policy.
The chart shown to the audience includes a screen shot of CAMERA's homepage teaser for its C-SPAN Watch feature monitoring ("watching the comments on C-SPAN every morning") the daily Washington Journal call-in show.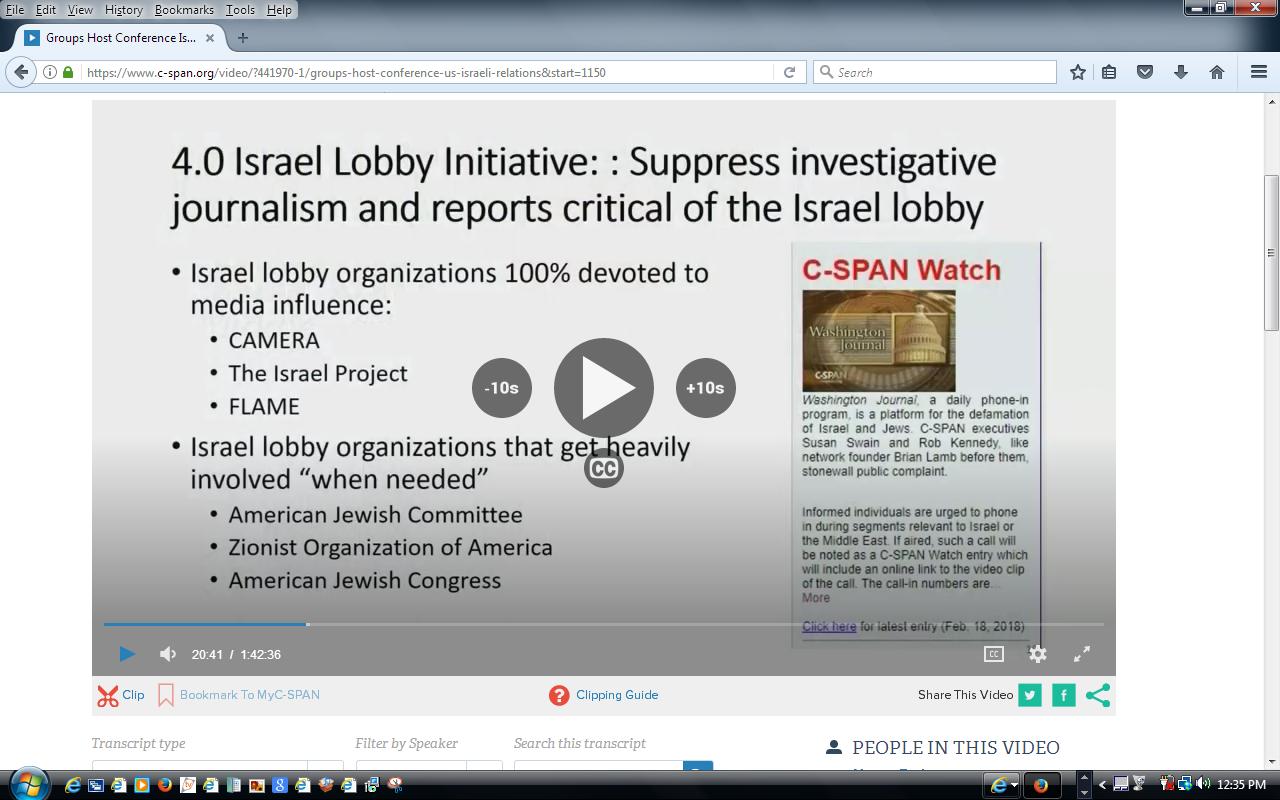 CAMERA's C-SPAN Watch feature, which provides the only monitoring of Washington Journal available publicly (at least online), shows conclusively that Jews are, and have been over a period of several years, the only ethnic/religious group and Israel the only nation, routinely defamed in broadcasts seen by potentially millions. The public service network, granted special privileges by the U.S. Congress, rarely challenges or even disassociates itself from the inflammatory, mendacious rhetoric.
Furthermore, Smith failed to acknowledge that the "C-SPAN every morning" show has included calls from Smith himself (failing to identify himself as IRmep Director), documented in C-SPAN Watch. The voice of Washington Journal caller "Grant from Washington, D.C." matches the voice of this Grant Smith. His voice was heard when he called in on Jan. 2, 2018 to make the baseless accusation that "the Israelis were in collusion with a [U.S.] plant owner … [and they] stole enough weapon grade uranium to build 10 nuclear weapons." On Nov. 15, 2017 Smith called in to defame Israel and AIPAC. On May 9, 2016 Smith advocated for "Muslim American" groups in opposition to Israel and vilified "Israel Lobbyists.
A discredited theologian
Aiming to discredit Christian Zionism and its support of the Jewish state, the
conference presented
Thomas Getman, a theologian who is not to be believed. Getman's problematic past activities and utterances regarding Israel and Jews are documented below. Here he provided his biased version of the history of Christian Zionism including the easily challenged claim that it "cherry-picked biblical references to apply to a physical state for diaspora Jews" to justify support of Israel. Likewise, he stated, "Genesis 12 has been the basis of much of Zionist propaganda that God would bless those who bless you—to Abraham—and, above all, the people you curse, He will curse. The fact is that the promise wasn't made to Israel. It was made to Abraham, the father of all of us."
The passage referred to is Genesis 12:3: "I will bless those who bless you, and whoever curses you I will curse; and all peoples on earth will be blessed through you" (NIV).
Contradicting Getman, the biblical contextual interpretation by normative Christianity, as well as Judaism, has always been that the promise is to Abraham and his covenantal descendants, the Jewish people.
What Getman is trying to do here is to undermine the unique Jewish claim to the land of Israel by invoking Abraham's status as the father of three faiths, not just one (Judaism) and then suggest that the two other Abrahamic faiths (Christianity and Islam) have the same claim to the land accorded to the Jews. A problem for Getman is that there are a number of other passages in the Bible which affirm the unique Jewish claim to the land of Israel. After the passing of Abraham, his son Isaac was promised in Genesis 26:24: "I will bless you and will increase the number of your descendants for the sake of my servant Abraham" (NIV). And to Jacob, grandson of Abraham, in Numbers 24:9 is: "… May those who bless you be blessed and those who curse you be cursed" (NIV). Jacob, later given the name Israel, is regarded as the Patriarch of the Israelites. Psalm 115:12 states: "The Lord remembers us and will bless us; He will bless his people Israel" (NIV).
There are other promises specifically about the Land, including Genesis 15:18: "On that day the Lord made a covenant with Abram and said, 'To your descendants I give this land, from the river of Egypt to the great river, the Euphrates.'" (NIV). In Genesis 17:8: "The whole land of Canaan, where you now reside as a foreigner, I will give as an everlasting possession to you and your descendants after you; and I will be their God" (NIV).
Over the years, many Christians have concluded that God's promises to the Jewish people endure even after the founding events of Christianity and that God's promises to Christians do not abrogate or contradict his promises to the Jewish people. Gerald McDermott, Ph.D, who serves as Anglican Chair of Divinity at Beeson Divinity School of Samford University in Alabama, has written extensively about this issue, concluding that God moves from the particular through the universal and does not abandon the particular as He proceeds. That the "gifts and calling" given to the Jews as described by Paul in Romans 9-11 still abide, McDermott concludes.
Relying on McDermott's work, CAMERA's Dr. Tricia Miller argues that in-depth analyses of Christian Testament writings shows that "the people and land of Israel are significant concerns in the gospels of Matthew and Luke, the book of Acts, and the epistles of the Apostle Paul. In contrast to what is often believed, Paul's writings do not eliminate the particularity and irrevocability of the covenant promises made to Israel – promises that include a particular land. To the contrary, as Romans 11:29 declares, '…the gifts and the calling of God [to Israel] are irrevocable.'" ("Christian Zionism: The Antidote for the World's Oldest Hatred," New English Review, June 2015).
CAMERA researcher Dexter Van Zile, writing in
The Commentator
, has documented
Getman's inflammatory rhetoric.
Getman once referred to Hassan Nasrallah, the leader of a violent and antisemitic terrorist organization, as "a friend." Nasrallah has stated that he someday wants to help destroy all the Jews in the world once they all gather in Israel. Getman called Nasrallah a "friend" years after he left the payroll of World Vision, a Christian child welfare charity, but when Getman worked as policy director for the organization he once submitted written testimony in court over a custody battle between a woman who took her children out of Israel (without her ex-husband's permission), and the ex-husband who still lived in Israel. In the case, which took place during the Second Intifada,
Getman told the court
that Israel was an unsafe place for children to grow up. "I believe it would be unwise for Jewish children to return to Israel at this time if they have an alternative option," he wrote. It was an astonishing propaganda stunt for a World Vision official to engage in.
Also, during the Second Intifada, Getman penned a reflection in which
he wrote
: "It is being suggested by several journalists that a purposed ethnic cleansing is the last gasping effort of a dying Zionist vision in order to sign a death warrant to a parallel viable Palestinian state." So, here was a person working for a Christian child welfare charity assailing the legitimacy of the one state in the Middle East where children are the safest.
CAMERA's Dexter Van Zile contributed to this section.
Outrageous Israeli columnist Gideon Levy

Conference keynote speaker Gideon Levy, Haaretz (daily newspaper) commentator, a regular at these IRmep/AET annual meetings bashing Israel and its American supporters, again appeared before an appreciative audience (frequent applause) where he was fully in synch with the theme of the meeting including promoting his 2010 book "The Punishment of Gaza."
In a report on Gideon Levy, CAMERA's Ricki Hollander documented the fact that Haaretz has a minimal readership, noting: "Most Israelis recognize Haaretz for what it is, an ideological newspaper with a far-left editorial policy that appears more interested in advocacy than in objective news gathering… Discredited by the mainstream in his own country, Levy has taken to spewing his vitriol and promoting boycotts against the Jewish state in foreign countries where he can try to influence uninitiated audiences with dishonest calumnies against Israel."
The transcript of Levy's nearly hour-long presentation at 2018 IRmep/AET includes his usual outrageous characterizations and false accusations against Israel and supporters of Israel – and promotion of economic boycott against Israel (BDS). Here are samples:

The only place on earth that Donald Trump is beloved, admired, adored and appreciated is Israel. The only place that Benjamin Netanyahu is admired, adored, beloved is the United States. If this is not shared values, what is shared values? Some of my ex-best friends are on their way now to the real thing – to the AIPAC conference which will start on this weekend – politicians, journalists, to what I call as the annual drug dealers conference. They will discuss how many more drugs they will send to the Israel occupation-addicted state…

The values at the core of Israeli society: we are the chosen people and international law doesn't apply to them; we are the only victims which gives us the right to do whatever we want; and the Palestinians are not equal human beings to us, they are not like us…

Israel's two religions are Zionism and security – if you question either, you are a traitor…

And therefore, people like me, my only hope is from people like you. That's right now the only hope. And we are hearing here, today, all day, including from Grant's very, very knowledgeable lecture, figures that are depressing even me. The Jewish Lobby is so strong yet…

What should you, the people attending this gathering, do? 1) Fight the criminalization of criticism of Israel; also, BDS is the right way to go – the proof is that it makes Israel nervous; 2) Fight the lie that Israel is the only democracy in the Middle East; and 3) Fight the lie that the occupation is temporary…
Countering the false narrative bashing AIPAC
AIPAC is a lobbying group that advocates pro-Israel policies to the Congress and Executive Branch of the United States. Its stated mission "is to strengthen, protect and promote the U.S.-Israel relationship in ways that enhance the security of Israel and the United States." It is not an arm of the government of Israel or any Israeli organizations. There is nothing nefarious about this group. AIPAC is bipartisan; it does not get involved in election campaigns.
The power of American supporters of Israel to control the U.S. government is a myth perpetrated by haters of Israel. It is easily disproven by history: American presidents have repeatedly gone against the wishes of Israeli prime ministers – the Iran nuclear deal is a prime example. Another example is arms sales to Arab countries. But examples of Israel supporters defeating major U.S. government arms sales to Arab countries traditionally hostile to Israel are virtually non-existent. An example often cited by those who exaggerate the influence of supporters of Israel, is the failure of a proposed arms sale to the Kingdom of Saudi Arabia during the pro-Israel Reagan administration in the 1980s — The Los Angeles Times reported in 1987, "President Reagan withdrew a proposed $360-million sale of sophisticated anti-tank missiles to Saudi Arabia Thursday in the face of overwhelming congressional opposition sparked by concern for Israel and unhappiness with both the Saudis and the Administration."
Furthermore, much greater political clout than AIPAC is wielded by, for example, the American Association of Retired Persons, labor unions, the U.S. Chamber of Commerce, the dairy farmers' lobby or the National Rifle Association (NRA). While AIPAC is frequently vilified by haters of Israel, invariably overlooked is a lobbying heavy-weight, the petro-dollar funded anti-Israel pro-Arab lobby, and direct funding from Arab countries. This influence is felt not only on Capitol Hill, the State Department and Pentagon, through multi-billion dollar weapons purchases but also in academia, with large-scale grants to prominent universities and think tanks, and in society in general through subsidies and material support to mosques, religious schools and advocacy groups.
Countering the BDS narrative
BDS (Boycott, Divestment, Sanctions) started in 2005 as a nonviolent protest about the predicament of the Palestinians. It evolved into demands to halt business with Israeli companies and the government of Israel, and ultimately to destroy the Jewish state. The movement has links to individuals and organizations that have been
tied to Hamas
, the Palestinian terrorist rulers of Gaza, dedicated to the destruction of Israel. What BDS actually advocates for is the end of Israel.
Omar Barghouti, a founder of BDS, has explained that the ultimate goal is a state where "by definition, Jews will be a minority." Other BDS activists have expressed similar sentiments. BDS participants focus none of their attention on major human rights violators and oppressive governments such as the regime of Syrian President Bashar al-Assad, which has killed tens of thousands of its own citizens in recent years. BDS is not a human rights movement. Furthermore, the BDS movement potentially jeopardizes the existence of thousands of jobs in businesses employing West Bank Arabs. It is ironic that while Arabs in Israel have more legal rights and exercise them with more assurance than Arabs in any other country in the Middle East, Israelis are the only target of BDS activists.
Bogus are the claims that anti-BDS legislation limits free speech. The legislation in various states does not restrict constitutionally-protected free speech or limit criticism of Israel or its policies. What it does is narrowly target commercial activity. The legislation does not create potential criminal or civil liability for BDS actions. Individuals who actively avoid purchasing goods and services because of their own political viewpoint would not be punished. The anti-BDS legislation is typified by the Texas version signed into law. The statute "prohibits all state agencies from contracting with, and certain public funds from investing in, companies that boycott Israel," The governor stated that "We will not tolerate such actions against an important ally." Likewise, in compliance with its anti-BDS law, New Jersey recently divested from Denmark's largest bank for boycotting Israeli companies.
Alan Dershowitz, Professor of Law, Emeritus, at Harvard Law School, an opponent of BDS, argues (Jerusalem Post, Jan. 3, 2018) that the claim that BDS would encourage Israel to make peace with the Palestinians is false, "Israel would never be blackmailed into compromising its security, and the Palestinians are disincentivized into making compromises by the fantasy that they will get a state through economic and cultural extortion." The claim that Israel is a colonialist state that practices apartheid is false. "The Jews who emigrated to Israel – a land in which Jews have lived continuously for thousands of years – were escaping from the countries that persecuted them, not acting as colonial settlers for those countries… Nor is Israel in any way like South Africa, where a minority of whites ruled over a majority of blacks, who were denied the most fundamental human rights. In Israel, Arabs, Druze and Christians have equal rights and serve in high positions in government, business, the arts and academia."
"BDS is an antisemitic tactic directed only against the Jewish citizens and supporters of Israel. The boycott against Israel and its Jewish supporters (to many Palestinians, all of Israel is one big 'settlement'; just look at any official map of Palestine) began before any 'occupation' or 'settlements' and picked up steam just as Israel offered to end the 'occupation' and 'settlements' as part of a two-state solution that the Palestinians rejected. BDS is not a protest against Israel's policies. It is a protest against Israel's very existence."
Other speakers
Among the other speakers were Andrew Kadi (a.k.a. Andrew Muhab El-Kadi) whose speech was devoted to advocating for BDS and predicting its ultimate success; and Noura Erakat who promoted the false narratives of "occupation" and "
apartheid
" which have been debunked in numerous CAMERA reports including articles
#3089
and
#3819
.
Erakat (professor of law, human rights attorney) has been a subject of a CAMERA report, "C-SPAN Pairs with Palestinian Panelists Purveying Anti-Israel Propaganda," about a panel discussion in which Erakat hatefully likened Israeli "settler colonization" (by which she means the presence of any Jews between the Sea and the River Jordan) to a cancer, charging that either the two-state solution or the one-state solution is like "using Tylenol to address the cancer… instead of chemo …the thing we need to do is remove the cancer… If we admit that the West Bank is occupied we have to admit that Tel Aviv and Haifa are occupied as well as Jerusalem."
Who or what is represented by IRmep and AET?
Judging from the activities of IRmep and AET, these groups are devoted mainly, if not exclusively, to spreading disinformation about Israel and its supporters. American Educational Trust (AET) was founded (according to its blurb) "by retired U.S. Foreign Service officers [mainly anti-Israel Arabists] to provide the American public with balanced and accurate information concerning U.S. relations with Middle Eastern states. AET perceives a dearth in knowledge about the Middle East, Arabs, and Muslims, in the U.S., and pursues an educational mission of 'Interpreting the Middle East for North Americans; Interpreting North America for the Middle East.'" AET publishes the Washington Report on Middle East Affairs, a virulently anti-Israel publication with strong anti-Jewish undertones. The Report has attacked Israel's defenders in extreme terms and described the White House, the State Department, Congress, and the media as "Israeli occupied territory."
AET is thought to have received funding from terrorist sympathizers – jihadists from the Turkish IHH organization instructed supporters to send donations to AET.
According to IRmep, "The Institute for Research Middle Eastern Policy (IRmep) is a Washington-based nonprofit organization that studies US-Middle East policy formulation… IRmep's Israel Lobby Archive documents and exposes the history and little known initiatives, providing citizen access to relevant documents about the behind-the-scenes activities of one of the most harmful—but little studied—forces driving policy formulation through the US political process: Israel and its US lobby."
Epilogue
The IRmep/AET conference's 13 speakers engaged in a propaganda-fest of anti-Israel rhetoric including advocating tactics which, if successful, would lead to a termination of the Jewish state.
The conference's thrust is untenable. For example, the intellectual and moral bankruptcy of the conference's case against Christian Zionism is indicated by the fact that the only theologian/scholar presented to make the case, Thomas Getman, is clearly unreliable and his arguments are readily countered. Likewise, the one Israeli among the speakers, Gideon Levy, admittedly at odds with the vast majority of his fellow Jews, irrationally argues, in effect, that this majority is malevolent. Ignored are facts such as that Israel is the only westernized state in a region in which Muslims are killing their co-religionists by the tens of thousands. Another example is Noura Erakat who cannot be taken seriously. Erakat, spouting misleading legalese here, is betrayed by her dossier particularly in the situation in which she equated Israelis to a cancer which needs to be removed.
IRmep/AET, supposedly concerned about the entire Middle East, concentrates on disseminating disinformation vilifying Israel and its supporters. Meanwhile C-SPAN, as has been documented by CAMERA, has long been a vehicle for misinformation (at least) about Israel and its supporters.
Anti-Israel propaganda events, such as IRmep/AET 2018, are routinely broadcast by C-SPAN without providing context. The network never even bothers to issue a standard broadcast disclaimer such as: "Points of view expressed in this program are not necessarily those of this network." Here, C-SPAN ostensibly aimed to balance its coverage of IRmep/AET 2018 with that of the AIPAC event (or vice versa). But the balancing act is seen to fall flat when one objectively examines the organizations and their activities.