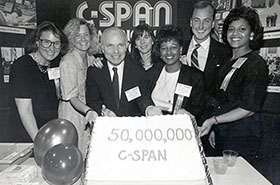 In its daily three-hour morning call-in show, Washington Journal, and coverage of various events, Cable-Satellite Public Affairs Network (C-SPAN) continues to routinely air to its millions of viewers, unchallenged defamation of Israel and the Jewish people.
Journal hosts repeatedly indulge callers defaming Israel and Jews by failing to respond to the problematic messages or interacting in a way that serves mainly to encourage these hostile callers. This was evident on March 7, 8 and 11 in the early stages of the Congresswoman Ilhan Omar controversy.
On March 7, of the total of 15 callers who opined about Jews or Israel, 10 were hostile (67 percent) voicing mainly defamatory views. Likewise, on March 8, it was seven (78 percent) out of nine such callers. On March 11, it was one of one.
Hostile callers echoed Omar's accusations about the alleged outsize power of the "Jewish lobby" (for Israel) (basically meaning the American Israel Public Affairs Committee – AIPAC). Brought up was the matter of Omar's dual loyalty accusation against Jews. The dual loyalty accusation is an ironic theme for Omar since she herself is vulnerable to this charge (more below).
March 7
The March 7 broadcast (hosted by John McArdle) first segment ("Should Congress police members' speech?") included these assertions:
• "I don't think Omar's speech should be policed … every time Israel is mentioned, it gets claimed as anti-Semitism." Host failed to respond. (John from Baltimore at 7:14 a.m.).
• "Either you are American and speak your mind or you are Israeli. It is totally out of hand." Host: "Do you think Americans of Jewish descent aren't loyal? Is that what you are saying?" Caller: "I am not saying that at all, but I am saying America first, not Israel. We are Americans, what is this dual citizenship stuff?" (Robert from Cold Springs, Florida at 7:16).
• "Campaign contributions they [members of Congress] receive are tied to their support [for Israel], so it is easy for them to come down hard on Omar." Host failed to respond. (Grant from Washington D.C. at 7:26).
• "Israel is an abomination that never should have been created." Host failed to respond. (Joe from Massachusetts at 7:28).
• "Congress comes across as Israeli occupied territory." Host failed to respond. (Richard from Ohio at 7:33).
• "Israel has been starving people, killing doctors, murdering kids [in Gaza and the West Bank.]" Host failed to respond. (Shelton from Louisiana at 7:37)
The March 7 last segment ("Today in Washington") included:
• "It [Israel] is an occupying force in Palestine. Those groups came out of Europe. If anything, they should go back to Europe." Host failed to respond. (Huey from Washington D.C. at 9:47)
• Host: "What is your biggest disagreement with the policies of the government of Israel?" Caller: "They have been treating the Palestinians worse than the South African apartheid. They kill the people. They take their land." Host failed to respond. (Brian from West Virginia at 9:52)
• "When she [Omar] made that statement, talking about lobbyists and Israel controlling us and pushing their agenda, that is true. They put money down and try to control the American people." Host failed to respond. (Elliot in Chesapeake, Virginia at 9:55).
March 8
The March 8 broadcast (hosted by Greta Brawner) first segment ("House Democrats' handling of comments made by Representative Ilhan Omar (D-MN)") included these assertions:
• "The first bill the Senate took up in this year was to protect people from protesting against Israel [BDS]. Are we America or are we a puppet of Israel? We should be able to protest against someone without losing our job." Host: "Should she [Omar] say what you are saying? That you can be critical of Israel, but not use language that people feel are Anti-Semitic tropes?" Caller: "That is what she said." (David from Maryland at 7:07 a.m.).
• "Consider the control that AIPAC has on Congress. They [Congress] look like a bunch of seals standing up." Host: "What do you disagree with about U.S. policy toward Israel?" Caller: "First of all, I think they give them too much power. They give them too much money." Host: "You understand where people say you are heading into that direction of categorizing Jewish people as being disloyal or having split loyalty?" Caller: "Just because I criticize Israel and a few entities does not mean I am anti-Semitic." (Ralph from Washington D.C. at 7:20).
• "There's a couple of quotes in the Bible that discussed this thing. Have you ever read Revelations 2:9 and 3:9?" Host: "What is your point?" Caller: "It is talking about the synagogue of Satan. I disagree, she should have the opportunity to speak. Host: "And what she [Omar] said — you don't see anything wrong with what she said?" Caller: "No." (Ed from Los Angeles at 7:22).
• "I completely agree with her [Omar] right to criticize the state of Israel. And why is it okay for the former foreign minister of Israel to say all Palestinians should be put in the ocean and drowned and yet American politicians say absolutely nothing when a country the side of Rhode Island has complete control over our nation?" Host: "Why do you think that?" Caller: "They have control." Host continues to indulge for a minute or so. (Patrick from Pennsylvania at 7:26).
• "A former Congressman in Illinois … AIPAC went after him. When he went up for reelection, he lost by a slim margin … [this] illustrates the power of the Israeli lobby … Netanyahu, the prime minister, and his predecessors are criminals. They were brought up for criminal charges. We can't even bring that subject up." Host: "What Nancy Pelosi said yesterday is when you use the language she [Omar] used, you are promoting classic anti-Semitic tropes that have led to hatred and violence against Jewish people over the years." (Ed from New Jersey at 7:30).
• "It feels like the Israeli lobby has had a stranglehold on our government for some reason or other." Host: "You do not like how much influence they have and how much members of Congress react to that?" "It is not just them, it is all lobbyists." (Matthew from New York at 7:40).
• "Her [Omar] comments, which I think were misinterpreted, at least have opened a dialogue … about the powerful lobby influence that Israel does have." Host failed to respond. (Bill from New Jersey at 7:43).
March 11
The March11 broadcast (hosted by John McArdle) first segment ("Lowering the voting age to 16″) included this off-topic assertion: "I Like Ilhan Omar. I support her because of her opinions on Israel." Host failed to respond. (John from New York at 7:56).
The dual loyalty accusation
Callers like John from New York support Omar because of her opinions which conspicuously include the dual loyalty charge against Jews. Referring to American Jews, Omar said that there is a "political influence in this country that says it is okay to push for allegiance to a foreign country." Likewise, the C-SPAN host on March 7 at 7:16 posited: "Do you think Americans of Jewish descent aren't loyal?"
Here's the reality: Jews have fought in every one of the U.S. wars. More than 250,000 fought in World War I and 500,000 in World War II. This is a proportion greater than their proportion in the population. 16 Jewish soldiers have been awarded the Congressional Medal of Honor, the highest military decoration an American service member can receive for heroism and bravery in battle. It is presented by the President of the United States.
Jews have given much to their fellow citizens. A single example out of numerous ones is the polio vaccine. In the 1950s, two Jewish scientists separately developed vaccines to prevent the dreaded infantile paralysis polio disease that had heretofore wasted many lives in America and elsewhere.
Furthermore, contrary to the views of Ilhan Omar and her admirers among C-SPAN callers, opinion polling and social and voting patterns of Jewish Americans are among the indicators that show that they are not vulnerable to charges of dual loyalty.
On the other hand, is Ilhan Omar vulnerable to the charge of "allegiance to a foreign" entity? "[Ilhan] Omar's anti-Semitism has been in full-throated, open display entirely consistent with the crude Islamist neo-anti-Semitism that typifies the indoctrinated Islamist." This is the view of a Muslim, Dr. Qanta Ahmed, a physician, and a respected commentator who has appeared on CNN, Fox News Channel, BBC and NPR. Dr. Ahmed is the daughter of Sunni Pakistani immigrants to Britain. She has practiced medicine in Saudi Arabia as well as the United States where she has been a professor of medicine.
Underlining Dr. Ahmed's observation is Omar's connection to Islamist-connected groups. Omar is the featured speaker March 23 at an event hosted by the Los Angeles chapter of the Council on American Relations (CAIR). CAIR was named in a legal action related to the Islamist Hamas terrorist organization. In United States v. Holy Land Foundation — which was ultimately decided in November 2008 — the U.S. attorney's office in Dallas, Texas, named CAIR as an unindicted co-conspirator with the Holy Land Foundation, a now-defunct fundraiser for the terrorist group Hamas. This in turn prompted the FBI to sever ties with CAIR which the federal agency had maintained in its connection to civil rights groups. In 2018, the executive director of CAIR Los Angeles called for the termination of Israel.
Omar recently spoke in Florida at an Islamic Relief event. The charity organization reportedly has ties to Islamist terrorist groups. It's often difficult, if not impossible, to obtain video or transcripts of these Islamist related events, but it's unlikely that Omar refrained from defaming Jews or Israel at these events.
Islamists proclaim that Islam has superseded both Judaism and Christianity. Islamists hold to Sharia law, a set of Islamic laws that covers all aspects of a Muslim's life. Sharia law is incompatible with the U.S. Constitution. So it is the accuser, Omar, here rather than the accused that is vulnerable to the dual loyalty accusation.
Is the "Jewish lobby" for Israel too powerful?

The claim has been made by numerous C-SPAN callers over a period of several years. It's a claim that Journal hosts invariably fail to scrutinize. As commentator Charles Lane wrote recently in the Washington Post (a newspaper that is often severely critical of Israel) refuting Omar's accusations: "It is simply not the case that support for Israel in a country where 59% of the public favors Israel over the Palestinians is merely a function of AIPAC's influence. It should have been possible for Omar to point out what's [allegedly] wrong with U.S. and Israeli policy without questioning the good faith of those who think differently."
It was put this way by Steve Israel who represented New York in Congress for 16 years and is now the director of the Institute of Politics and Global Affairs at Cornell University:
The vast majority of the Democrats and Republicans in Congress support Israel because it is a valuable ally that shares fundamental ideals in a volatile region of the world. Israel is not Turkey, which has veered from American interests, or Russia or China. So our lawmakers support measures like funding anti-missile systems or the $40 billion security package that will help protect aligned American and Israeli interests in the Middle East.

Congress supports Israel not because of a lobbyist, but because stopping the influence of Hamas and Hizbullah is essential for the U.S. In a region where democracy is stifled and religious freedom prohibited, our lawmakers support Israel because it remains a democracy… AIPAC does not have the power to get members of Congress to vote against the national interest. It frames its arguments not based on what is good for Israel but what is good for the United States. For the vast majority of our lawmakers, that is an easy sell.
And further refuting Journal callers who claim that Congress is bought off by AIPAC, CAMERA shows striking examples in which Congress acted against AIPAC's strongest recommendations.
Moreover, while AIPAC is the best known single pro-Israel group, arguably the key component of support for Israel is represented by continuing majority support among the American people for Israel especially among the sizable community of Christian Zionists (for example, Christians United for Israel, CUFI, which speaks for 5 million Christians). And much greater political clout than what AIPAC has is wielded by the American Association of Retired Persons, labor unions, the U.S. Chamber of Commerce, the dairy farmers' lobby or the National Rifle Association. A lobbying heavy-weight that is rarely, if ever, brought up on C-SPAN, is the petro-dollar funded anti-Israel pro-Arab lobby, whose influence is felt not only on Capitol Hill, the State Department and Pentagon, through multi-billion dollar weapons purchases but also in academia, with large-scale grants to prominent universities and think tanks, and in society in general through subsidies and material support to mosques, religious schools and advocacy groups.
Other unanswered condemnations
Typically, C-SPAN was silent to callers' false condemnations of Israel regarding "occupation," "apartheid," and alleged mistreatment of Palestinians.
This is the reality:
• Today's Jews, mainly descendants of the ancient Israelis (as confirmed by DNA biological evidence), have an irrevocable historical and biblical connection to the land of Israel. Israel remains the legal, obligatory military occupational authority in the West Bank as a result of successful self-defense in the 1967 and 1973 wars, pending conclusion of a negotiated agreement on the territories' final status. Israel left the Gaza Strip unilaterally in 2005. The West Bank Palestinians are self-governing with Israeli personnel only entering Palestinian communities to pursue terrorists. No sovereign country of "Palestine" exists or has ever existed. The West Bank is not the sovereign territory of any country. Jordan had occupied it between 1948 and 1967, in a move not recognized by the international community, and both Israel and the Palestinian Authority currently lay claim to the territory.
Meanwhile, Jewish villages and towns built in the West Bank (Judea and Samaria, part of the ancient homeland of the Jewish people) since 1967 are no more illegal or deserving of condemnation than are Arab villages built since then in previously existing Arab villages and towns.
• The claim that Israel practices apartheid is false. "The Jews who emigrated to Israel – a land in which Jews have lived continuously for thousands of years – were escaping from the countries that persecuted them, not acting as colonial settlers for those countries… Nor is Israel in any way like South Africa, where a minority of whites ruled over a majority of blacks, who were denied the most fundamental human rights. In Israel, Arabs, Druze and Christians have equal rights and serve in high positions in government, business, the arts and academia." (Alan Dershowitz, Professor of Law, Emeritus, at Harvard Law School, the Jerusalem Post, Jan. 3, 2018).
Israel the exception for C-SPAN
As CAMERA has documented over a period of several years, Israel has been the only foreign nation and Jews the only ethnic or religious group subjected to consistently biased treatment on the network's airways.
This outrageous situation continues to be ignored by Congress (which grants special privileges to C-SPAN), the news media and C-SPAN's patrons including the cable/satellite television providers such as Comcast. Barring a huge public outcry, there's little reason to expect any change.