CAMERA's Israel office prompts corrections of Haaretz headlines which falsely stated that Israeli Prime Minister Benjamin Netanyahu last week stated that Israel is home only for the Jewish people.
As CAMERA
noted
last week, the print and online headlines, as well as
Haaretz
's social media platforms, incorrectly reported on Netanyahu's statement concerning Israel as "the nation-state of one people only — the Jewish people," as follows: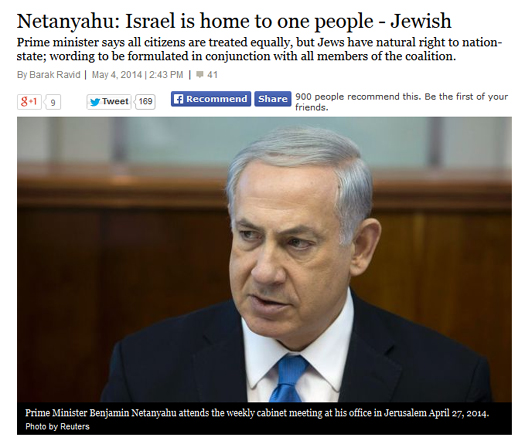 As we previously noted, the difference between an exclusively Jewish "home" and an exclusively Jewish "nation-state" is vast. If Netanyahu said Israel is "home" only to the Jewish people, then he was indicating that 20 percent of Israel's population — or nearly 1.7 million Israeli Arabs — are not welcome or entitled to live freely in Israel as citizens with equal rights.
In fact, the prime minister explicitly affirmed that Israel "provides full equal rights, individual rights, to all its citizens," and that legislation concerning the Jewish nation-state would affect "national symbols — flag, anthem, language and other aspects of our national experience." In addition to
Haaretz
, Iran's
Press TV
also misreported Netanyahu's comments, falsely stating that he said that Israel is home to the Jewish people only.
Following communication from CAMERA, Haaretz's English edition editors commendably corrected both in print and online. The following correction ran Thursday, May 8, on page 2: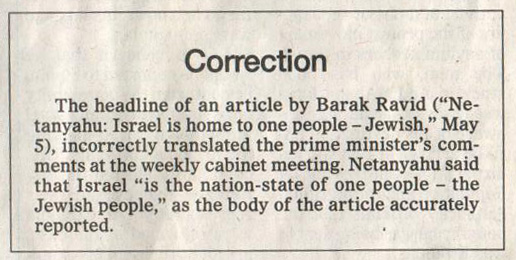 In addition, the online headline was changed to accurate wording:
Also, the following note was appended to the bottom of the article:

CAMERA commends
Haaretz
for the corrections. For additional
Haaretz
corrections prompted by CAMERA, see
here
.