If Israel this month releases hundreds of Palestinian prisoners as a goodwill gesture meant to stimulate the resumption of talks, as Palestinian President Mahmoud Abbas reportedly demands, in a few years a Ha'aretz Op-Ed writer will no doubt stubbornly insist that Israel never took this step. After all, two Ha'aretz writers have already done exactly that, ignoring the release of thousands of Palestinian prisoners in recent decades.
Kerry has come to the region, as have innumerable bosses from the West in the past decades. Meanwhile the settlement project has not stopped, nor has the theft of land, and for many years, in violation of promises, no prisoners have been released except in exchange for Gilad Shalit.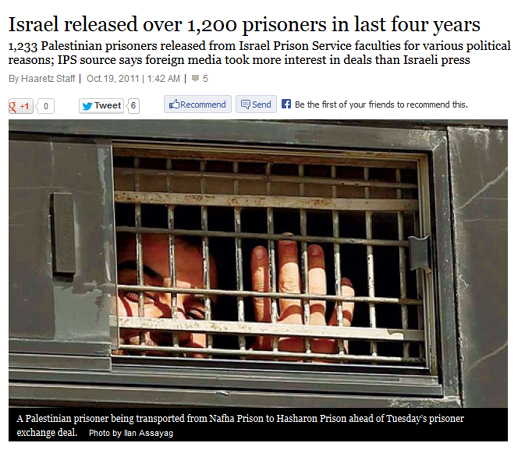 According to the article:
. . . . since July 2007, 1,233 Palestinian prisoners have been released from IPS faculties for various political reasons. . . .

In July 2007, Ehud Olmert freed 255 prisoners as a gesture to Mahmoud Abbas. In October the same year, 87 prisoners were freed as a Ramadan gesture. That November, a further 441 prisoners were freed before the Annapolis talks. In August 2008, 198 prisoners were released as part of an effort to strengthen Abbas and apply pressure on Hamas. A month before that, Israel freed five prisoners and returned 199 bodies to Hezbollah as part of the Regev-Goldwasser deal. In December 2008, Israel released 227 prisoners as a gesture before Eid al-Adha. In October 2009, 20 female prisoners were freed in exchange for a video of Gilad Shalit speaking.

Sources in the IPS claimed the foreign media took more interest in these deals than the Israeli press. "We deal with the release of a huge number of security prisoners a few times a year," said the source, "but this time everybody shows interest because of Gilad Shalit and the high profile of some of the prisoners."
In denying the release of thousands of Palestinian prisoners, Laor takes a page out of Gideon Levy's book. In 2006, the latter wrote that "A prisoner release could provide a breath of fresh air," as if Israel hadn't already done that repeatedly ("
Free them, now
"). At the time, CAMERA
reported
:
From the signing of the Oslo Accord in 1993 until Nov. 9, 1998, Israel released 7,638 Palestinians (Government Press Office). Other significant releases include:

* June 2, 2005: 398 prisoners released as the second half of Ariel Sharon's February 2005 goodwill gesture

* Feb. 21, 2005: 500 prisoners released, the first part of Sharon's goodwill pledge to release 900 Palestinian prisoners

* Dec. 27, 2004: 159 prisoners released as a goodwill gesture to the new Palestinian leadership under Mahmoud Abbas

* Sept. 9, 1999: 199 prisoners released as part of an interim land-for-security deal

* Oct. 15, 1999: 109 Palestinian prisoners (and 42 inmates from other Arab countries) released as part of an interim peace deal

In addition to the Jan. 29, 2004 prisoner exchange, in which 400 Palestinians were released, Israel has twice in the past undertaken exchanges involving hundreds of Palestinians:

* May 1985: Three Israeli soldiers are traded for 1,150 Lebanese and Palestinian prisoners. Associated Press reports:

The lopsided deal comes under harsh criticism that intensifies after the freed prisoners play important roles in a Palestinian uprising that began in 1987. (July 7, 2006)

* Nov. 24, 1983: Israel exchanges six Israeli soldiers for 4,600 Palestinian and Lebanese prisoners.
Since the Shalit exchange in 2011, at least a dozen additional prisoners have been released for political or humanitarian reasons.
For instance, Palestinian Maan News Agency
reports
that on June 12, 2013, Amer Abu Shaban of Nablus, a member of the Al Aqsa Martyrs Brigade, was released after 10 years imprisonment.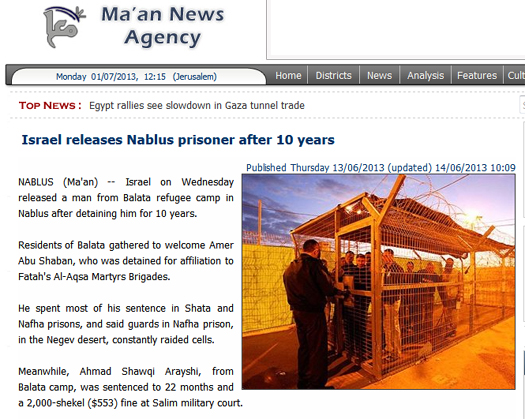 On May 8, 2013, Israel released Tarik Qadan and Jafar Izzideen. As the AP
reported
:
Also Wednesday, Israel released two Palestinian prisoners of the Islamic Jihad militant group who were waging three-month long hunger strikes in Israeli custody. An Associated Press photographer witnessed Tarik Qadan, 40, and Jafar Izzideen, 47, being released from custody. They reached a deal with Israel by which their six-month detention would not be renewed. Israel's army said the release was for humanitarian reasons.
On April 18, 2013, Israel released Muhammad al-Taj, a chronically ill patient. The Times of Israel reported:
President Shimon Peres on Thursday granted an early release on humanitarian grounds to security prisoner Mohammed al-Taj, a terminally ill hunger striker. . . .

Taj, 40, has served 10 years of a 14-year sentence for terrorist activities.
On March 20, 2013, hunger-striker Ayman Sharawneh was released from Israeli prison to the Gaza Strip, after reaching a deal with the Israeli authorities in which he agreed to stay there for 10 years instead of remaining in prison. He has reportedly returned to terror activity in the Hamas military wing.
On Feb. 8, 2013, Akram Rikhawi was released to the Gaza Strip.
On Aug. 9, 2012, Bilal Diab was released to the West Bank.
On June 5, 2012, Thaer Halahla was released to the West Bank.
On April 19, 2012, Ahmed Saqer was released to the West Bank.
On April 1, 2012, Hana Shalabi was released to the Gaza Strip, where she agreed as a condition of her release to stay for three years before returning her West Bank home.
The pertinent question, then, is not so much "Would you have freed Mandela?" but "If Israel freed Mandela (or Marwan Barghouti), would Yitzhak Laor and Gideon Levy acknowledge the release?"