In a blog post printed in Haaretz's March 31 edition, "Umm Forat," an anonymous Jewish Israeli woman married to a Palestinian and living in the West Bank, falsely claimed that prior to the outbreak of the coronavirus epidemic, Palestinians had been barred from entering West Bank settlements. She wrote ("Social Distancing in Ramallah, I Worry About Our Elderly Mothers in N.Y.C. and Gaza"):
I wondered which of the new travel restrictions would be lifted when the threat of the virus ended and which would become permanent, as the Israeli authorities had done in the past. The separation barrier and the ban on Palestinians entering Israeli settlements had also been temporary responses to the second intifada in 2000, but they were never removed.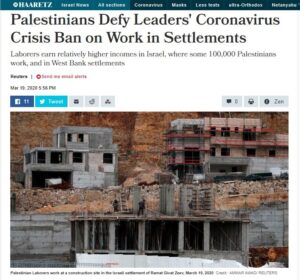 In fact, until the Palestinian Authority-imposed restriction last month in response to the pandemic, tens of thousands of Palestinians did enter the settlements for work. A Reuters article on Haaretz's web site last month reported ("Palestinians Defy Leaders' Coronavirus Ban on Work in Settlements"):
Palestinian Prime Minister Mohammad Shtayyeh asked the some 25,000 Palestinians who work in settlements in East Jerusalem and the West Bank – areas Israel captured in a 1967 war – to stay home from Thursday as part of efforts to reduce transmission.
In addition, Palestinians enter the settlements for reasons aside from work (although work is definitely the primary reason.) For instance, there are Palestinian students at
Ariel University
. Palestinians receive treatment at medical facilities in the settlements, including the
Efrat Emergency Care Clinic
as
Haaretz
itself has
acknowledged
.
Haaretz declined to correct the error, maintaining that Umm Forat was not referring to entrance for the tens of thousands of Palestinians with permits to work in the settlements, but to general entrance for other purposes.