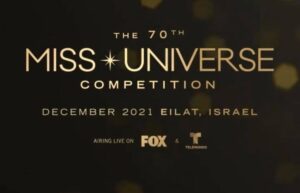 The article reports on the South African government's decision to sever ties with Miss South Africa in light of her refusal to cave to anti-Israel demands that she cancel her appearance in the upcoming Miss Universe pageant in Eilat, Israel.
Yet the wire service story contains no reference at all to the fact that Lalela Mswane, Miss South Africa, was reportedly harassed and threatened by BDS supporters objecting to her planned appearance in Israel. The
Jewish Chronicle
reported:
Looking forward to attending Miss Universe, last week she wrote: "There is a stirring in my soul; a restless, a wild anticipation. I am staring out into the horizon as far as I can."

In response she was bombarded with messages bearing the hashtags "NotMyMissSouthAfrica", "freepalestine" and "boycottisrael".

One Twitter user wrote: "Shame on you Miss SA for supporting an apartheid state." Another said: "You are not deserving of the crown, and you don't represent South Africa."

The campaign against Ms Mswane has been led by Nelson Mandela's grandson, Mandla Mandela.

After she won the Miss South Africa title last month, he called for her to boycott the competition in Eilat, saying in a statement: "Israel is an apartheid state and we will continue to mobilise all freedom loving people of the world to boycott, divest and pass sanctions against the brutal apartheid regime." . . .
Ms Weill [chief executive of the Miss South Africa organisation] added: "Things have got to a point where it is quite literally harassment against Lalela. I think she's incredibly scared of the threats that people are making against her, versus feeling supported, which at the end of the day she should feel. . . .
Ms Mswane is a former professional ballet dancer and a qualified lawyer. She has spoken of being bullied as a child and has vowed not to be bullied by the boycotters now. . . .
The Board's national director, Wendy Kahn, accused the boycotters of "aggressive, in-your-face-bullying and harassment" who have conducted a "relentless… campaign [against Lalela] for declining to buckle down to their demand that she withdraw from the upcoming Miss Universe pageant in Eilat".

The boycotters, the Board statement said, had trolled and maligned [Lalela] on social media and "even threatened to protest outside her home". (Emphases added.)
Looking forward
There is a stirring in my soul; a restless, a wild anticipation. I am staring out into the horizon as far as I can. @Official_MissSA pic.twitter.com/0IxoXXJ5KO

— Lalela Mswane (@Lalela_lali) November 2, 2021
Beyond covering up BDS' belligerence, AFP's article resembles a BDS-issued press release in additional ways. For instance, the headline's reference to "Palestine" is not consistent with AFP style. Nor does the headline indicate the big news: that the South African government is boycotting its own contestant due to her participation in the Miss Universe competition in Israel. A more informative (and even shorter) headline is: "S. Africa denounces Miss Universe contender over Israel visit."
BDS activists must also have been pleased with AFP's reporting that the South African "decision came after growing calls for the reigning Miss South Africa to boycott the pageant over Israeli's alledged [sic] atrocities against Palestine."
The grammatical and spelling errors, the stylistic lapses and the blatant partisanship, make for a poor journalistic showing, unmasking AFP's effort to beautify BDS.