CAMERA today prompted correction of a Los Angeles Times article which erroneously claimed that Gazans launched "dozens" of incendiary kites and balloons into Israel since March 30, when the actual figure is dozens of launches daily. Noga Tarnopolsky and Hana Salah wrote in today's print edition (and online here) that "Gazans launched dozens of flaming kites and balloons into Israel, incinerating acres of agricultural fields" ("Israel said to be on the verge of launching sanctions against Gaza").
According to Israel's Ministry of Foreign Affairs ("Arson terror from Gaza continues to devastate southern Israel," Aug. 8):
From 30 March to 12 August this year, there have been 1,364 fires – an average of more than 10 fires every day. Over 7,400 acres have been damaged or destroyed, about 23% of the land in the region. Much of the summer wheat crop was lost, either to the fires or due to too-early harvesting. Hundreds of chickens and turkeys suffocated to death from smoke inhalation. People with asthma and other lung diseases are also suffering from the polluted air. In Nahal Grar, dozens of beehives, each with about 70,000 bees and 30-50 kilos of honey, were destroyed by fire.
CAMERA contacted The Times pointing out that given that the airborne arson attacks have sparked over 1,300 blazes since March 30, and many of the kites and balloons failed to start a fire, there have been well over 1,300 launches. In response to CAMERA's communication, editors commendably posted a correction to the top of the article, stating:
An earlier version of this report inadvertently dropped the word "daily" in reference to the dozens of kites and balloons launched into Israel.
CAMERA also noted that the vague reference to the incineration of "acres of agricultural fields" could refer to anything from two acres or more. An informative report would refer to "thousands" of acres.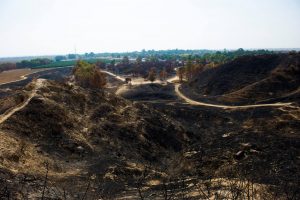 This was not the first time that The Times understated the extent of the arson attacks. On Aug. 3 (in print, "Israel, Hamas appear close to a cease-fire"), Tarnopolsky reported that the incendiary kites and balloons are responsible for "dozens" of fires. She wrote:
In the latest crackdown, Israeli Defense Minister Avigdor Lieberman on Wednesday ordered that all fuel and gas imports to Gaza be halted, in response to Hamas' campaign of launching balloons and kites carrying incendiary devices into Israel. The aerial attack has been blamed for dozens of fires that have burned farmland and forests. (Emphasis added.)
While she cited "dozens of fires" in her article at the beginning of this month, several weeks earlier, in mid-June, she had already reported that the attacks caused 450 fires ("They're calling it the Kite War. How a simple plaything became a potent weapon in the Gaza Strip, June 18″):
At least 7,410 acres of farmland and national parkland have been incinerated by some 450 blazes sparked by the fire-bearing toys. Fourteen hundred acres of wheat have been lost.
Since that time, until about two days ago, the airborne arson attacks have been ongoing, driving up that figure to well over 1,000 fires, as mentioned above.
Given that the journalist is aware that as of weeks ago, the attacks were responsible for 450 fires, why is she now reporting the figure as "dozens," when the June figure has since more than doubled? CAMERA commends The Times for its timely correction today and continues to call on editors to correct the Aug. 3 article which erroneously refers to "dozens of fires that have burned farmland and forests."
Aug. 20 Update: Los Angeles Times Publishes Print Edition Correction
On Aug. 15 The Los Angeles Times published the following correction on page 4 of the print edition:
Israel-Gaza: In the Aug. 14 Section A, an article about the potential easing of sanctions on the Gaza Strip said dozens of incendiary kites and balloons had been lofted into Israel from the Gaza Strip. Dozens were launched daily.