CAMERA takes a look at how major media organizations across the globe covered Hamas's demonstration and violence along the Gaza-Israel border.
NPR
Among those killed during Friday's violence at the border between Israel and the Gaza Strip were two Palestinian gunmen who fired automatic weapons at Israeli soldiers. Israel has released video footage and photos of the armed attackers.
But Monday's broadcast by NPR's Morning Edition left listeners in the dark about the Palestinian gunfire. Instead, the audience was told of "slingshots" and "fireworks."
At the start of the segment, Morning Edition host Steve Inskeep told readers of Israeli gunfire, but cast Palestinian violence as nothing more than an Israeli allegation. "Israeli troops opened fire with live as well as rubber bullets, killing at least 16 people," said Inskeep. "Israelis say they responded to violence."
Just as the Morning Edition host cast doubt on the presence of Palestinian violence, so too did Daniel Estrin, NPR's Jerusalem correspondent who was interviewed during the segment. "Israel said some Palestinians threw rocks, rolled burning tires," Estrin reported.
Why "Israel said"? There is plenty of video, taken by Palestinians, showing Palestinians hurling stones toward Israeli troops. And even Estrin himself later acknowledged that there is "no dispute" about violence — or at least about one man "carrying" a slingshot and another who shot fireworks:
INSKEEP: Well, do Palestinians that you talk with acknowledge that some in their number were violent, which is the central Israeli defense?

ESTRIN: Yes. I mean, when I was at the border, I saw someone carrying a slingshot. The man we were speaking to earlier said he had shot fireworks. That's not in dispute.
Estrin did refer to the death of Hamas militants and an Islamic Jihad fighter. But why, among his references to slingshots and fireworks, and after raising questions about excessive force, did he fail to inform readers that among the dead were Palestinian gunmen?
In other segments, Estrin was equally unforthcoming. On Friday, for example, he told All Things Considered host Ari Shapiro that "Israel responded to Palestinians throwing rocks, firebombs, burning tires. Israel fired tear gas and live fire." Again, no Palestinian gunfire.
Even when he got around to mentioning gunfire in a subsequent segment of All Things Considered, Estrin again left room for doubt. "Israel says" two Palestinians fired on its troops, he said — a formulation that might not have seemed quite so dismissive if, moments later, he didn't describe Palestinian video footage of the death of a Palestinian rioter. But there's also video footage of gunmen shooting. Why is video evidence compelling and newsworthy when it makes one case, but concealed when it makes another case?
New York Times
Isabel Kershner of the New York Times, by contrast, was more informative. "The Israeli military produced a video showing what it said was one of the Hamas fighters and an accomplice shooting at Israeli forces across the fence in northern Gaza before being killed by Israeli tank and gunfire," she wrote on Sunday.
Even still, New York Times coverage also left large holes. In a March 30 story, Kershner and co-author Iyad Abuheweila reported on the stated aim of the Palestinian demonstrations — "The Palestinians are pressing demands to return to lands that became Israel 70 years ago" — but neglected to explain to readers the meaning of this demand for a "right of return," which is widely understood as a call for the elimination of Israel's Jewish majority, and in turn, of the Jewish state itself.
As the Times of Israel's David Horovitz put it, "Just in case anybody forgot, demanding a 'right of return' to Israel for tens of thousands of Palestinian refugees and their millions of descendants is nothing less than a call for the destruction of Israel by demographic means."
The New York Times authors also reported that Gaza's Hamas government helped orchestrate what it called the "March of Return," but stopped short of reminding readers that Hamas is sworn to the destruction of Israel. (Kershner did at least acknowledge that the group "is classified by much of the Western world as a terrorist organization.")
A Times editorial likewise failed to mention either Hamas's classification as a terror organization or the group's goals when it lamented that "Neither Mr. Netanyahu nor Mr. Trump has shown serious interest in a two-state solution." It is a striking omission, when Hamas is not only less interested than Netanyahu and Trump in a two-state solution, but is openly interested in erasing Israel from the map.
The newspaper was wobbly on the finer details, too. Kershner insisted that a Palestinian video of the violence shows "a man is shot in the leg when he stands up after praying by the fence." The video, though, does not clearly show a gunshot.
Compare the New York Times reporting to how the Associated Press covered the issue by sticking to the facts — including a key fact overlooked by the Times:
In another video, a man is seen kneeling in the first of two rows of worshippers Friday, facing the fence at a distance of 150 to 200 meters (yards). Suddenly, he stands up, limps a few meters, collapses and is carried away by young men who shout "Allahu Akbar," or "God is Great."

Adli Abu Taha, who filmed the incident on his mobile phone, said the man, later identified as Ibrahim Abu Shanab, had thrown stones close to the fence before joining the group for prayers. Local hospital records indicate Abu Shanab was shot in the leg.
Reuters
One of the most outrageous headlines in reference to the violence in the Gaza Strip comes from Reuters: "Pope, after Gaza Violence, Says 'Defenseless' Being Killed in Holy Land."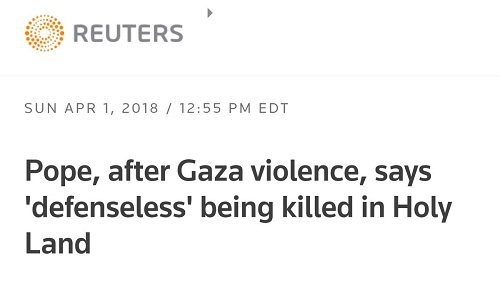 The headline's insinuation is that the Pope weighed in on Friday's violence to accuse Israel of gunning down innocent, defenseless demonstrators. He did not do so, and the Reuters article itself shows that the Pope said nothing about Palestinians "being killed."
"We beseech fruits of reconciliation for the Holy Land, also experiencing in these days the wounds of ongoing conflict that do not spare the defenseless," he said in his annual Urbi et Orbi address, which is in context a clear reference to harm caused to innocents on all sides of the Arab-Israeli conflict.
Reuters choice of headline, and its Gaza-centric framing, is also striking because the Pope's address did not focus on Gaza, but rather conflict and suffering across the globe. Before (briefly) mentioning the Holy Land, he dedicated a passage to the "long-suffering land of Syria," its "endless war," and its "carnage." He also discussed Yemen; the African continent in general and South Sudan specifically; the Korean Peninsula; Ukraine; and Venezuela. Perhaps Reuters sees those countries as less important than Gaza — but it is simply dishonest to suggest the Pope prioritized the Palestinian conflict in his address.
World Council of Churches
The World Council of Churches, which has a penchant for assailing Israel while remaining comparatively silent about the misdeeds of Islamist groups in the Middle East, was true to form in its response to the Hamas-led march on Israeli territory. On March 31, 2018, the organization issued a statement titled "WCC decries violence on Israel-Palestinian border."
The statement, which does not even mention Hamas by name, declared that "at least 17 Palestinians were killed and more than 1,400 injured by Israeli fire at the Gaza border on 30, March." There is no mention of the gunfire attack documented by the IDF, nor of the firebombs and rocks thrown at Israeli soldiers by the rioters.
And predictably it makes no mention of the attempt to place a bomb at the boundary fence, also documented by the IDF. Instead of acknowledging the violence perpetrated by the rioters, the statement condemned the alleged "denial of the right to nonviolent and peaceful protest on the border."
The statement also includes a quote from WCC's General Secretary Olav Fyskse Tveit, who calls on the Israeli government to guarantee the freedom of speech of Palestinians living in Gaza — as if attacking Israel's border and the soldiers guarding it is an act of political speech. Ironically enough, it is Hamas and the Palestinian Authority, and not Israel, that threatens freedom of speech in the Gaza Strip and West Bank. The Freedom House reports that in 2016, "The Palestinian Authority (PA) in the West Bank and Hamas authorities in the Gaza Strip arrested at least 21 journalists, and a third of those detained reported torture or other mistreatment in custody."
British Media
CAMERA's UK Media Watch reported that the UK's Guardian and Independent newspapers parroted Hamas talking points about the protest and riots.
A Guardian headline, for example, relayed the unverified Hamas claim that hundreds of Palestinians were shot with live ammunition, while characterizing the protest as a whole as "peaceful."
.@guardian repeats Hamas propaganda, calling the march on Israel's border "peaceful", despite the fact that Gazans have placed IEDs at the border, thrown hundreds of Molotov cocktails and, in two cases, opened fire at Israeli forces @olireports @iHaZeMi https://t.co/lNyd6wwb3x pic.twitter.com/6aKTEIZ8ZB

— UK Media Watch (@UKMediaWatch) April 1, 2018
The Independent took it even further. The march, with its attendant fire-bombings and rock throwing, was not even a protest, but rather a "sit-in."
Do you think it's consistent w/ the accuracy clause of the editors' code to describe the Hamas led march – which has included Molotov cocktails and IEDs – and at least two cases of Palestinians opening firing on IDF forces – as protesters engaged in a "sit in"? pic.twitter.com/lf9TYfXMst

— UK Media Watch (@UKMediaWatch) April 1, 2018
Spanish Media
The Spanish-language media tended to repeat the Hamas narrative, without noting that Hamas is considered a terrorist group.
Here again, videos showing Palestinians being shot by IDF were often mentioned in the Spanish press, but videos and images of Palestinians shooting at or trying to infiltrate Israel were almost always omitted.
Coverage by the most-read Spanish-language newspaper, El País, deserves special attention. The paper published several articles insisting the march was exclusively peaceful, and casting Israel as "the most powerful war machine in the Middle East" versus "massive protests of unarmed civilians."
El País credulously echoed Hamas claims when reporting that the group "had assured that it would be a peaceful march and that it would deploy its security forces 800 meters from the fence that separates Gaza from Israel to avoid incidents." In fact, its security forces appeared to attack the fence and the soldiers guarding it.
The most obvious example on the paper's slant against Israel was its front-page story on April, 2, 2017:
The headline, "Israel's offensive overwhelms all hospitals in Gaza," wrongly informed El País readers that Israel had launched an "offensive" against Gaza. In the same article, the paper's correspondent bizarrely insisted that "since 2014, Gaza had not been the victim of such a military siege."