Get to know Sean Durns
Q: You head CAMERA's Washington D.C. office. Tell us a bit about your academic background. How did you get involved in writing about international politics and journalism?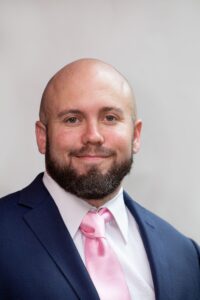 Sean: My interest in U.S. political history actually led to my interest in international politics. I did my undergraduate thesis on the legacy of Woodrow Wilson's foreign policy, known as Wilsonianism. This led to a broader interest in international affairs and prompted me to obtain a masters degree in international history from the London School of Economics, where I completed my thesis on U.S. strategy in the early Cold War-era Middle East. Subsequently, I worked for a political risk firm specializing in energy and South Asia. And finally, I wound up in D.C., where I worked for a former U.S. Under Secretary of Defense. He was looking for someone who had an academic background in the twentieth-century Egyptian leader Gamal Abdel Nasser, who I focused on as a graduate student.
Q: Tell us about D.C. and the global impact of its media culture.
Sean: Washington D.C. is the place to be. Think tanks, non-profit organizations, the U.S. government, the World Bank, embassies—it's all here. For many organizations, news and otherwise, a presence in D.C. is, I think, essential to staying abreast of what's going on in the world.
Q: What sort of work do you do at CAMERA? What's your day like?
Sean: Busy. I don't really have days that aren't busy, thankfully. I monitor thirteen different news organizations of varying size, everything from The Washington Post to the Richmond Times Dispatch. Several of the media outlets that I monitor are focused exclusively on foreign affairs and policy, such as Foreign Policy Magazine, The Hill, Politico, and several others. If I see errors or misleading statements, I'll either contact reporters or editors for corrections, or I'll write articles or op-eds to highlight the problems they contain. In addition, I deal with other nonprofit organizations based in D.C. and government entities that are based in D.C., acting as our D.C. representative working to advance CAMERA's mission.
Q: What inspires you?
Sean: History inspires me. I love history. By knowing where we've been, we have a better idea of where we're going. By knowing that we have a past, we know that we have a future. Sounds corny, I know. But by knowing that our forefathers encountered obstacles—and overcome them, I'm inspired.
Q: What do you love about working for CAMERA?
Sean: I love that it's never boring and it's always challenging. It's not easy to be a fact checker in today's world, to be an advocate for truth amidst declining standards and disinformation. That, and our staff is second to none.
Q: If you could have dinner with any person dead or living, who would it be? How come?
Sean: Easy: Winston Churchill. One would be hard pressed to think of someone who led such a long, varied, and interesting life. For the first half of the twentieth century, he was at its epicenter: two World Wars, the decline of the British empire, the birth of the modern Middle East, the rise of communism, and the Cold War. Churchill not only lived through these events; he was inseparable from them. He was a great writer, an indispensable leader, always quotable, and most importantly, always interesting.
Q: If you could improve the coverage of one news outlet, which would it be? Why?
Sean: Probably either The New York Times or The Guardian. I view both outlets as malicious towards Israel and absent in honest coverage about antisemitism.
Q: When you're not working for CAMERA, what do you do for fun? What's your idea of happiness?
Sean: I read—a lot. Ideally one to three books a month. My fiancée and I also rescue dogs, particularly bully breeds. My idea of happiness is a good book, good coffee, and my fiancée. I can't ask for anything better than that.