MSNBC's Mehdi Hasan cites no shortage of sources in his Feb.8
report
broadcast concerning
78-year-old Omar As'ad, who was found dead Jan. 12 following his detainment in Israeli military custody. While he has plenty of sources, Hasan's problem is that they don't substantiate his central allegation, which is, as the headline puts it:
"Palestinian-American dies in Israeli police custody."

Hasan opens his report about As'ad stating: "Another American citizen has died in police custody." The headline which frequently appears across the bottom of the screen during the broadcast likewise errs: "Elderly Palestinian American dies gagged, handcuffed in Israeli custody." The report's headline on MSNBC's site also repeats: "Palestinian-American dies in Israeli Police custody." So too does the brief description of the report: "Noha Saleh's father died while in custody of the Israeli Police in January."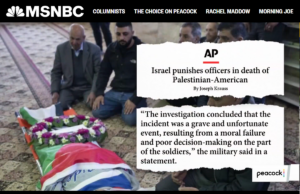 In fact,
as Hasan's own sources have made clear
, the timing of As'ad's death is unknown, and thus it cannot be determined that he died while in Israeli custody. For instance, at 6:53 in the broadcast, Hasan cites Joseph Krauss' AP story: "Israel punishes officers in death of Palestinian-American." But here's what Krauss wrote about the timing of As'ad's death in that
very same story
:
It's unclear when exactly Assad died. He was taken to a hospital and pronounced dead after the other detainees found him unconscious.
The Israeli military has said Omar was detained after resisting an inspection and later released, implying he was alive. It's unclear exactly when he died.
A military investigation into the death of an 80-year-old Palestinian, who died after being detained by Israeli soldiers earlier this month, shows a grave "moral lapse" by the soldiers involved in the incident. . .
Finally, the JStreet letter to which Hasan refers also does not allege that As'ad died while in Israeli custody.
Media outlets which in recent days corrected the assertion that As'ad died while in Israeli custody include Haaretz, AFP (including also in Arabic) and UPI.
While the presence of conflicting sources is a common phenomenon in journalism, it's not often that a journalist directly contradicts his own sources, passing them off as substantiation when they are just the opposite. When a source does provide false information, a journalist is right to point out the misinformation. But in this case, Hasan cites factual sources and selectively conceals their contents which contradict him, falsely hold them up as substantiation.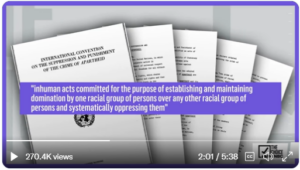 Worse, this is not the only recent instance in which Hasan misrepresented his sources.
In his Feb. 2 broadcast championing Amnesty International's
travesty of a report
charging Israel with apartheid, Hasan likewise engaged in this deception. Attempting to overcome the inconvenient reality that Israel in no way resembles South Africa apartheid, he argued:
"Israel doesn't have to be a replica of South Africa. Apartheid isn't defined by what happened in South Africa. It's defined by international law." To substantiate his claim that international law's definition of apartheid is distinct from South African apartheid, he then selectively quotes from the
1973
International Suppression and Punishment of the Crime of Apartheid
, saying "apartheid is defined as quote 'inhuman acts committed for the purpose of establishing and maintaining domination by one racial group of persons over any other racial group of persons and systematically oppressing them." But, tellingly, the words immediately preceding this text which Mehdi so dishonestly ignored are: "For the purpose of the present Convention, the term 'the crime of apartheid', which shall include similar policies and practices of racial segregation and discrimination as practised in southern Africa." In other words while Hasan argues that international law doesn't define apartheid in terms of the South African precedent, his own purported proof demonstrates exactly the opposite.
In a separate factual error in yesterday's broadcast on As'ad, Hasan refers to the Israeli soldiers who detained As'ad as military police. At the beginning of the broadcast, Hasan erred: "Israeli military police detained him in the occupied West Bank. . . " Likewise, the headline and summary of the broadcast refers to police custody. In fact, the soldiers in question were members of the Nezach Yehuda, which, as the IDF spokesperson's unit has confirmed to CAMERA, is a military combat battalion belonging to the Kfir Brigade, not military police.
By falsely attributing the detainment (and thus, by extension, death) to the Israeli police, Hasan plays into a heated American conversation on U.S. police behavior. His opening — "Another American citizen has died in policy custody" — is a blatant giveaway that the false Israeli police linkage is cheap pandering to the
post-journalism business model
based on polarizing as opposed to informing.