An Israeli-Saudi alliance would also be vastly unpopular on the Arab street given the ongoing occupation of the West Bank and Gaza. (Emphasis added.)
In 2005, Israel
withdrew
every last one of its citizens, both living and dead (having exhumed remains from the cemeteries), as well as all of its soldiers, from the Gaza Strip, ending its occupation of the territory. The only
Israelis currently "occupying" the Gaza Strip
are the three captive civilians with mental disorders reportedly forcibly held by Hamas, along with two soldiers, believed to be dead.
Following the 2005 withdrawal, then Secretary of State Rice said in a May 1, 2006 briefing:
And in fact, the Israelis do not any longer occupy Gaza; it is Palestinian territory. And that is in no small part thanks to the tireless efforts of Jim Wolfensohn, who worked day and night to make certain that that could happen. (Emphasis added).
While the United Nations and Human Rights Watch regard Gaza as still occupied, Hamas' Mahmoud Zahar disagrees, stating in 2012: "Against whom could we demonstrate in the Gaza Strip? When Gaza was occupied, that model was applicable."
In addition, a number of legal scholars disagree with the NGO position that Gaza is still occupied.
Indeed, after similarly stating that Gaza is occupied,
The Los Angeles Times
last year commendably published the following
correction
, the paper's
second
correction on this topic: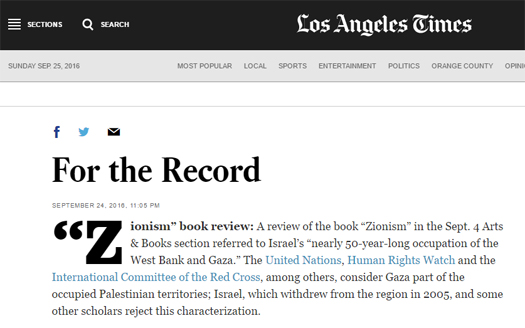 In addition, last month
The Evening Standard
also
corrected
this point.
In response to communication from CAMERA staff, NBC yesterday commendably removed the misleading wording. The amended text now states:
An Israeli-Saudi alliance would also be vastly unpopular on the Arab street given Israel's actions in the West Bank and Gaza.

Contrary to standard journalistic practice, editors did not append a note to the bottom of the article alerting readers to the change.