Oct. 21 update: CAMERA prompts correction. Details below.
Earlier this month,
The New York Times
walked back
an infamous article whose false premise was that experts disputed whether the Jewish first and second Temples were actually located on the Temple Mount, Judaism's holiest site ("
Historical Certainty Proves Elusive at Jerusalem's Holiest Place
," Rick Gladstone). Now today's
Times
story makes another significant error about Judiasm's holiest site, wrongly identifying it as the Western Wall instead of the Temple Mount.
Senior Untied Nations officials have objected to a proposal by some Arab states to classify the Western Wall, the holiest site in Judaism, as part of the Al Aqsa Mosque compound in Jerusalem's Old City, following angry denunciations by Israel and many Jewish-American groups.
Similarly, The Times' caption to the accompanying Associated Press photograph erred, stating: "An Israeli man prays at the Western Wall, the holiest site in Judaism, on Oct. 8 in the Old City of Jerusalem."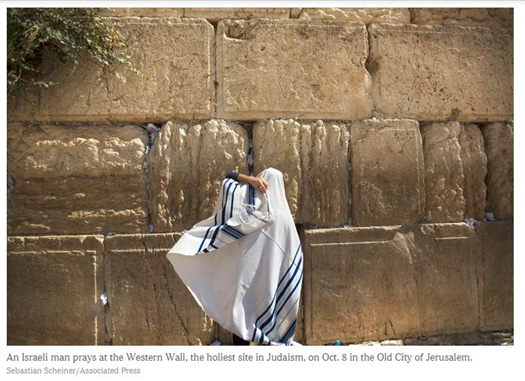 Judaism's
holiest site
is the Temple Mount, the site of the first and second Jewish temples which housed the Holy of Holies (the inner sanctuary where the Ark of the Covenant was located). The Western Wall, a retaining wall of the Temple Mount compound, obtained its holy status due to its proximity to the Holy of Holies.
The New York Times
itself has correctly
reported
on
a
number
of
occasions
in recent months that it is the Temple Mount which is the most sacred site in Judaism.
It should also be noted that the original Associated Press caption (shown below) accurately identified the Western Wall "as the holiest site where Jews can pray" (emphasis added). It was someone at The Times who deleted the AP's critical qualifying phrase "where Jews can be pray," thereby providing the incorrect caption.
Palestinian Fatalities: Killed in Clashes or While Attacking Israelis?
In a second, unrelated factual error,
The Times
reports: "New clashes erupted on Tuesday that left at least four Palestinians fatally shot." "Clashes" did not leave four Palestinians dead. One Palestinian,
reportedly a sniper about to fire at Israeli forces
, was fatally shot yesterday in clashes at the Gaza border.
Three Palestinians were killed yesterday as they attacked Israelis in stabbing and ramming attacks. They were Adi Hashem al Masalmeh, who stabbed an Israeli soldier yesterday morning near Hebron; a driver in Gush Etztion armed with a knife who rammed his car into two, wounding them; and Bashar al-Nidal Jabari and Hussam Ismail Jabari, who stabbed a soldier last night in Hebron.
CAMERA has contacted Times editors about these two factual errors. Stay tuned for updates about corrections.
Oct. 21 update: After CAMERA contacted editors regarding the error about Judaism's holiest site, the newspaper published the following correction:
An earlier version of this article referred incorrectly to the Western Wall. It is one of the holiest sites in Judaism, not the holiest site. (The holiest is the Temple Mount.) The error was repeated in a picture caption.