On Wednesday, May 4th, the Students for Justice in Palestine Rutgers-Newark will host an event featuring Norman Finkelstein, best known for calling Holocaust deniers "very good historians," writing a book called "The Holocaust Industry," and even justifying Hezbollah terrorism. Among the apparent co-sponsors of the event, featured on top of the Instagram flyer promoting the event, was a very surprising logo: UNICEF USA.
As UNICEF USA is purportedly a non-partisan organization, CAMERA contacted the charity to confirm if they were indeed a cosponsor of the event. To the organization's credit, they responded quickly and professionally to our inquiry and confirmed that the event "has nothing to do with us" and that they will seek to have their logo removed from the event.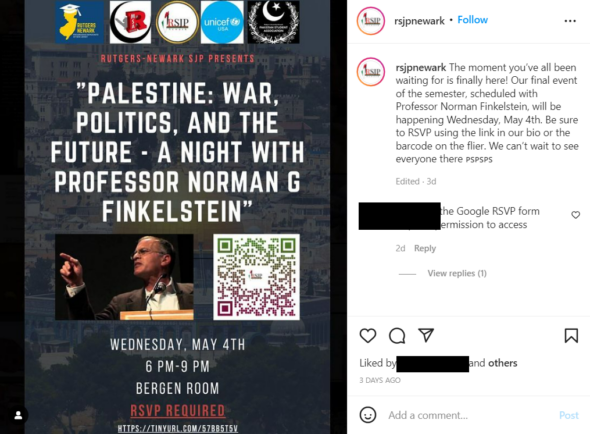 That would mean that, without permission, anti-Israel activists used the UNICEF USA logo to promote and give a false veneer of credibility to their event featuring an apologist for terrorism and Holocaust denial.
The Rutgers system has already seen many incidents affecting the Jewish community. In April 2021, the Alpha Epsilon Pi fraternity's house was vandalized during their 24-hour reading of names of victims of the Holocaust for Holocaust Remembrance Day.
The following month, the Rutgers-New Brunswick chancellor issued a statement condemning antisemitism and then shockingly apologized for the statement after pressure from the Students for Justice in Palestine chapter.
More recently, the Alpha Epsilon Pi fraternity was again targeted on April 29 for attack when protestors leaving a Students for Justice in Palestine rally traveled to the fraternity's house to shout antisemitic rhetoric and spit in their direction. A few days later, the house was once again vandalized during the fraternity's commemoration of Holocaust Memorial Day.
These antisemitic incidents involving SJP, and their decision to coopt without permission the UNICEF USA logo to promote their hateful agenda, should be a warning to the administrators in the Rutgers system. One can only hope they will honestly reflect on the shocking way in which they threw their Jewish students under the bus and caved to SJP's hate last year and commit to protecting their Jewish students.