Update: On February 3, The Sunday Times printed a full apology for publishing the cartoon.
January 27 was International Holocaust Remembrance Day. That same day, The Sunday Times of London published an editorial cartoon showing a hook-nosed Israeli Prime Minister Benjamin Netanyahu building a wall on the bodies of Palestinians and using their blood as mortar.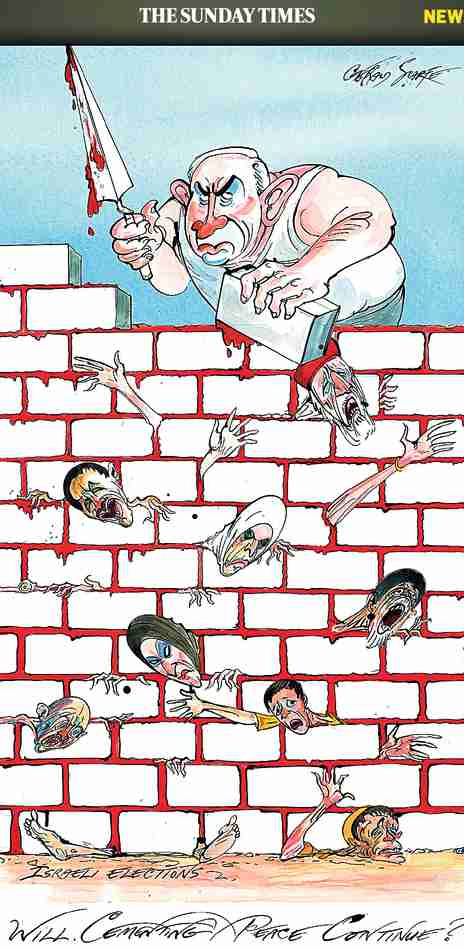 Michael A. Salberg, International Affairs Director of the Anti-Defamation League
described the cartoon
as having "a blatantly anti-Semitic theme and motif which is a modern day evocation of the ancient 'blood libel' charge leveled at Jews."
"This cartoon would be offensive at any time of the year, but to publish it on International Holocaust Remembrance Day is sickening and expresses a deeply troubling mindset," said European Jewish Congress President Dr. Moshe Kantor. "This insensitivity demands an immediate apology from both the cartoonist and the paper's editors."
In answer to this and other criticism, a spokesperson for The Sunday Times said, "This is a typically robust cartoon by Gerald Scarfe. The Sunday Times firmly believes that it is not anti-Semitic. It is aimed squarely at Mr. Netanyahu and his policies, not at Israel, let alone at Jewish people."
In The Commentator, Raheem Kassam described the cartoon as "not simply treading the fine line between criticism and blood libel, but indeed spitting all over it, leaving it for dust, and careering head first into anti-Semitismsville." He continued:
I would never have thought the editors of the Sunday Times were in amongst those who would seek, in true Der Sturmer fashion, to use Holocaust Memorial Day to publish a blood libel, and knowingly undermine the memory of one of the worst genocides ever…. I guess I was wrong on that count.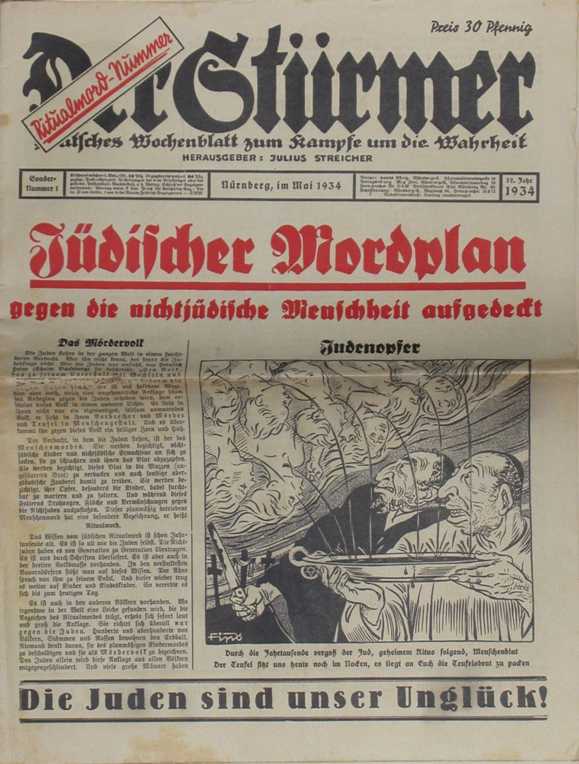 Just so. Flowing blood, hook-nosed Jews and their innocent victims feature in both the
Sunday Times
cartoon and this one from
Der Stürmer.
It was published in 1934, before the fires of the Holocaust burned their hottest and certainly fueling them.
It is perverse that an image like the Scarfe cartoon pollutes the pages of a mainstream news outlet, using the same imagery as Nazi propaganda, on Holocaust Remembrance Day. And it is beneath contempt for editors to deny the hatefulness of this imagery.
In light of the Sunday Times' decision to publish a cartoon on Holocaust Memorial Day depicting a blood-lusting Jewish leader, as well as recent comments by British MP David Ward suggesting that, on Holocaust Memorial Day, Jews should learn to stop "inflicting atrocities on Palestinians", as well as other routine debasements of Holocaust memory, here's a simple, if counter-intuitive request to those who believe that the Holocaust means anything at all:

Spare us your Holocaust pieties, your monuments, your memorials, museums and days of remembrance, and consider that, instead of honoring Jews murdered over 65 years ago, you may want to begin, instead, to honor Jews who are still among us.
Sunday, Feb. 3, 2013,
The Sunday Times
of London printed
a full apology
for publishing, on Holocaust Remembrance Day, a cartoon by Gerald Scarfe containing blood libel imagery used to demonize Jews throughout history, including in Nazi propaganda:
Last week we published, as we have almost every week since 1967, a cartoon by Gerald Scarfe. His works are brutal and bloody and his opinions are his own, not those of this newspaper. The Sunday Times has always understood and reported the legitimate security concerns of the state of Israel.

It is one thing to attack and caricature a leader — and it is as legitimate to attack Israeli leaders in cartoons as anyone else. But it is another thing to reflect in a caricature, even unintentionally, historical iconography that is persecutory or anti-Semitic.

The image we published of Binyamin Netanyahu, the Israeli prime minister, which appeared to show him revelling in the blood of Palestinians, crossed a line. The image would have been a mistake on any day but the fact that last Sunday was Holocaust Memorial Day compounded the error.

We realize that we caused grave offense, however unintended, which detracted from a day that marks one of the greatest evils in human history.

The Sunday Times abhors anti-semitism and racism of any type and we would never set out to offend the Jewish people — or indeed any other ethnic or religious group. The publication of last week's cartoon was a very serious mistake.

We apologize unreservedly.
In the week following the cartoon's publication, the newspaper received many hundreds of letters and phone calls calling for just such an apology. This statement goes further than any previous statements made by editors, even in meetings with leaders of the Jewish community. Printed as it is in the very pages that featured the insidious image and acknowledging both the timing of the cartoon's publication and the anti-Semitic nature of the iconography in it, the apology is very welcome.
In a previous statement, acting editor Martin Ivens acknowledged the reaction to the cartoon had reminded editors of "the sensitivities in this area" and stated, "I will o
f course bear them very carefully in mind in future."