After the worst massacre of the Jewish people since the Holocaust, whose voices did CNN's Alaa Elassar choose to elevate? The fringe Jews dedicated to delegitimizing the Jewish state and justifying the acts of terrorism committed against it.
In her October 23 article, "'Not in our name': Jewish peace activists across the US call for immediate ceasefire and justice for Palestinians," Elassar whitewashes Jewish Voice for Peace (JVP) and IfNotNow, two far-left radical organizations. As is becoming an unfortunate pattern at CNN, Elassar also distorted the facts.
The article depicts JVP and IfNotNow as just "peace activists" who are "at odds with some groups within their own community," the latter of which "question[] their morals and even accuse[] them of being anti-Israel."
Elassar deceptively inflates their significance in the Jewish community. She writes that "JVP has over 440,000 members and supporters across 30 states…" Aside from the fact that JVP itself acknowledges one need not be Jewish to join, the last time JVP's annual report provided such information, in November 2021, it had only 16,000 members. While "supporters" is undefined in the CNN article, as recently as June 2023, JVP's FAQ page said it had only 200,000 "supporters on our email list." Neither figure appears anymore on JVP's FAQ page or annual report.
And while Jews practice their faith differently, these organizations frequently engage in the cynical use of Jewish symbols. They distort and make a mockery of Jewish rituals and practices to provide cover for themselves while they advocate for far-left ideologies and condemn the Jewish state. JVP has even denounced the Jewish holiday of Purim as a "prominent revenge fantasy" and thinks it should be "transformed" into a tale in which the genocidal Persian minister Haman just needed to "take lessons in cultural sensitivity and prejudice reduction…"
And politically, these organizations are not just fringe. They are extremist.
The article sympathetically quotes JVP's Alissa Wise as saying: "I am Jewish, I'm not a Zionist, and I reject the idea that critiquing the politics of a government, the way you would any other government, is antisemitic." Elassar writes: "Jewish groups that advocate for Palestinian rights face a lot of criticism…"
But JVP and IfNotNow don't just "criticize" policies, nor do they just "advocate for Palestinian rights." They repeatedly engage in overtly antisemitic tropes and libels all while justifying terrorism against the Jewish state.
Last year, JVP published a blatantly antisemitic cartoon on its Instagram depicting Jewish soldiers drinking blood, an unmistakable use of the ancient blood libel.
JVP has celebrated convicted terrorists like Marwan Barghouti (convicted on five separate counts of murdering civilians), Rasmea Odeh (killed two Jewish students), and Khalida Jarrar (a senior PFLP member). It even celebrated the escape of several Palestinian terrorists from a prison by comparing them to Jews who escaped Nazi concentration camps. Those terrorists belonged to the same groups that just murdered Holocaust survivors in a genocidal rampage in southern Israel on 10/7.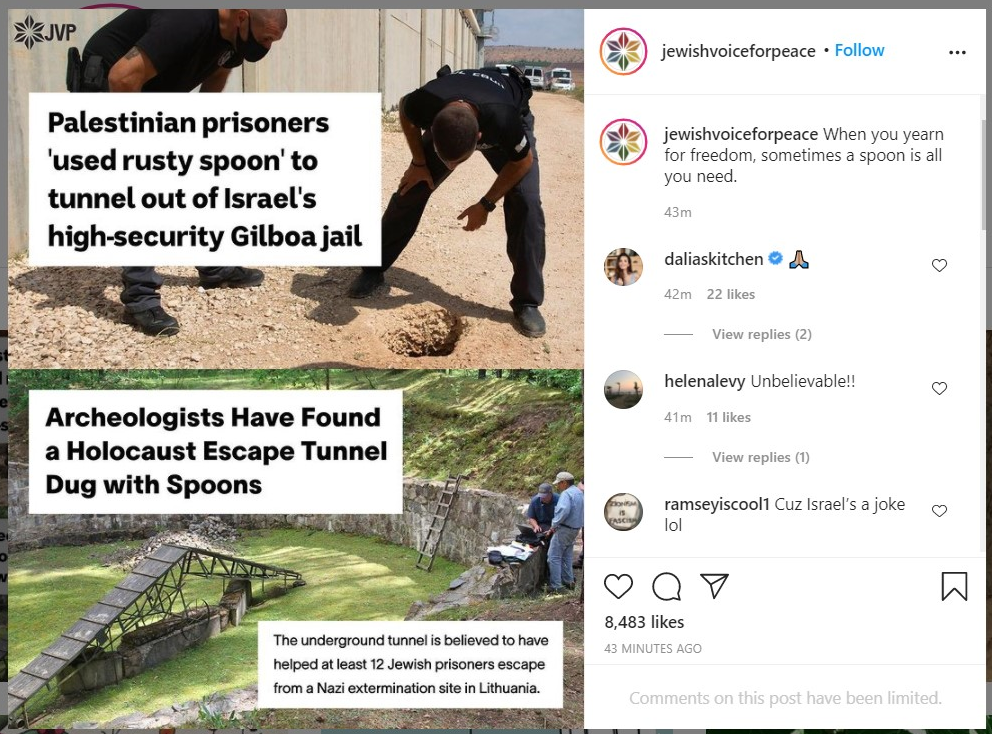 Similarly, IfNotNow blames Israel for serial rapist Harvey Weinstein and believes that all Jews (not Israelis, not Zionists, but "Jews") are "complicit" when Palestinians are killed in conflict.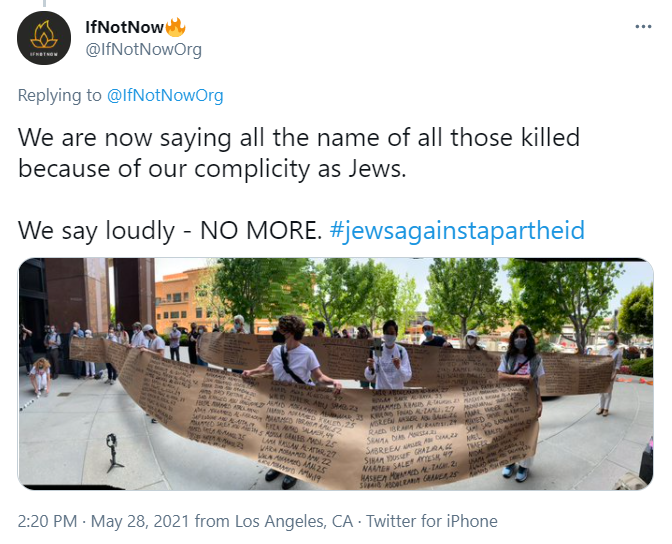 CNN's Elassar provides none of this context.
Moreover, Elassar allows these groups to spread false claims without challenge, and she even gets the facts wrong herself.
The article claims that Israel "imposed a blockade" on the Gaza Strip since withdrawing "troops and settlers in 2005," which "transformed Gaza into 'the world's largest open-air prison.'" This is false and it skips over crucial context. Israel did not impose a blockade until January 3, 2009, when it issued the notice to mariners.
What happened between then?
The only context Elassar gives is the vague and inadequate description that Hamas "ousted its opposition in 2007." But Hamas didn't just "oust" its opposition. It violently took over the territory, murdering the opposition. Over 160 Palestinians were killed, including women and children. It then began to use the territory as a base from which to launch terror attacks against Israel. According to a United Nations Panel of Inquiry, "More than 5,000 [rockets and mortar bombs] were fired between 2005 and January 2009, when the naval blockade was imposed."
IfNotNow's Eva Borgwardt is also allowed to freely engage in Holocaust inversion by giving misleadingly clipped quotes from Israeli officials:
"As Jewish people whose ancestors went through the Holocaust, when we hear Prime Minister Benjamin Netanyahu and Defense Minister Yoav Gallant use words like 'the children of darkness' and 'human animals' to describe Palestinians, we feel the resonances of that in our bones," said IfNotNow political director Eva Borgwardt…
Both quotes were clearly in reference to terrorists, not "Palestinians" as a whole. The full quote from Netanyahu:
"Hamas is part of the axis of evil of Iran, Hezbollah and their minions. They seek to destroy the State of Israel and murder us all. They want to return the Middle East to the abyss of the barbaric fanaticism of the Middle Ages, whereas we want to take the Middle East forward to the heights of progress of the 21st century. This is a struggle between the children of light and the children of darkness, between humanity and the law of the jungle."
Similarly, references to "human animals," have also clearly been referencing the terrorist organizations. Speaking to soldiers in Kibbutz Be'eri, where terrorists had brutally murdered more than a hundred civilians, Gallant said:
"You fought courageously and you acted in the spirit of the IDF exactly as it should. You resisted valiantly on the front lines, you hit many terrorists and saved lives. You saw with your own eyes against what we are fighting – against human animals – the Islamic State of Gaza."
To allow Borgwardt to make these incendiary and clearly misleading claims without the slightest bit of context is, once again, bad journalism.
Unfortunately, lack of context characterizes the entire article. This article isn't a work of journalism. It's a work of advocacy on behalf of fringe organizations dedicated to "defeat[ing] the political and Jewish establishment," and it comes amidst a dramatic spike in threats against the Jewish community, and so shortly after the greatest massacre of Jews since the Holocaust.