"America and Europe are awash in hatred toward minorities. The Jews are the least of its victims," argues
Haaretz
's Gideon Levy last week in his Op-Ed entitled "
Envy the Jews of the World
." To make his case, he cites the following statistic: "There were 5,818 hate crimes recorded against Muslims in America in 2015, a 67 percent increase over the the previous year … "
But Levy has his numbers wrong. FBI statistics on hate crimes in 2015 show the exact opposite: Jews were the most targeted religious group in the United States, not the least, as Levy argued.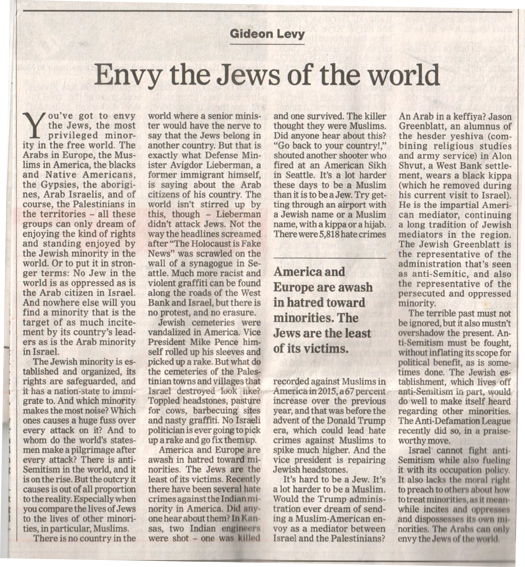 According to the
FBI's hate crimes statistics for 2015
, there were a
total
of 5,818 single-bias incidents, including those targeting Jews, Muslims, gays, people with disabilities, etc. In addition, of the 1,402 victims of
anti-religious hate crimes
, 52.1 percent were victims of crimes motivated by their offenders' anti-Jewish bias and 21.9 percent were victims of anti-Muslim bias.
That Jews are the most targeted religious group in the United States completely undermines Levy's baseless claim that in America, "Jews are the least of [the] victims." Compounding the misinformation, editors of the print edition chose to emphasize Levy's central and unfounded allegation in a pull quote.
Following communication from Presspectiva, CAMERA's Hebrew department,
Haaretz
's Hebrew editors corrected the
online Hebrew article
. CAMERA's Israel office contacted editors at the English edition, and they likewise corrected the online English article.
The article now refers to "5,818 hate crimes recorded in America in 2015" instead of "5,818 hate crimes recorded against Muslims in America." In addition, editors commendably appended the following correction to the bottom of the article, alerting readers to a change: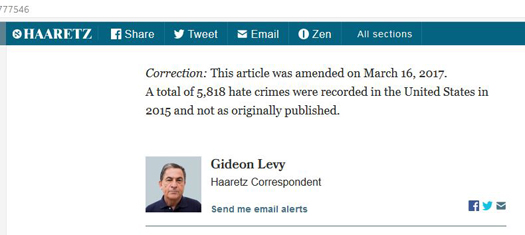 For additional
Haaretz
corrections prompted by Presspectiva and CAMERA, please see
here
.
See Presspectiva for the Hebrew version of this article.