Five days after the publication of a distorted headline which was picked up by numerous international media outlets,
Ha'aretz
today published a clarification. In the last several days, numerous critics, including
CAMERA
, have weighed in about
Ha'aretz
's coverage of the Dialog poll, including the false headlines. The English online version was "Survey: Most Israeli Jews support apartheid regime in Israel," and the print edition was likewise wrong and damaging: "Survey: Most Israeli Jews advocate discrimination against Arab citizens."
Most readers probably do not recall that this is the second time within two months that Ha'aretz was forced to acknowledge erroneous front-page headlines. Why can't Ha'aretz just get it right the first time?
Today, this clarification appears in the Hebrew print edition: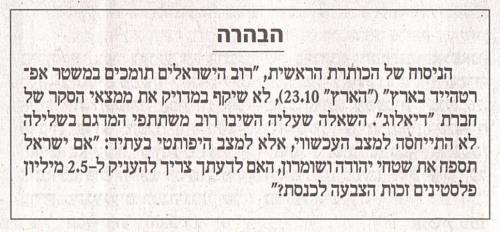 It states (CAMERA's translation):
The wording of the front-page headline, "The majority of Israelis support apartheid in Israel" (Ha'aretz, Oct. 23), did not accurately reflect the findings of the Dialog poll. The question to which most respondents answered in the negative did not relate to the current situation, but to a hypothetical situation in the future: "If Israel annexes territories in Judea and Samaria, in your opinion, should 2.5 million Palestinians be given the right to vote for the Knesset?"
In the English online edition, the following clarification appears:

The English print edition does not contain a clarification or correction. CAMERA/Presspectiva (our Hebrew Web site, which first published our analysis of the Dialog poll coverage) note the following:
1) The clarification underscores the public's ability to impact coverage. Whether the criticism comes from CAMERA,
Ben-Dror Yemini
,
Avi Mayer
, or
Yehuda Ben Meir
(whose piece, to
Ha'aretz
's credit, appears in today's paper), the public knows enough to be able to distinguish between a truth and a falsehood, and media outlets will have a difficult time abdicating responsibility indefinitely in such extreme cases.
2) Nevertheless, as CAMERA had earlier demonstrated, Levy's distortions were not limited to the headline (which, after all, he himself did not write), but permeated throughout his entire article, and included claims that were diametrically opposed to the survey's findings. Levy and Ha'aretz have yet to take responsibility for those distortions.
3) A small correction buried on page five about a highly visible front-page headline does not do justice to the problem. Levy's articles about the poll continue to inflict damage on Israel's international image. The clarification, though important, does not begin to put out the fire. It's reasonable to assume that most of those who celebrated the initial erroneous reports have no clue that a clarification was printed.
4) Most importantly, those who follow Presspectiva, CAMERA's Hebrew site, may recall that erroneous front-page headlines at Ha'aretz are a recurring problem. On Aug. 18, 2012, the Hebrew site published a front-page headline (CAMERA's translation): "For the first time, the American State Department defines settler violence as terror." After Presspectiva demonstrated to Ha'aretz editors that the headline was erroneous, Ha'aretz published the following correction (again, on page 5):
It states (CAMERA's translation): "Contrary to the front-page item (Ha'aretz, Aug. 19), this is not the first time that the American State Department defines settler violence as 'terror.'"
Thus, twice within two months the newspaper which considers itself the most serious publication in Israel printed egregious misinformation in front-page headline, and was compelled to correct. This fact raises troubling questions: Where are Ha'aretz editors before the paper goes to press? Will they conduct an inquiry to determine how patently false information twice appeared in front-page headlines, and to consider what can be done to ensure this problem does not recur? In addition, will news consumers who until now considered Ha'aretz a reliable news source now be aware of the paper's grave failings? Will think twice before trusting it again in the future?
For the Hebrew version of this update, please visit
Presspectiva
.