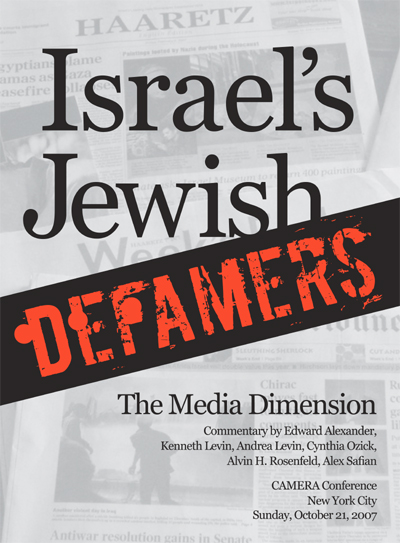 Anyone who follows news and commentary about the Arab-Israeli conflict knows that Jewish voices raised against Israel—often stridently and inaccurately—are commonplace. They are welcomed in the opinion columns of America's most influential newspapers, in the pages of prestigious magazines and journals and on many airwaves. No one doubts the right of such Jewish critics to denounce the Jewish state-just as others are entitled to challenge their allegations and consider the aims and consequences of their at times extensively publicized attacks.
On October 21, 2007 in New York city, CAMERA convened a conference to begin exploring the issue of Israel's Jewish Defamers and to encourage open discussion of their disquieting role in both American and international discourse about the Jewish state, its history, conduct and future.
The capacity crowd in attendance at the event underscored the strong interest in this important subject and encouraged us to publish the speakers' presentations for distribution to a wider audience. We hope this monograph adds to an understanding of the need for still further discussion of a dimension of the debate about Israel that is too often misunderstood—and ignored.
To order on Amazon, click
here
.