Rev. Alex Awad has agreed to remove a quote falsely attributed to Israel's first Prime Minister, David Ben Gurion from a DVD of his presentation "A Palestinian Perspective on the Arab-Israeli Conflict."
This DVD, which was available for sale for $10 at the gift shop of the Bethlehem Bible College during the Christ at the Checkpoint Conference in March, showcases Rev. Awad as he recounts the story of his mother Huda Awad, who raised seven children after her husband was tragically killed in a crossfire during the 1948 War. Awad also provides a badly distorted chronology of the Arab-Israeli conflict.
One of the more egregious problems of his presentation is his use of a quote falsely attributed to Israel's first Prime Minister, David Ben Gurion. During his talk, Rev. Alex quotes Ben Gurion as having said "We must use terror, assassination, intimidation, land confiscation, and the cutting of all social services to rid the Galilee of its Arab population." He reads the quote from a Powerpoint slide displayed on a screen behind him. Here is the slide: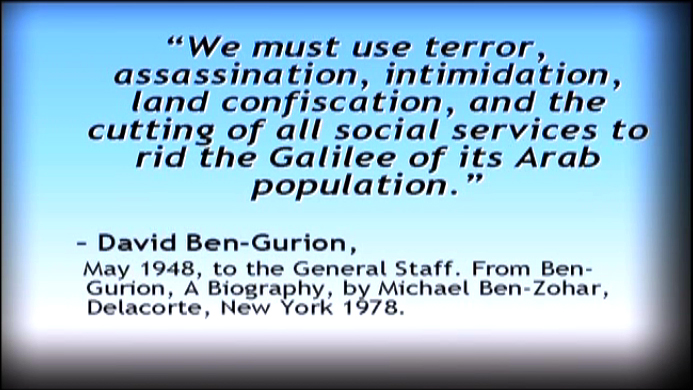 The quote is attributed to Ben-Gurion, A Biography, By Michael Ben-Zohard (Delactore, New York 1978). The quote does not appear in this text, nor does it appear in another document regularly cited as a source – the Koenig Memorandum about dealing with Israel's Arab citizens published in 1976. The quote, like others falsely attributed to Ben Gurion, appears regularly on anti-Israel websites.
CAMERA informed Rev. Awad that the quote was fake. In response, Rev. Awad thanked CAMERA for alerting him to the "possibility" that the quote is not accurate, stated he hasn't used the quote for many years and that he will remove it from future editions of the DVD.
Rev. Awad serves as Dean of Students and full-time instructor at Bethlehem Bible College in Bethlehem, and is a Commissioned Mission Partner with the General Board of Global Ministries of the United Methodist Church. Rev. Awad was a prominent supporter of the a resolution calling on the UMC to divest from three companies that do business with Israel. The resolution failed.