Yesterday, in a story about President Trump's visit to Israel and the Palestinian territories, the Associated Press inaccurately reported that the security barrier surrounds Bethlehem ("
Trump pushes for Mideast peace, but avoids thorny details
.") The article, by Jonathan Lemire and Julie Pace, erred:
On Tuesday morning, Trump met with Abbas in Bethlehem, traveling across the barrier surrounding the biblical city, which serves as a visual reminder of the complexities of the conflict in the region.
As seen in a map provided by
B'Tselem
, which is very critical of the barrier, the barrier, which was constructed to prevent suicide bombers from crossing into Israel, rings the northern and western site of the city, it does not encircle the city on the east and south.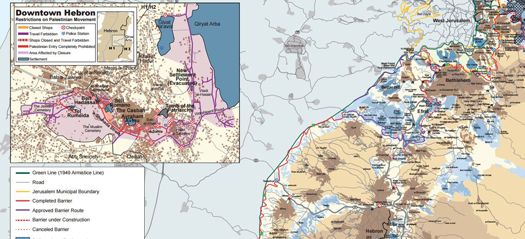 Following communication from CAMERA's Jerusalem office, the AP
improved
the language to refer to "the barrier surrounding much of the biblical city."
For additional AP corrections prompted by CAMERA, please see here
.