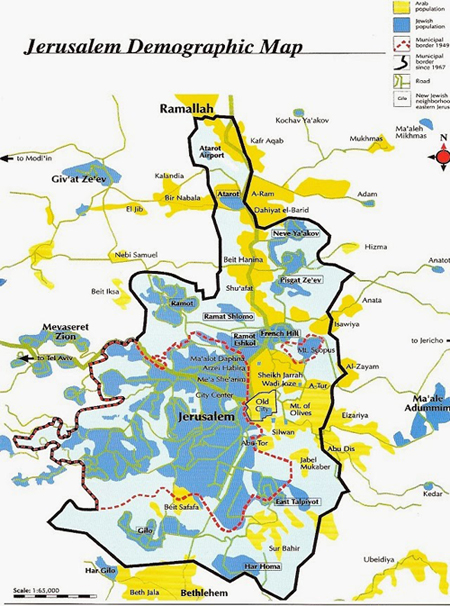 Feb. 20 Update: The newspaper has published a correction acknowledging that it "referred imprecisely" to Atarot. See details here.
A front page
story
published in
The New York Times
on Feb. 11 describes an Israeli industrial zone in northern Jerusalem as being, in fact and rightfully, "Palestinian territory" that is occupied by Israel. "Israel opened its first industrial zone in occupied Palestinian territory shortly after the 1967 war, in the East Jerusalem neighborhood of Atarot," reporter Jodi Rudoren informs readers.
But Atarot is in sovereign Israeli territory as part of the country's unified capital. Since the early 1900s, even before the first World War, the neighborhood was owned by Jews, who purchased, settled and worked the land. And although it was occupied by Jordan for 19 years, between 1948 when the Jewish owners were forced out under fire and their homes were razed by the Arab invaders and 1967 when Israel recaptured the territory from the Jordanians, this Jordanian occupation does not make Atarot "Palestinian territory." Nor do Palestinian claims that the area should be theirs make it factually so.
The newspaper's claim that Atarot is "occupied" and "Palestinian," then, is partisan and inaccurate and should be corrected.
The New York Times has previously published a correction after describing the nearby neighborhood of Pisgat Ze'ev as a settlement. The April 2, 2001 correction explained,
An article on March 28 about pressure on Prime Minister Ariel Sharon to retaliate against Palestinians for attacks on Israelis referred imprecisely to Pisgat Zeev, a Jewish neighborhood built in 1984, which was the destination of a bus attacked by a Palestinian suicide bomber. While the Palestinians consider it a settlement, the Israelis say it is part of municipal Jerusalem.
The recent error about Atarot goes even further, claiming the Jerusalem territory is not only "occupied," but also "Palestinian." A new correction should fix both of these partisan and inaccurate claims.
And if a 19-year Jordanian presence and Palestinian claims are all it take to convince the The New York Times to deem territory as rightfully Palestinian, it seems only a matter of time before the newspaper describes Jerusalem's Jewish Quarter and the Western Wall as "occupied Palestinian territory," too.
Who is Buttu?
A separate passage in the article also requires correction. Rudoren describes Diana Buttu only as "a lawyer who has been studying West Bank work conditions." This fails to inform readers of Buttu's recent
affiliation
as a legal advisor to the PLO and an advisor to Palestinian President Mahmoud Abbas.
The precedent, and seemingly the policy, at The New York Times is to share such affiliations with readers. Consider its description of "Uri Dromi of the Israel Democracy Institute, a former spokesman for Labor figures like Yitzhak Rabin and Mr. Peres," "Dore Gold, a longtime Israeli diplomat and president of the Jerusalem Center for Public Affairs," and "Brig. Gen. Shalom Harari, a former adviser to the defense ministry on Palestinian affairs." Readers deserve to know of Buttu's partisan background as well.
The newspaper has thus far stonewalled when confronted with the information above. We will update this space in case it publishes the needed corrections.
The Jewish agricultural community (moshav) of Atarot, 1944