There was yet another anti-Israel terror attack today, and yet another opportunity for headline writers to prove their ability to accurately capture a story in a few words. (When it comes to anti-Israel violence, they, and their editors, have
too often failed
.)
Here, in the words of a Reuters story, is what happened today:
Three Palestinians carried out back-to-back gun and car-ramming attacks on Israelis near a Jewish settlement in the occupied West Bank on Monday and were shot dead by the army, it said.

Two of the Palestinians, armed with a handgun and an improvised machine-pistol, were killed after opening fire at civilians and soldiers who were waiting at a bus stop outside Kiryat Arba settlement, the army said. One soldier was wounded.
Although we've
criticized
recent Reuters headlines, the wire service came through after today's attack with an informative, straightforward
title
that accurately summarized the main points of the story: "Three Palestinians Attack Israelis in West Bank, Shot Dead: Army."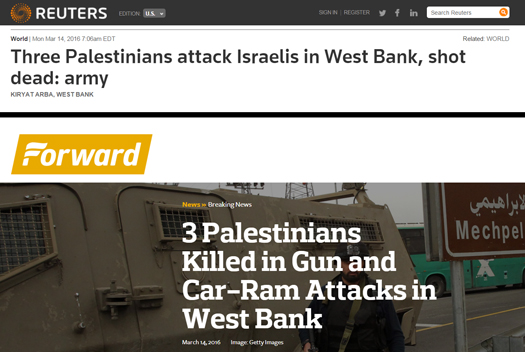 This same Reuters piece was picked up by
The Forward
, a Jewish newspaper. But apparently the original headline, in all its clarity about who attacked whom, wouldn't do.
"3 Palestinians Killed in Gun and Car-Ram Attacks in West Bank," The Forward titled its copy of the story. And just like that, the perpetrators of the attacks were recast as the targets.
The Forward's editor-in-chief Jane Eisner did not respond to emails asking why the headline was changed in a way that would certainly mislead readers.
The newspaper did slightly modify its headline so that it now
describes
the Palestinians as being killed "after" the attacks rather than "in" the attacks. Does that change improve the headline? If
The Forward
's original one was inverted and essentially inaccurate, the new one is, at very best, still unclear. Why the passive voice? Or even if using the passive voice, why not use a headline that unambiguously informs readers what happened? One possibility: "3 Palestinians Killed After Attacking Israelis in West Bank."