In 2002, during the campaign of Palestinian suicide bombings known as the "Second Intifada," and at the height of Israel's counter-terrorist offensive to stop the attacks, Palestinian officials took to CNN to allege an Israeli "massacre" in the West Bank city of Jenin.
This charge, and the more specific allegation that Israel killed 500 people in the city, quickly spread through the media. Almost as quickly, it was walked back, after it became clear that just over 50 Palestinians, mostly combatants, and about two dozen Israelis, were killed during intense house-to-house fighting in the city.
"That's not 500," conceded one critic of Israel, in an article lamenting the "credulous response" by many of his fellow left-wing activists to false Palestinian claims about Jenin.
Reputations suffered. One of the Palestinian officials most responsible for the false rumors, Saeb Erekat, was ridiculed as "Mr. 500 dead in Jenin" by the director of the Center for Israeli Studies at University College in London. The New York Post was more direct, titling a column about Erekat and his accusations "Why TV News Loves a Liar."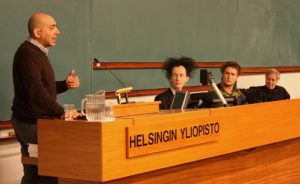 But according to the extremist website Electronic Intifada and its anti-Israel co-founder Ali Abunimah, Erekat never said 500 people were killed in Jenin. In fact, Abunimah insisted in the months following the operation, "there is no public record of any Palestinian official accusing the Israeli army of killing 500 Palestinians in Jenin."
In article after article and letter after letter, Abunimah and his publication "rebutted" claims that Erekat and other Palestinian leaders were responsible for the embarrassing allegations.
Electronic Intifada's campaign to rescue the credibility of those Palestinian leaders came to CAMERA's attention only recently. But if 2002 is old news, and although Abunimah's arguments didn't sway many, it's still worth looking into his rebuttals — in part because Electronic Intifada has shown it can't be trusted with quotations, and in part because the internet is forever, and can give new life to old claims.
Abunimah and Nigel Parry, his now-estranged Electronic Intifada co-founder, spent months on their Jenin campaign. In September 2002, they insisted that, "according to the Electronic Intifada's research, the only reference to the number 500 by any Palestinian official, was a statement by Palestinian cabinet minister Saeb Erekat on CNN on April 10 that up to 500 people had been killed throughout the occupied West Bank in Israel's 'Operation Defensive Shield,' not just in Jenin."
It was in September, too, that Abunimah and Perry wrote to the Israeli newspaper Haaretz to protest, in bold text, that "there is no public record of any Palestinian official accusing the Israeli army of killing 500 Palestinians in Jenin."
In a follow-up letter to Haaretz they asserted, "The ONLY time there is a public record of any Palestinian official mentioning the number 500 according to our research was Erekat on April 10, and it is plainly not in reference to Jenin alone."
A month earlier, in August, Abunimah and Perry demanded a correction from the Economist. "You say that 'Palestinians accused Israel of massacring up to 500 civilians' in Jenin," they wrote. "While this charge is widely attributed to Palestinians—even in Kofi Annan's UN report—we have been wholly unable to locate any direct quote from any Palestinian official making it in any media."
And in July, Abunimah described the results of his "extensive" investigation as follows:
Palestinian cabinet minister Saeb Erekat was widely cited in press reports as having said that 500 people were killed in Jenin. Yet, despite an extensive search, I have been unable to find any directly quoted statement from any Palestinian official, including Erekat, using that figure for the death toll in Jenin. None of the reports which cited Erekat said where he allegedly made the claim, and some provided conflicting accounts of when he allegedly said it.
He continued: "For a claim that is so widely cited, it should not be so difficult to find a direct quote."
This latter assertion, at least, is true.
On April 11, Erekat told CNN's Bill Hemmer that, "They are burying more than 300 Palestinian in Jenin refugee camp alone." Not yet 500, but the six-fold exaggeration is nearly equally absurd, and certainly relevant to any attempts to exonerate Erekat. It was ignored in Electronic Intifada's assorted writings.
A few days later, on April 17, Erekat hit the magic number. "We officially offer to have an international commission of inquiry to get the results and to decide how many people were massacred," he told Wolf Blitzer during a conversation specifically about the Jenin refugee camp. "And we say the number will not be less than 500."
Not only is there a record of Erekat saying that 500 were massacred in Jenin, but there's even a record of him admitting he said it. "I said 500," Erekat acknowledged after being confronted during a May 5 interview with Blitzer:
BLITZER: Mr. Erakat, you probably know that you've come under some widespread criticism here in the United States for initially charging that the Israelis were engaged in a massacre in Jenin. Perhaps 500 Palestinians murdered in that massacre, you suggested. But now all of the evidence suggests that perhaps 53 or 56 Palestinians died in that fighting in Jenin.

Do you want to use this opportunity to give us your assessment now, based on what you know, how many Palestinians were killed? Condoleezza Rice, only a few minutes ago on this program, said she didn't see any evidence of a so-called massacre.

ERAKAT: It depends — first of all, on the number 500, I said 500 but I said at the same time I cannot confirm them because I didn't have the chance to go and pull the rubble out and to clean the rubble out, and I don't know exactly, and I said I cannot confirm it.
Erekat wasn't the only one peddling the Jenin massacre myth. Hasan Abdel Rahman, the Palestinian Authority's representative to the United States, told CNN on April 12 that "everyone in this world knows that Israel committed a massacre in Jenin in the last week, 400 to 500 people, mostly civilians, that were killed by the Israeli army." And AFP's Peter Mackler reported on April 14, "Palestinian information minister Yasser Abed Rabbo charged Friday that Israeli bulldozers had dug mass graves for around 500 Palestinians he said had been killed there, half of them women and children, he said."
So much for Electronic Intifada's "extensive search." So much for "no public record of any Palestinian official."
That wasn't Abunimah and Parry's only fib. They also denied Erekat used the word "massacre" during his April 10 appearance on CNN. "It is surely relevant as well," they proclaimed in their letter to Haaretz, "that on the specific occasion when Mr. Erekat talked about 500 killed throughout the entire West Bank he did NOT use the word 'massacre' in conjunction with that number, contrary to the claim in The Jerusalem Post that he had."
But here's Erekat, on that very day, on that very network: "I'm afraid to say that the number of Palestinian dead in the Israeli attacks have reached more than 500 now. And I think the number may increase once we discover the extent of the damage and the massacres committed in — particular in the Jenin refugee camp and in the whole city of Nablus."
It bears repeating that 52 Palestinians, not 500, were killed during intense urban warfare in Jenin. And it bears remembering who, in the days and months that followed, tried to deceive the public — not only Saeb Erekat with his lies about Jenin, but also Ali Abunimah with his lies about Saeb Erekat's lies.