July 4 Update
Yesterday, following communication from many CAMERA members, The New Yorker removed the false claim, which had originally appeared twice in the article, that there are no MRI machines in the Gaza Strip. The amended text now states: "Her options in Gaza are dismal: its public hospitals provide very limited and sporadic access to functional MRI and mammogram machines… " In addition, editors appended the following correction to the bottom of the article: "A previous version of this post incorrectly stated that there are no MRI machines in Gaza."
July 3 − "Fighting fake news with real news" is the yet unfulfilled promise in a New Yorker advertising banner which at times pops up over the digital version of an article which contains, well, fake news. The June 28 article ("Many Gazan Women Are No Longer Able to Enter Israel For Cancer Treatment") includes the blatantly false claim that there are no MRI machines in the Gaza Strip, either in public hospitals or at all. Journalist Ruth Margalit quotes Dena Mekhael, identified as a cancer patient from Gaza, without challenge or correction, who stated: "In Gaza, there are no more MRI machines… " In addition, further down, Margalit adds in her own voice that Mekhael's "options in Gaza are dismal: its public hospitals have no MRI machines …"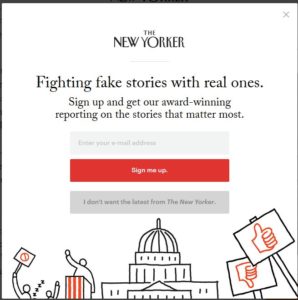 But, according to the United Nations, a scientific journal, Palestinian sources, and the European Gaza Hospital (a public institution), along with mainstream media, there are indeed MRI machines in Gaza. Notably, a 2017 report in The Journal of Radiation Research and Applied Sciences ("Evaluation of advanced medical imaging services at Governmental Hospitals – Gaza Governorates, Palestine"), noted there are two MRI machines in the Gaza Strip per one million inhabitants. This compares to four MRI machines in Israel per one million inhabitants. Both Israel and the Gaza Strip lag significantly behind other countries, including Turkey, France, Australia, and especially Germany (Table 2, page 5).
In April, the Facebook page of the MRI Department at European Gaza Hospital publicized that it received a new MRI system by Philips Healthcare.
In recent days, the Gaza Strip's MRI machines have been in the news following devastating airborne arson attacks that Gazans have launched against Israel using helium inflated balloons and kites, destroying some 30,000 dunums of Israeli farmland and nature reserve land, and killing wildlife. As a result, Israel decreased the amount of helium it exports to the Gaza Strip, which has put at risk the ongoing use of MRI machines.
In February, the United Nations warned that a shortage of electricity (arising from Hamas-Palestinian Authority disputes) also endangered the ongoing functioning of MRI machines, and other hospital equipment. How could a shortage of helium and electricity affect the functioning of Gaza's MRI machines if there are no such machines?
Furthermore, given that Dena Mekhael has proven to be an unreliable source when it comes to MRI machines, her story that she applied for a medical permit to enter Israel in December and has not yet received approval requires cross-checking. Did The New Yorker get confirmation from the relevant Israeli authority (COGAT, Coordination of Government Activities in the Territories), or from the Shin Bet, which runs the background checks? Likewise, if fact-checking fell through the cracks regarding Mekhael's claim about MRI machines, did the reporter verify the story of Amani Abu Taema, a breast cancer patient who said her application for a medical permit to enter Israel was rejected four times since January?
Fact-checking the source's story is imperative, not only because it's a basic responsibility of journalism, but because the stories don't always check out. Indeed, in a Haaretz article last year about the difficulties cancer patients from Gaza face receiving entry permits, the Shin Bet disputed the three specific cases addressed in the article ("Gaza Cancer Patients: Israel's Refusal to Let Us in for Treatment is a 'Death Sentence.'" (Haaretz's English edition initially omitted the Shin Bet response, which had appeared in the Hebrew version. Editors added it in after CAMERA pointed out the omission.) The Shin Bet stated:
Iman Shanan asked for permission to enter Israel to attend a conference in support of cancer patients. She did not submit a request to enter Israel for medical treatment. We have no record of any request from Majar Naizi. Sihan al-Tatri submitted her request to enter Israel for medical treatment in November and her request was granted.
Regarding Israeli security concerns about Hamas exploitation of cancer patients seeking treatment in Israel, Margalit partially quoted the Shin Bet response from the same Haaretz article, stating:
In response to a Haaretz report last year about the stalling of medical permits, the Shin Bet said that it "allows residents of the Gaza Strip to enter Israel for medical treatment in accordance with the policies determining the movement of people between the State of Israel and the Gaza Strip and in the absence of any security impediment." It added, "Of late, we have witnessed repeated attempts by terrorist organizations in the Gaza Strip, which take advantage of Israel's willingness to grant entry to some patients for humanitarian reasons, to carry out terror attacks in Israel."
Despite the fact that Margalit had devoted extensive detail (and the verification process of this information is unclear, as explained above), she provided no detailed information about Hamas exploitation of cancer patients, some of which had been reported in the media. Indeed, Haaretz reported in April 2017 ("Cancer Patient Caught Smuggling Explosives for Hamas, Shin Bet Says"):
Two sisters from the Gaza Strip were arrested Wednesday after they were caught smuggling explosives for Hamas in medical supplies, the Shin Bet security service said.

The women were caught at the Erez crossing when they left to Gaza after one of them had received treatment in Israel for cancer. The two were taken in for questioning and the explosives, which were hidden in tubes, were dealt with by a police expert in bomb disposal.

A preliminary investigation found that Hamas was behind the attempt and the explosives were intended for terrorist attacks in Israel, the Shin Bet said in a statement.
But Margalit, who did not mention this case, did focus on the "theories" supplied by Mor Efrat of Physicians for Human Rights-Israel, to explain the increased difficulties patients face in receiving entry permits. She wrote:
Why the sudden change? "We have only theories," Mor Efrat, who oversees Gaza and the West Bank for P.H.R.I., told me last week. It's not because treating Palestinian patients places an undue financial burden on Israel. More than ninety per cent of Gazans' medical bills are covered by the Palestinians Health Ministry, or by the patients themselves. And it's not because of last month's violent protests at the border fence: the decline in permit approvals preceded them. Instead, the reason appears to be the growing pressure from the family of an Israeli soldier who was killed in Gaza in 2014. Hamas has refused to return his body and that of another slain soldier.
PHR-Israel's Mor put Margalit in touch with both Amani Abu Taema and Dena Mekhael, who had provided the false information about MRI machines in the Gaza Strip.
CAMERA has contacted The New Yorker, requesting a correction of the false claim that there are no MRI machines in the Gaza Strip, as well as verification of the personal stories of both Mekhael and Abu Taema.