CAMERA's Israel office this week prompted corrections of numerous captions regarding Gaza double amputee Ibrahim Abu Thuraya, who was killed during a border clash earlier this month. Wire services
Associated Press
and
Deutsche Presse-Agentur
(DPA), as well as the English-language edition of
Haaretz
, all corrected.
All of the captions had originally reported as fact that Ibrahim Abu Thuraya was shot dead by Israeli troops despite the fact that the circumstances of his death are unconfirmed and unclear and the Israeli army
denies shooting any live fire
in his direction. In addition, the captions' statement that he lost his legs and eye during a 2008 Israeli bombing is contradicted by a Dec. 28 Associated Press report which stated:
While relatives have claimed Abu Thraya lost his legs in an Israeli airstrike while trying to rescue people, AP records show that he was wounded on April 11, 2008, in a clash between Israeli forces and Palestinian militants in the Bureij refugee camp in central Gaza. AP television footage from that day shows Abu Thraya identifying himself as he is taken away on the back of a pickup truck. He is also seen being taken on a stretcher.
The aforementioned AP television footage is available
here
.
Examples of the numerous original erroneous AP and DPA photo captions follow:
The text in the above three captions is identical. It is: Palestinian mourners carry the body of 29-year-old activist Ibrahim Abu Thuraya who was shot and killed by Israeli troops Friday, in clashes on the Israeli border with Gaza, during his funeral in Gaza City, Saturday, Dec. 16, 2017. Abu Thuraya lost legs and an eye in Israeli bombing during the 2008 Israel and Gaza war. (AP Photo/Khalil Hamra)
Mother of Ibrahim Abu Thuraya (C), an activist who was shot dead by Israeli troops on Friday, during clashes following protests against US President Trump's decision to recognize Jerusalem as the capital of Israel, mourns during his funeral in Gaza City, Gaza, 16 December 2017. Abu Thuraya lost his legs and an eye in Israeli bombing during the 2008 Israel and Gaza war. Photo by: Wisam Nassar/picture-alliance/dpa/AP images
The head of the Hamas political bureau, Ismail Haniyeh prays over the body of Palestinian activist Ibrahim Abu Thuraya, who was shot dead by Israeli troops on Friday, during clashes following protests against US President Trump's decision to recognize Jerusalem as the capital of Israel, during his funeral prayer in Gaza City, Gaza, 16 December 2017. Abu Thuraya lost his legs and an eye in Israeli bombing during the 2008 Israel and Gaza war. Photo by: Wisam Nassar/picture-alliance/dpa/AP Images
Palestinian mourners carry the body of activist Ibrahim Abu Thuraya, who was shot dead by Israeli troops on Friday, during clashes following protests against US President Trump's decision to recognize Jerusalem as the capital of Israel, during his funeral in Gaza City, Gaza, 16 December 2017. Abu Thuraya lost his legs and an eye in Israeli bombing during the 2008 Israel and Gaza war. Photo by: Isam Nassar/picture-alliance/dpa/AP Images
Following CAMERA's correspondence with editors at the respective wire services, both corrected the erroneous captions. Examples of the corrections from each of the news agencies follow:
CORRECTS DATE AND CIRCUMSTANCES THAT IBRAHIM ABU THRAYA LOST AN EYE AND HIS LEGS AND INCLUDES ISRAELI DENIAL OF INTENTIONALLY SHOOTING HIM — Palestinian mourners carry the body of 29-year-old activist Ibrahim Abu Thraya, who was shot and killed during clashes with Israeli forces on the border with Gaza, at this funeral in Gaza City, Saturday, Dec. 16, 2017. The Israeli Army denied intentionally shooting Abu Thraya who lost his legs and an eye in clashes with Israeli forces April 11, 2008. (AP Photo/Khalil Hamra)
CAPTION CORRECTION (WRONG CIRCUMSTANCES) Dear customers, please note that the circumstances of the depicted events in the photos by Wisam Nassar with the image numbers'90-012537; 90-011299; 90-011318; 90-011360; 90-010435; 90-009949; 90-009643 are incorrect. The information to be corrected and the new caption are stated below. All photos will be resend to you. We apologise for the inconvenience. With kind regards dpa picture desk – Ph. +49 – 30 2852 31551. CORRECTS CIRCUMSTANCES THAT IBRAHIM ABU THURAYA LOST AN EYE AND HIS LEGS, CORRECTS THE STATEMENT THE WAS KILLED BY THE ISRAELI ARMY INCLUDES ISRAELI DENIAL OF INTENTIONALLY SHOOTING HIM dpatop – GRAPHIC'CONTENT – Mother of of activist Ibrahim Abu Thuraya (c), shot and killed during clashes with Israeli forces on the border with Gaza, mourns during his funeral in Gaza City, Gaza, 16 December 2017. The Israeli Army denied intentionally shooting Abu Thraya who according to recent media reports lost his legs and an eye in clashes with Israeli forces in April 2008. Relatives have claimed Abu Thraya lost his legs in an Israeli airstrike. Photo by: Wisam Nassar/picture-alliance/dpa/AP Images
In addition, Haaretz's erroneous caption originally stated:
Palestinian mourners carry the body of Ibrahim Abu Thuraya, a double amputee from a 1988 [sic] Israeli bombing, who was shot and killed by Israeli troops in clashes on the Israel:Gaza border. Dec 16, 2017 Credit AP Photo/ Khalil Hamra
Haaretz
also commendably corrected in response to CAMERA's communication. The amended
caption
now accurately states: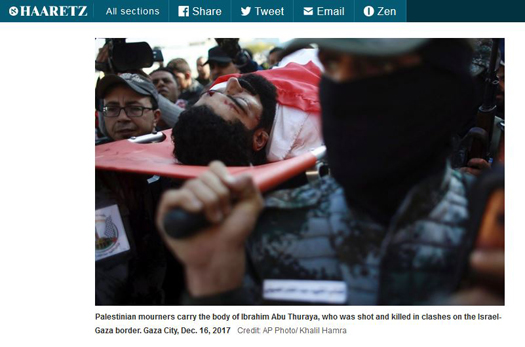 Palestinian mourners carry the body of Ibrahim Abu Thuraya, who was shot and killed in clashes on the Israel-Gaza border. Gaza City, Dec. 16, 2017 Credit AP Photo/Khalil Hamra