The British Broadcasting Corporation (BBC) has initiated an investigation into its personnel in response to troubling findings brought to light by CAMERA's Arabic department.
CAMERA researchers uncovered that several BBC journalists had, on social media platforms, made statements justifying the killing of Israeli civilians by Hamas, igniting a significant controversy among the British public. As of now, the BBC has cut ties with one of the journalists, while the investigation of the others is ongoing.
The issue came to the fore when a group of BBC journalists engaged in social media activity that appeared to celebrate the October 7 terrorist attack that resulted in approximately 1,400 Israeli deaths.
These journalists, associated with BBC News Arabic, were found to have endorsed comments equating Hamas, a recognized terrorist organization, to freedom fighters. They even referred to the October 7 massacre as a "morning of hope."
Among the troubling remarks, one senior correspondent mocked Israeli relatives of a grandmother who had been abducted by Hamas, while another journalist posted a tweet that "Israel's prestige is crying in the corner."
"The BBC is mandated to uphold impartiality in its reporting, including the online conduct of its news journalists," said Tamar Sternthal, director of CAMERA's Israel office. "CAMERA's investigation found that the social media activity of six BBC journalists and one affiliated freelancer failed spectacularly to meet those professional standards."
Breaching BBC guidelines were the following: Mahmoud Sheleib, senior broadcast journalist; Aya Hossam, broadcast journalist; Sally Nabil, correspondent; Salma Khattab, based in Cairo; Sanaa Khouri, the Beirut-based religious affairs correspondent; Nada Abdelsamad, a Beirut-based programs editor; and Egypt All Sports, a company run by Amr Fekry, a sports correspondent and pundit at BBC Arabic.
Some of these journalists questioned the classification of Israeli non-combatants as civilians, despite overwhelming evidence of Hamas's indiscriminate violence on women, children, babies, and the elderly.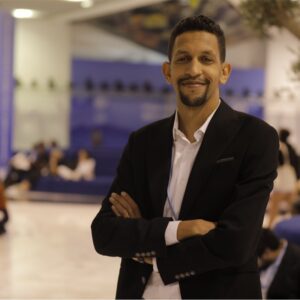 BBC News senior broadcast journalist Mahmoud Sheleib suggested that young Israelis were essentially combatants, advocating for violently fighting them with "love." This comment was accompanied by a laughing emoji.
CAMERA's investigation also revealed instances where BBC Arabic journalists had liked or retweeted content that perpetuated anti-Israel hatred and prejudice.
"These revelations about BBC Arabic employees go hand in hand with the outlet's ongoing conduct during the war," said a researcher with CAMERA Arabic. "The BBC has repeatedly whitewashed the practice of targeting Jewish civilians in Israel even before the current escalation."
Following CAMERA's revelations, a BBC spokesperson issued the following statement: "We are urgently investigating this matter. We take allegations of breaches of our editorial and social media guidelines with the utmost seriousness, and if and when we find breaches we will act, including taking disciplinary action."
CAMERA encourages the BBC to honor these pledges and address this critical issue promptly and transparently, in strict adherence to its core principles of impartiality and journalistic integrity.