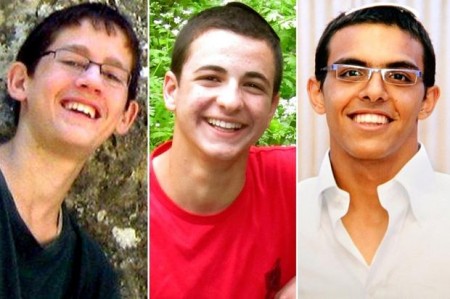 CAMERA extended its deep sympathy to the families of Naftali Fraenkel, Gilad Shaar and Eyal Yifrach on the heartbreaking and terrible loss of their sons. The extraordinary dignity of the families throughout their ordeal touched all who witnessed their brave efforts to bring world attention to the brutal kidnapping and killing of their loved ones.
Rachelle Fraenkel's words as quoted below in The Times of Israel are testimony to the remarkable courage and grace of the bereaved families.
Rachelle Fraenkel, the mother of slain 16-year-old yeshiva student Naftali Fraenkel, takes the microphone as she bids farewell to her son at his funeral in Sha'alabim, near the family's home in Nof Ayalon.

"Rest in peace, my son. We'll learn to sing without you. We'll always hear your voice inside," she says.

She also thanks the Israeli security forces who found her son's body after more than two weeks of painful uncertainty.

"Dear soldiers, intelligence personnel and police, we still thank you very, very much. You promised you would find and bring them back. And you brought them back. That is a great kindness, too," she says.

"From the very first day, we said to ourselves that even if it ends badly, God gave us an abundance of blessings, wonderful young men, children with noble souls, a large and empowering community."
Updated:
The shocking news that a Palestinian family has suffered the loss of their teenage son at the hands of Israeli Jews has prompted denunciation of the perpetrators by Israelis and Jews everywhere.
Israeli Prime Minister Benjamin Netanyahu called the victim's father, Hussein Abu Khdeir, on Monday to convey condolences for the loss of his 16-year-old son, Mohammed. The Prime Minister said: "I would like to express my outrage and that of the citizens of Israel over the reprehensible murder of your son." He said "The murder of your son is abhorrent and cannot be countenanced by any human being,"
Heads of the Conference of Presidents of Major American Jewish Organizations, of which CAMERA is a member, issued a statement saying "There is no justification for such a heinous attack by self-styled vigilantes. We condemn this attack, as we did the murder of the three Israeli youths by Arab terrorists last week and we extend our sincere condolences to the Khdeir family."