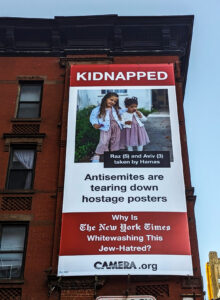 Since the October 7th Hamas onslaught on southern Israel, antisemitic individuals have been ripping down posters of civilians taken hostage by Hamas, often uttering bigoted expletives against Jews at the same time. But there's one poster they can't touch: CAMERA's massive new billboard standing outside The New York Times' headquarters.
"KIDNAPPED," the billboard declares above a photo of five-year-old Raz and three-year-old Aviv Asher who were taken hostage while visiting their grandmother's village near the Gaza border in Israel. Below the children's photo, the billboard says: "Antisemites are tearing down hostage posters," and it then asks: "Why Is The New York Times Whitewashing This Jew-Hatred?"
CAMERA created the billboard to call attention to The New York Times suggesting a moral equivalence between those who display the humane posters and those who rip them down.
A controversial New York Times article titled "How Posters of Kidnapped Israelis Ignited a Firestorm on American Sidewalks," by Katherine Rosman prompted strong CAMERA criticism. The Times reporter claimed the defacing and removal of hostage images has become "its own protest — a release valve and a provocation by those anguished over the Israeli government's treatment of Palestinians."
CAMERA Senior Analyst Gilead Ini noted, "Their 'both-sides' approach creates a false moral balance, making the vandalism seem as valid as efforts to expose the suffering of hostages and seek their release."
CAMERA has argued The New York Times' amoral framing of the issue amounted to another assault on the hostage victims. "The New York Times message, in effect, encourages poster vandals, portraying them as misunderstood freedom fighters," said CAMERA Executive Director Andrea Levin.
By coincidence, two defaced hostage posters can be seen at a pedestrian crosswalk near the billboard, poignantly underscoring the truth of the sign's message.
"Our hope is that journalists and editors at The New York Times will see this billboard and do a little soul-searching about their frequently biased and inaccurate reporting about the Jewish people and the Jewish state," said Levin.
We are now faced with a crucial challenge – to ensure that this powerful message continues to resonate with the public and, importantly, with the journalists and editors at The New York Times. The billboard has the potential to reach approximately 100,000 individuals daily, making it a vital tool in our efforts to counter biased coverage.
This is where we need your help. Your generous donation will directly contribute to the continuation of this crucial awareness campaign, allowing us to confront media bias, challenge misinformation, and advocate for the voiceless victims of these heinous acts.
Together, we can make a difference. Please visit our donation page by clicking here to make a secure online contribution. Every dollar brings us one step closer to ensuring that the billboard remains tall, defying attempts to silence the voices of those who need us the most.
Thank you for standing with us in this critical moment.