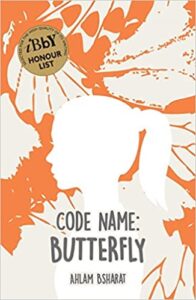 In the Western Christian tradition, a martyr is an innocent individual, like St. Catherine of Alexandria, tortured on a spiked wheel for defending her Christian beliefs, or Saint Sebastian, bound to a tree, shot with arrows, and later clubbed to death for his devotion to his Christian faith. Their striking images in stained glass and statuary grace many of Europe's Gothic cathedrals.
Judaism, too, has its tradition of martyrdom. In the Yom Kippur afternoon service, Jews read the "martyrology" ("These shall I recall"), which chronicles the stories of ten rabbis and teachers who died for their faith — men like Rabbi Chananya, whom the Romans tortured to death by wrapping him in damp wool and a Torah scroll, then setting him alight. None of these Christian or Jewish martyrs promoted violence.
The young adult novel Code Name: Butterfly, published in Arabic in 2009 and released in an English translation in 2016, takes a curious twist on the term "martyr" – a word echoed multiple times in this short book. From the perspective of author Ahlam Bsharat, a "martyr" is any West Bank Palestinian killed by Israelis. The word "terrorist" is not in Bsharat's vocabulary, so we don't learn why any of the victims of Israeli gunfire she cites sympathetically might have been targeted by Israel. 1
Dalal Mughrabi, for example, is identified by Bsharat as a "martyred Palestinian freedom fighter."2 (In Palestinian textbooks, Mughrabi, who is lionized to this day by the Palestinian Authority, is held up as a heroine to be emulated.)3 Her actions tell a different story: In concert with ten other Palestinian and Lebanese terrorists, Mughrabi led the 1978 Coastal Road Massacre, a bus hijacking in which 35 Israeli civilians, including thirteen children, were murdered and 71 injured.
Recognizing that the book's young readers will require context, the book offers a glossary, which provides this definition of "martyr":
Martyr (noun, and verb 'to be martyred'): In the context of the Palestinian resistance against the Israeli occupation of Palestinian territory, a martyr is someone who dies or is killed while supporting the Palestinian cause.
The author's slippery use of neutral-sounding terms like "resistance" and "supporting the Palestinian cause" sanitizes terrorism. The spurious "support" cited here bears no resemblance to the non-violent support offered to just causes like the American Civil Rights movement of the 1950s and '60s—marching peacefully, for example, or sitting in at segregated lunch counters. In striking contrast, the "support" offered by Palestinian terrorists consists of car-rammings, stabbings, shootings, and bombings. The term "Palestinian territory" also reflects the author's bias, since no part of the West Bank has ever belonged to a sovereign Palestine, not prior to the 1947 partition plan, not in 1948 or 1967. Before '48 it was under the British Mandate; before the Six-Day War it was illegally occupied by Jordan. It is currently more accurately described as "disputed."
As this coming-of-age novel opens, the unnamed teenage narrator launches into the type of adolescent prattle we expect from the genre: frustration with her family, criticism of their contradictions and pettiness, mockery of her friend Haya's obsession with nails and make-up, and disgust with her father's devotion to his exploitative Israeli employers. She wants to leave "Palestine" until, at the end, she attends a family wedding in Jordan, undergoing a metamorphosis like the butterfly she adopts as her code name, and recognizing that "Palestine" is where she belongs.
The motif of code names mirrors the author's worshipful attitude towards terrorists: The narrator's nationalist cousin Mays takes on the code name "Dalal Mughrabi," and Nizar, Butterfly's "secret beloved" (who will be "martyred" by the Israelis near the end of the book) had adopted the code name "Abu Ammar," Yassir Arafat's code name.
Code Name: Butterfly is anti-Israel propaganda disguised as literature. Its naive readers, ignorant of the complex history and realities of the Arab-Israeli conflict, will empathize with the young narrator's hatred of Israelis, whom she portrays as oppressors of her people. Told that the narrator's cousin, Muhammad, is "locked up, serving the first of three consecutive life sentences," will readers ask what crimes Muhammad committed, or, more likely, empathize with a victim of Israeli heartlessness?
Unsurprisingly – and notwithstanding the book's demonization of Israel and Israelis – Code Name: Butterfly has garnered international recognition: Its cover displays the "IBBY Honour List" 4 label, raising its profile for purchase by schools, libraries, and bookstores. One review touts it as "one of the few YA novels available in English that presents life under occupation from the perspective of a Palestinian writer"5 — a dubious claim to anyone familiar with Ibtisam Barakat's Tasting the Sky and Balcony on the Moon 6 or the corpus of work by Naomi Shihab Nye.7 The School Library Association, in its Riveting Reads listing, called Code Name: Butterfly "funny, enlightening, and affecting." One wonders if their reviewer even noticed the author's unconscionable abuse of the term "martyr."
1 The closest it comes to recognizing that terrorism might be alleged against these "martyrs" is in the Glossary entry for Mughrabi, which acknowledges that she is "seen as a terrorist" by Israel.
2 Bsharat, p. 56.
3 "EU Study sees incitement in Palestinian textbooks, kept from public," Jerusalem Post, June 9, 2021, at
4 International Board for Books for Young People
5 "On the Other Side of the Wall: A Review of Code Name: Butterfly," by Lyn Miller-Lachmann, in The Pirate Tree: Social Justice and Children's Literature.
6 See "Annotated Bibliography of Children's and Young Adult Books on the Arab-Israeli Conflict Containing Significant Anti-Israel Bias," by Marjorie Gann, Association of Jewish Libraries-Canada, for reviews of this and other books by Palestinian authors
7 See "Naomi Shihab Nye: Maligning Israel for Young Readers," by Marjorie Gann, Feb. 8, 2022, CAMERA website: