CAMERA's Israel office has prompted a Huffington Post UK correction of a headline which had incorrectly referred to airstrikes in the West Bank. In fact, while the Gaza Strip has been subjected to airstrikes following a barrage of rocket attacks from that territory into southern Israel, there have been no West Bank airstrikes.
Editors also promptly corrected the
accompanying July 1 article
by Paul Vale, which had falsely asserted that the airstrikes were in response to the murders of the three Israeli teens, Gil-Ad Shaar, Nephtaly Frankel and Eyal Yifrach. In fact, the airstrikes on 24 targets in the Gaza Strip were in response to the aforementioned 18 rocket attacks on Israel.
A screen capture of the erroneous headline and article, first noted earlier today on CAMERA's
Snapshots
blog, follows: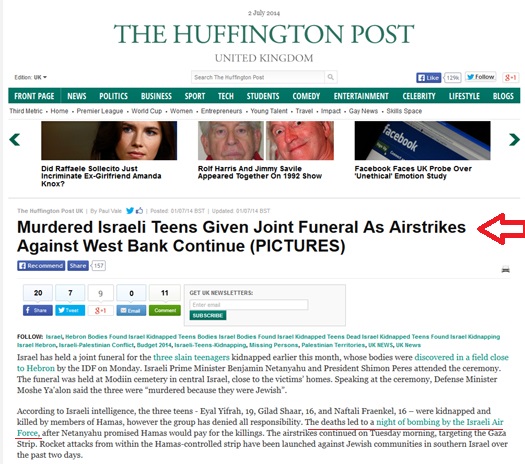 CAMERA staff contacted Huffington Post editors, noting that the airstrikes in the Gaza Strip were a response to the rocket fire coming from there, not to the murder of the three teens. The Huffington Post article is itself hyperlinked to an
Associated Press story
, also on the Huffington Post UK site, which notes that the Israeli military said it was rocket fire from the Gaza Strip which led to the airstrikes there:
Early Tuesday, Israel carried out an especially intense series of airstrikes in Gaza, saying it had struck 34 targets across the Hamas-controlled territory. The military said the airstrikes were a response to a barrage of 18 rockets fired into Israel since late Sunday.
As a result, editors immediately corrected both the headline and text, which now appear as follows: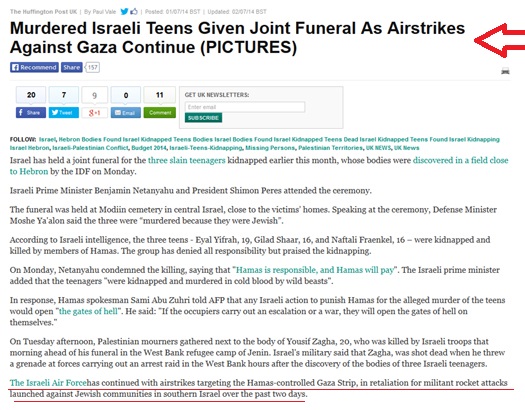 CAMERA commends Huffington Post UK for its timely and forthright corrections.
July 7 Update: Editors Append Note About the Changes
Editors have commendably appended the following note to the end of Paul Vale's article: