Get to know Adam Levick
Q: Adam, how did you get involved in monitoring the British media? What's your background?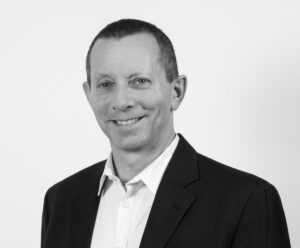 Adam: A year after I made Aliyah to Israel, I was contacted by the founder of a grassroots organization – which would later become part of CAMERA – that monitored and blogged about anti-Israel bias and antisemitism at the Guardian, who was hiring their first professional managing editor. Though I'm American by birth, I interviewed for and was offered the job due to my professional background in Jewish and Israel advocacy: I worked for five years at the Anti-Defamation League in the US, a year at NGO Monitor in Israel and had published essays on antisemitism for the Jerusalem Center for Public Affairs. The fact that I'm not British was challenging in the beginning, but I quickly got up to speed on the major players in the media, and on British politics/culture more broadly.
Q: Tell us a bit about the importance of the British media and how it impacts global coverage.
Adam: Whilst I let my colleague Hadar explain the impact of the BBC, the two other major sources of anti-Israel coverage in the UK are the Guardian and the Independent. First, both of these outlets have enormous global web traffic – and the US traffic for both sites has increased considerably over the years. The Guardian's impact is especially toxic to the international conversation about Israel because it's widely viewed – more so than the Independent – as a serious, respectable (and "progressive") newspaper. The Guardian's incendiary attacks on Israel and legitimization of antisemitism widens what's known as the Overton Window – that is, it widens the range of ideas the public is willing to consider and accept. For instance, by continuing to amplify the voices of those who don't accept Israel's right to exist within any borders, the Guardian normalizes a fringe and racist idea.
Q: How do you go about countering bias and misinformation in the news? What advice would you give others who want to challenge flawed media narratives about Israel?
Adam: Well, the first thing I do is get the facts straight. A lot of how we fight media bias goes back to doing careful research and being able to identify outright falsehoods – as opposed to simply bias or unflattering narratives. So, when I communicate with journalists or editors, I can be certain my complaint is grounded in facts. So, it's vital for those who wish to challenge distortions and lies about Israel in the media to do due diligence and make sure the media outlet did indeed get it wrong. "Fake news" isn't merely news that makes us unhappy. It refers to "news" that is factually incorrect or misleading to a degree that grossly distorts reality. But, to do so requires dedicating oneself to constant reading, conducting careful research and becoming knowledgeable about Israel, the Palestinians, and the history of the region.
Q: What inspires you?
Adam: There are many things. But, for one, I'm often inspired by great posts/op-eds written by colleagues, or other pro-Israel professionals or commentators, that allow me to look at an important issue in a way I never did before. For instance, Matti Friedman's ground-breaking essay at Tablet on how the media gets the Israel-Palestinian issue wrong really opened my eyes to the broader picture of media bias: the flawed ideas that give the prevailing narrative intellectual sustenance, and the complicated, nuanced, but undeniable connection between anti-Israelism and antisemitism.
On another level, I'm inspired by living in Israel with an understanding of the incalculable sacrifices made by those who came before me to make it possible for my family to live in a dynamic, thriving Jewish state.
Q: What do you love about working for CAMERA?
Adam: The fact that it allows me to be part of a community of dedicated professionals who share my values. This isn't just a job, but a calling.
But, on a more practical level, the opportunity to collaborate with colleagues, and learn what issues they're dealing with, makes me better at my job. I continually learn from all of our departments (Arabic, Hebrew, Spanish, Christian, Campus), allowing me to get a broader understanding of the bias and errors I encounter in the UK media landscape.
Q: If you could have dinner with any person dead or living, who would it be?
Adam: It's hard to narrow it down to one. But, Winston Churchill, Abraham Lincoln, and Natan Sharansky are certainly on my short list.
Q: If you could improve the coverage of one news outlet, which would it be?
Adam: The Guardian.
Q: When you're not working for CAMERA, what do you do for fun? What's your idea of happiness?
Adam: I have two adorable girls, 2 and 5, and even little things like (at least before the pandemic) when my wife and I take them to the park, or welcome in Shabbat together, brings us such joy – a level of happiness we couldn't imagine before they were born. Just being able to watch them develop, learn, and grow each day is incredible.
On a lighter note, watching Netflix after we put them to bed is fun: we both were ADDICTED to Shitsel. And, on Shabbat, I try to catch up on my reading: the last book I finished was Matti Friedman's Spies of No Country, which I highly recommend.