Sheera Frenkel's Nov. 18 NPR news report charges Israel with a purported agenda "to have a purely Jewish state and to get rid of all Palestinians, the ones in the West Bank and in Israel," as one of her main interviewees puts it. Frenkel bases her alarmist story on three cases of vandalism and the distortion of terminology, among other misrepresentations ("Attacks Target Palestinians in Israeli Towns").
Host Renee Montagne introduces the broadcast:
In Israel, tensions are rising between the country's Jews and the Palestinian Arab citizens, who make up about 20 percent of the population. Over the past few months, several Arab sites in Israel have been vandalized by militant Jews who've left graffiti such as Death to Arabs. Sheera Frankel reports.
Frenkel reports:
Over the last few months, there have been a series of attacks targeting Palestinians within Israel. In October, a mosque in the northern Arab village of Tuba Zangaria was torched and a Muslim cemetery [sic] was vandalized and tombstones smashed. At both sites, graffiti was found linking the attacks to Israeli settlers from the occupied West Bank.

Avia says she came to the protest because she was shocked by what was happening. She speaks in English as she points out that many right-wing Israelis use different terms for Palestinians that live within Israel.

Avia: They don't call them Palestinians. They call them Israeli Arabs. That's their way to erase their Palestinian identity, okay, and kind of contain them within Israel. But the agenda is to have a purely Jewish state and to get rid of all Palestinians, the ones in the West Bank and in Israel.
Misrepresentation of Terminology
Avia's assertion, which Frenkel wholeheartedly accepts, that the term "Israeli Arab" is a derogatory term used by "right-wing Israelis" is patently absurd. In fact, a broad swath of Israel, as well as non-Israelis, use this accepted terminology. While in recent years some Israeli Arabs have in fact prefered the term "Palestinian," and some members of the Israeli far-left (as well as, apparently, NPR as of late) have adopted this terminology, "Israeli Arabs" is most commonly in use. Even groups on the left, such as the New Israel Fund ,
refer
to Arabs in Israel as Israeli Arabs. Moreover, Avia herself even
signed
a NIF
petition
which refers to Israel's Arab population as Israeli Arabs. The Israeli newspaper
Ha'aretz
, which can hardly be considered right-wing, regularly
uses
the term Israeli Arab, and the Association of Civil Rights in Israel, mentioned in Frenkel's broadcast as fighting against alleged racist practices in Jaffa, also
uses
that language. Outside of Israel,
Al Jazeera
apparently has no problem with the term, nor does NPR itself. (For example, Terry Gross and John Powers used the term on "Fresh Air," Feb. 25, 2010, and Robert Siegel likewise referred to "Israeli Arabs" on Jan. 19, 2010, and on July 23, 2009). Are
Ha'aretz
, the New Israel Fund, Al Jazeera and NPR also guilty of being right-wing outfits bent on erasing Palestinian identity because they refer to "Israeli Arabs"?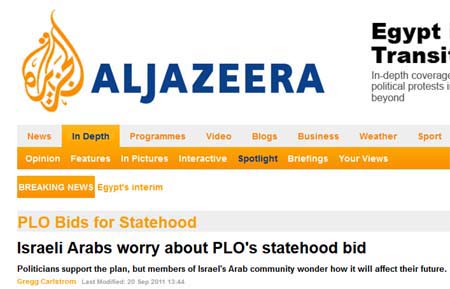 A September 20, 2011 Al Jazeera Headline
Settlements Bogeyman
Following the false "Israeli Arabs" bogeyman, Frenkel then raises the West Bank settlements bogeyman by misrepresenting the B'Emuna construction firm. She reports:
Avia says these kinds of attacks are new in Jaffa, a coastal community hugging the southern outskirts of Tel Aviv, Israel's largest city. For years, Jews and Arabs coexisted here in relative peace. That was interrupted in early 2010, said Fatima Helewa, a local Palestinian activist.

That's when B'Emuna, a construction company that specializes in building subsidized homes for religious Jewish families in West Bank settlements, started building in Jaffa. Their first project was in the largely Palestinian neighborhood of Ajami.

The Israeli Association for Civil Rights petitioned Israel's high court against the building, claiming that B'Emuna's openly stated policy of only providing apartments to Jews is racist. Israel's high court ruled against them, and B'Emuna continues to build in Jaffa. (Emphasis added.)
But B'Emuna does not specialize "in building subsidized homes for religious Jewish families in West Bank settlements." According to its Web site, the construction firm specializes "in the establishment of housing neighborhoods for the national religious public (Dati), all over the country." (Emphasis added.) Of the five building sites featured as of press time on the firm's Hebrew home page, four are within Israel's pre-1967 boundaries – Even Shmuel, Yokneam, Pardes Chana, and Tirosh. But Frenkel's alarmist report, charging Israel with erasing the Palestinian identity and seeking to establish a purely Jewish state eradicated of Palestinians, piles on the hot button settlement issue as well, no matter its relevance or lack thereof. Heaping on to the tangled charges of racism, settlements, and the ultimate sin — Zionism itself, Frenkel quotes Fatima Helewa, "a local [ie Jaffa] Palestinian activist": "Arab people, they ready to live with the Jews. We are living with them for years by years. It's just Zionism (ph) made the Jewish people, the settlers, more and more racist."
Exclusive Housing
A balanced report, as mandated by the Corporation for Public Broadcasting, would have noted that it's not just religious Zionist Jews who can look forward to ethnic-based housing in Jaffa. As reported by Ha'aretz on Feb. 28, 2011 :
The Tel Aviv-Jaffa municipality is planning to build affordable housing exclusively for Jaffa's Arab residents, in order to send the community a clear message that city hall supports it.

Municipal officials have met with representatives of the Israel Lands Administration, the Housing and Construction Ministry and the attorney general several times in recent months.

The city intends to build about 100 housing units on two Jaffa lots owned by the municipality and the ILA. It wants to condition their sale on the buyer being an Arab resident of Jaffa.
But government building exclusively for Arabs in Jaffa undercuts the narrative of racist Zionism seeking a purely Jewish state, so why mention it? (Of course, if you wanted to find a distinction between the two projects, you could. In the case of the B'Emuna project for religious Zionists, the construction is private, and that firm weighed in with the highest tender. In the case of the Arab-only building project, it is the Zionist municipal government which is footing the bill and the Zionist Israel Lands Administration which is providing the land. So, the two cases are not exactly equivalent. While the government funds Arab-only housing in Jaffa, it does not fund Jews-only housing.)
Three Acts of Vandalism
Beyond the distortion of the "Israeli Arab" terminology and the apparent racist crime of a Jews-only residential building in Jaffa, the remaining substance of Frenkel's heated report on anti-Arab activity involve three cases of vandalism – the attack on the mosque in Tuba Zangaria, the graffiti in the Muslim and Christian cemetery, and the graffiti and apparent arson attempt of an Arab-owned Jaffa restaurant. Such acts, directed at a certain population, are deplorable hate crimes which warrant condemnation. Yet, in the case of the cemetery, it is not at all clear that the motive was nationalist. As reported by the Jerusalem Post:
The words "death to Russians – G.A. 02" were also spray-painted in the cemetery.

Police said the incident was "linked to a soccer group," and that they were not convinced it was carried out by right-wing elements.
Yet, Frenkel does not report that the circumstances behind the cemetery vandalism are unclear. Instead, she presents the questionable anti-Arab motive as fact. (The Muqata blogger points out that soccer-related graffiti, namely the word "Barcelona," also appears at the vandalized restaurant.)
Moreover, it is inexcusable that a report specifically dealing with Arab-Jewish tensions in Jaffa ignored the molotov cocktail attack on the Rabbi Meir Ba'al Hanes synagogue which took place just one day after the cemetery vandalism. If vandalism of one sacred place in Jaffa is worthy of news coverage, then surely a violent attack of another sacred site in the very same city is also newsworthy. And, finally, it is worth noting, the attack on the Jaffa synagogue was not the only religious Jewish site targeted in Israel in recent months. On Nov. 6, several tombstones were smashed at the ancient Jewish cemetery at the Mount of Olives in Jerusalem.
Apparently, though, attacks, violent or otherwise, on Jewish sacred sites do not warrant mention at NPR.
Official Reaction to the Vandalism
As mentioned above, NPR's Frenkel quotes Israeli activist Avia as stating the Israel right-wing agenda, as evidenced by using the term "Israeli Arab," and as demonstrated by the vandalism is "to have a purely Jewish state and to get rid of all Palestinians, the ones in the West Bank and in Israel." And yet, Israel's government, led by Prime Minister Benjamin Netanyahu of the right-wing Likud party, strongly denounced the attacks on the Arab sites. As Ha'aretz reported:
Prime Minister Benjamin Netanyahu on Sunday decried the desecration of graves in Christian and Muslim cemeteries in Jaffa during Yom Kippur, saying that Israel is "not willing to tolerate vandalism, especially not the kind that would offend religious sensibilities."

"Israel shows tolerance for religious sentiments and a desire for peaceful coexistence without violence, but will show no tolerance for those who oppose it", said Netanyahu during a cabinet meeting.
Ha'aretz added that others to condemn the attacks on the Arab sites included Israel Police Commissioner Yohanan Danino, Tel Aviv Mayor Ron Huldai, Tel Aviv Chief Rabbi Yisrael Lau, and President Shimon Peres. But, once again, the high-level condemnations of deplorable attacks such as the one on the Tuba Zangaria mosque does not fit with Frenkel's narrative about a Zionist plot to drive out Palestinians, wherever they be. And so she ignores them.
Population Error
Finally, in a straightforward factual error, Frenkel refers to Tel Aviv as "Israel's largest city." With a population of 773,000 (as of 2009), Jerusalem is nearly double the size of Tel Aviv (population 403,700).