In the first media correction prompted by CAMERA's Israel office since the
opening this week of its Jerusalem hub
, the
International New York Times
corrects an article which had incorrectly reported that Israel advances plans for 3,500 new settlements.
The print edition of the newly-named International New York Times (formerly The International Herald Tribune), had incorrectly reported Wednesday (Jodi Rudoren and Mark Landler, "Kerry tries to invigorate Middle East Peace Effort," Nov. 6, 2013):
An absence of progress on the core issues, an ill-timed Israeli plan to build 3,500 more settlements on the West Bank and East Jerusalem. . . .
In response to communication from CAMERA's Jerusalem office, editors promptly published the following day (Thursday, Nov. 7):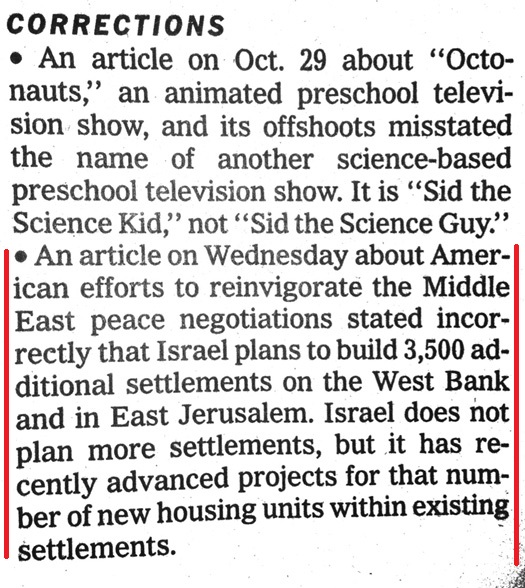 CAMERA commends the International New York Times for the prompt correction which demonstrates the global reach of our Jerusalem hub. See here for additional New York Times corrections prompted by CAMERA.