CAMERA's Israel office prompts correction of a photo caption in The International New York Times which had erroneously reported that there were no clashes in Jerusalem Friday (July 4), following the funeral for Muhammed Abu Khdeir, the murdered 16-year-old from Shuafat.
The erroneous caption, first noted in CAMERA's
Snapshots
blog on Sunday, stated:
Thousands thronged Friday to Shuafat, the East Jerusalem neighborhood where Muhammad Abu Khdeir, 16, was abducted. The Israeli police braced for violence that did not materialize.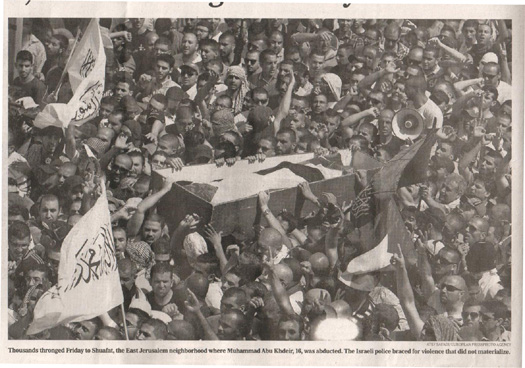 In fact, there was extensive violence in eastern Jerusalem, including Shuafat this past Friday. As the Associated Press reported that day:
Israeli police clashed with rock-throwing Palestinian protesters in Jerusalem on Friday as thousands mourned at the funeral for an Arab teen who Palestinians say was killed by Israeli extremists in a revenge attack. . . .

During the procession, scores of masked Palestinians threw rocks at Israeli police on duty nearby, and they responded with stun grenades, spokesman Micky Rosenfeld said. He said more than 2,000 people attended the funeral.

Rosenfeld said police also clashed with hundreds of Palestinian protesters in other neighborhoods in the eastern part of the city, which has been rocked by violence since Abu Khdeir's burned body was found Wednesday in a forest after he was seized near his home.

At least 13 Israeli officers were injured by rock-throwers, with six taken to the hospital, police spokeswoman Luba Samri said.

The Red Crescent said about 30 Palestinians were hurt by rubber bullets fired by Israeli forces. Dozens of others were treated for tear gas inhalation. ("Clashes break out during Palestinian funeral")
In addition, news photographs from that day depict the violence following the funeral, including in Shuafat: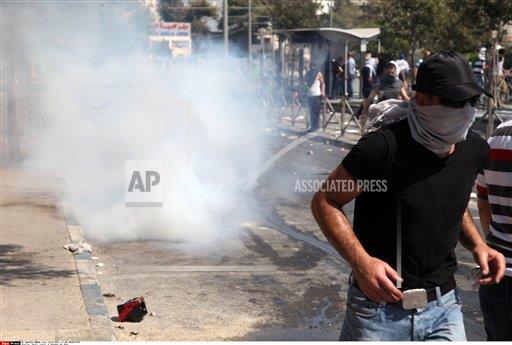 Palestinians run for cover from tear gas fired by Israeli policemen following the funeral of Mohammed Abu Khder, 16, in Shuafat, in Israeli annexed East Jerusalem, on July 4, 2014. Abu Khder, a Palestinian teenager was reportedly kidnapped and killed, triggering violent clashes in east Jerusalem, in an apparent act of revenge for the murder by militants of three Israeli youths. Photo by Saeed Qaq/APAIMAGES_1055.05/Credit:APA IMAGES/SIPA/1407051101 (Sipa via AP Images)
Following communication from CAMERA staff, The International New York Times commendably published the following correction on page three today: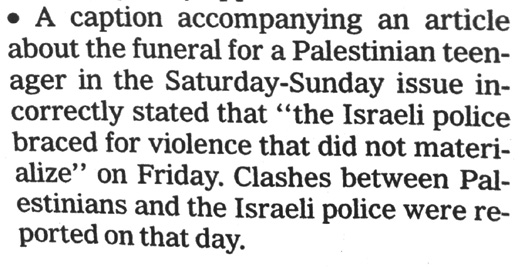 For more
New York Times
corrections prompted by CAMERA, please see here.