The
New York Times'
anti-Israel bias
is on prominent display today in its international edition with a highly skewed page-one headline. Completely inverting reality, the headline, on the top-right corner of the page, declares: "Israel presses air barrage and Hamas strikes back."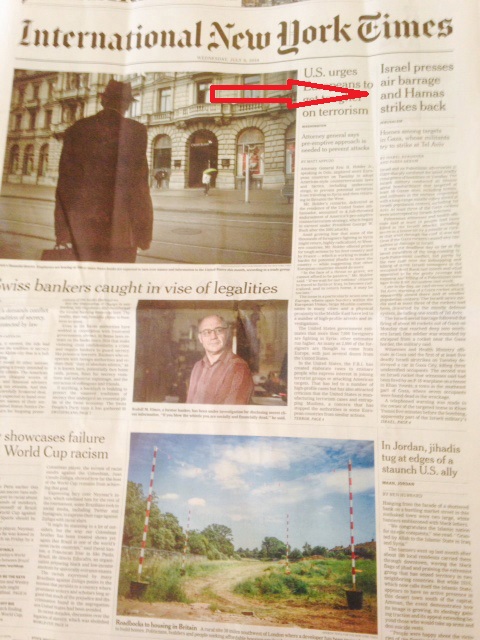 Uninformed, casual readers would have no clue from this grossly skewed headline that the opposite is true. It is Israel which is striking back following 386 Palestinian rocket attacks launched from the Gaza Strip and targeting civilian communities in southern Israel since June 12, when the three Israeli teens were abducted and killed.
Israel's Ministry of Foreign Affairs
reports
:
Monday, June 30 saw a sharp escalation in rocket fire, with the intensification in attacks beginning in the morning, prior to the discovery of the boys' bodies. That day, Hamas itself fired rockets.
The Meir Amit Intelligence and Terrorism Information Center
detailed
the ongoing rocket barrage which preceded the launch of the Israeli military operation, and which intensified on June 30, when the teens' bodies were discovered:
On July 1, 2014, five rocket hits were identified. Vehicles and a packing house in one of the towns in the western Negev were damaged. A woman was treated for shock. Fatah's Al-Aqsa Martyrs Brigades claimed responsibility for the rocket fire (Al-Aqsa Martyrs Brigades Facebook page, July 1, 2014).

On June 30, 2014, 12 rocket hits were identified. Some of them may have been fired by operatives of Hamas' military-terrorist wing. If Hamas was in fact responsible for rocket fire, it was the first time since Operation Pillar of Defense (November 2012.)
Despite the intensive rocket attacks against the Jewish state, Israel offered Hamas a de-escalation last Thursday, July 3. As reported by The
Irish Times
(July 4):
Israel has boosted its forces along the Gaza border, with officials sending out a message that Israel would only be able to sustain militant rocket fire for another 24, or maximum 48, hours before undertaking a major military offensive.

The security cabinet convened last night – for the fourth consecutive day – to consider Israel's response as artillery pieces and tanks took up positions along the border.

Israeli military spokesman Lt Col Peter Lerner confirmed that the army has moved forces to serve defensive activities and forward preparations.

"The main issue is how Hamas is reading the situation. We don't want to take it further, but we will be prepared for developments."

Hamas has issued statements over recent days making clear that it doesn't seek a wider conflagration. However, rocket fire has intensified, making an Israeli response more likely.
Moreover, Israel sought to avoid a broad military campaign with warnings to Hamas through Monday, the day before "Operation Protective Edge" was launched. The Times of Israel
reported
:
Arabic daily Al-Hayat reports that Israel warned Hamas and Islamic Jihad through Egypt on Monday that if the rocket fire persists, the IDF will respond strongly.

"Israel will strike Gaza with a heavy hand if the two movements don't accept a truce," a senior Egyptian official told representatives of the two organizations, according to a Palestinian official.
The New York Times article's first paragraph does little to clarify the headline's false implication that Israel's operation against Gaza was unprovoked. Also engaging in "first-last reporting," Isabel Kershner and Fares Akrem write:
Israel and its Palestinian adversaries in Gaza sharply escalated the latest deadly resurgence of hostilities on Tuesday. The Israeli military conducted an intense aerial bombardment that targeted at least 50 Gazan sites, including homes, and militants in the enclave responded with a long-range missile volley aimed at Israeli population centers, including Tel Aviv. At least three of the Gaza rockets were intercepted by Israel defenses.
Not until the ninth paragraph do The Times writers give a clear and factual account of the rocket chronology. Buried in the story, they state:
The air campaign comes after three weeks of escalating confrontation, with rocket attacks from Gaza against southern Israel and Israeli airstrikes on targets it has described as concealed rocket launchers, training sites and weapons manufacturing facilities associated with Hamas and other militant groups.
Whose Homes?
The article's subheadline is equally deceptive, obscuring the reality on the ground. It reads: "Homes among targets in Gaza, whose militants try to strike at Tel Aviv."
Even the diligent readers who read the entire lengthy article would have no idea that all of the targeted homes in Gaza belong to Hamas and Islamic Jihad.
While The Times reporters refer repeatedly to the bombing of the homes, not once do the two mention that they belong to leaders of terrorist organizations. Aside from the article's opening paragraph, The Times' multiple references to the bombing of the unidentified homes include:
Palestinian witnesses and health officials said at least 14 people had been killed in the Israeli attacks, including seven in a
house hit by a missile or rocket that went through the roof. It was not clear if the Gaza rockets caused any casualties or damage in Israel. (Paragraph 2)

Witnesses and Health Ministry officials in Gaza said the first of at least five deadly airstrikes on Tuesday destroyed a car in Gaza City, killing three unidentified occupants. The second was an Israeli rocket that witnesses said had been fired by an F-16 warplane on a house in Khan Younis, a town in the southeast part of Gaza, were seven occupants were found dead in the wreckage.

A telephoned warning was made to the owner of the targeted home in Khan Younis five minutes before the bombing, apparently part of the Israeli military's stated effort to minimize unintended civilian casualties. Salah Kaware, 25, who lived in the house, said that a call came to the cellphone of his brother's wife and that the caller urged her to leave. Some of the occupants were descending the upper floor stairway when the roof was hit with a rocket, Mr. Kaware said in a telephone interview. (Paragraphs 6-7)

Al Aksa radio, run by Hamas, reported that residents received warnings a few minutes before the houses were bombed. Hamas's military wing said in an emailed statement that the bombing of the houses was "a serious escalation" that "will oblige us to enlarge our attacks deeper into Israel." (Paragraph 10)
Thus, despite to the extensive space dedicated to the Israeli bombing of Gaza homes, Kershner and Akram do not deem it newsworthy to note even once that the homes reportedly belonged to terrorists. It's not the information was not available. In a separate article, which appears alongside the page-four jump of the Kershner piece, Akram and colleague Steven Erlanger note: "The Israeli military said that targeted houses belonged to Hamas members involved in launching rockets or other military activity and that they had been used as operation rooms" ("By phone, and leaflet, Israel warns bomb targets").
5:59 P.M. Since "Operation Protective Edge" began seven homes of Hamas members and apparently one home of an Islamic Jihad member were bombed by the Israel Air Force. Palestinians confirm that the IDF called to warn families prior to the attacks and to ask them to leave. (Jack Khoury)
Thus, the subheading ("Homes among targets in Gaza, whose militants try to strike at Tel Aviv"), together with the article, is an egregious inversion which falsely implies that Israel is targeting civilian homes in the Gaza Strip. In fact, it is Hamas and other terror groups which are targeting homes in Tel Aviv and across Israel, a war crime of which Hamas is very proud. As Hamas spokesman Fawzi Barhoum warned yesterday, Hamas is targeting every Israeli home: "This is not the time for quiet. We have a bank of various targets. An Iron Dome [missile battery] will be needed in every Israeli home."
But, apparently, according to The Times headline writer, it's only Gaza homes that are targeted. Perhaps the writer does not know that there are home in Tel Aviv, too.
Likewise, the writers refer to a deadly strike on a car in the Gaza Strip, claiming that it "kill[ed] three unidentified occupants." But by the time that the paper went to press it was already known that at least one of those killed was a senior Hamas figure. As Haaretz reported in its live blog yesterday:
2:22 P.M. Four Palestinians were killed in an IDF strike on a vehicle in the center of the Gaza Strip, Palestinians report, raising the death toll in the Strip since this morning to five. Their identity is still unclear, but Shin Bet said the airstrike was a joint IDF and Shin Bet operation, targeting Mohammed Shaaban, 24, a commander in the Hamas naval forces. (Jack Khoury, Gili Cohen)
Moreover, Agence France Presse reported at 3:43 GMT, many hours before The Times went to press:
Earlier, three people were killed in a separate strike on a car in central Gaza City, [emergency services spokesman Ashraf al-Qudra] said, correcting an earlier report of four fatalities.

Relatives told AFP all three were Hamas militants. One was identified as Mohammed Shaaban,32, a senior commander who ran the Brigades' naval unit.
Victims in the Kaware Home
The article's account about phone warnings to the Kaware home, and fatalities from the bombing, are also striking, in particular because they are contradicted by a second Times piece which appears along side the jump of the Kershner/Akram account.
Account to Kershner and Akram's story (paragraph 7, reproduced above), the Kaware family received one telephone warning and "occupants were descending" when the roof was hit. In the second story, by Steven Erlanger and Fares Akram, the residents received two warnings and among those in the stairwell were neighbors who answered calls to come and serve as human shields. Erlanger and Akram reported ):
The call came to the cellpho
ne of his brother's wife, Salah Kaware said on Tuesday. Mr. Kaware live in Khan Younis, in southeast Gaza, and the caller said that everyone in the house must leave in five minutes, because it was going to be bombed.

A further warning came as they were leaving, he said in a telephone interview, when an Israeli drone apparently fired a flare at the roof of the three story-home. "Our neighbors came in to form a human shield," he said, with some even going to the roof to try to prevent a bombing. Others were in the stairway when the house was bombed not long afterward.
Why doesn't Kershner's article mention the use of human shields, a war crime? Why doesn't it mention the second warning, a flare? And where those in the stairway, the apparent casualties, descending occupants heeding the Israeli warnings, or ascending neighbors, answering the Hamas calls for a human shield?
On the heels of yesterday's egregiously skewed editorial, and alongside two factual errors which The Times was compelled today to correct, the Paper of Record is off to a rough start covering the latest round of Israeli-Palestinian violence.