A second reporter has been fired from France 24's Arabic department after media watchdog CAMERA revealed in March that several journalists employed by the state-owned French news network expressed support for terrorism and antisemitism in their Arabic social media accounts.
During a heated French parliamentary question period on July 18, French MPs Meyer Habib and Caroline Yadan confronted France Médias Monde, the parent company of France 24, with the disturbing findings of CAMERA Arabic's investigation.
France Médias Monde CEO Marie-Christine Saragosse responded to the parliamentary interrogation by saying that three Arabic-language correspondents — Laila Odeh, Sharif Bibi, and Dina Abi-Saab — were asked to sign the company's ethics charter.
The ethics charter states that journalists must reject "any incitement to crime, violence, hatred, racism, anti-Semitism, misogyny, homophobia, xenophobia and all forms of discrimination, intolerance and stigmatization."
Odeh and Bibi signed the charter. But Abi-Saab refused to sign, leading to her termination from the company, according to Saragosse's testimony.
Oddly, Abi-Saab still presents herself as a France 24 employee on LinkedIn, Twitter and Facebook. It is France 24's responsibility to ensure that she removes false employment references from her private social media accounts, according to CAMERA.
Abi-Saab's refusal to sign the company's code of ethics suggests she stands by her social media posts that show her celebrating rocket attacks on Israel's civilian population and cheering on war crimes with a "resistance" hashtag.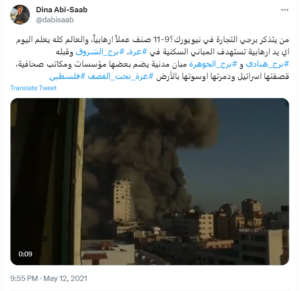 Her social media posts also show her glorifying terrorist Omar Abu Leila as a "martyr," and likening the Israeli military's bombing of empty skyscrapers in Gaza — occupants evacuated after receiving advance notice from the army — to the 9/11 terrorist attacks (screen shot at left). In one of her Facebook posts, Abi-Saab says she is "hoping" for Israel to be "annihilated."
Abi-Saab's termination from the French news network makes her the second employee to be fired from the news network as a result of CAMERA's exposé. In March, France 24 also fired Lebanese journalist Joelle Maroun for, among other things, expressing admiration for Adolf Hitler and support for the murder of Jewish civilians.
The France Médias Monde CEO said that Jerusalem correspondent Laila Odeh attended a June 3 training seminar teaching "the difference between journalism and activism."
"While we're grateful that France 24 fired two of the journalists, we're doubtful that someone like Odeh can be reformed by signing ethics charters or attending sensitivity trainings," said Andrea Levin, CAMERA's executive director.
Levin pointed out that just three weeks after Odeh attended the training seminar, Odeh referred to a terrorist's death as an "ascension" to heaven, a tweet she deleted only after CAMERA translated and flagged it.
"What we see is that these France 24 Arabic journalists hold intensely passionate antisemitic attitudes and extremist political views that appear deeply rooted," Levin said. "Contrary to what France 24's leadership may think, Odeh's support for antisemitism and terrorism isn't normal political 'activism' and is unlikely to be dispelled in conventional warnings that she adhere to professional ethical standards."
"France 24 evidently knows there's a serious problem to be addressed," Levin added. "That's important. Hopefully, the network's leadership realizes the full implications – that activist antisemites on their Arabic staff will undermine the integrity of the entire enterprise – as antisemitism so often does when it's not vigorously renounced and removed."
In a separate parliamentary session held last week, MP Habib quoted findings from CAMERA Arabic's exposé and questioned the government's lack of response given that the journalists' salaries are funded by French taxpayers.