In a deal to free kidnaped Israeli soldiers Eldad Regev and Ehud Goldwasser – or, more likely, to gain the release of their remains – tomorrow (July 16), Israel will release Samir Kuntar and four other Lebanese terrorists, along with the remains of almost two hundred Arab gunmen.
Kuntar, a Lebanese Druze terrorist and member of the Palestine Liberation Front, a PLO-affiliate, has been incarcerated in the Hadarim prison near Netanya in Israel for the last twenty-nine years after being convicted of brutally murdering three Israeli civilians, including a four-year-old girl.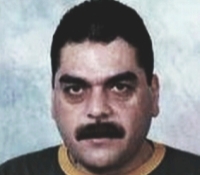 Samir Kuntar, the murderer of Danny Haran and his two young children.
What are Kuntar's crimes?
On April 22, 1979, Kuntar and three other terrorists traveled from Lebanon to Israel by sea, coming ashore in the Northern Israeli coastal city of Nahariya . According to Israeli sources and the personal account of Smadar Haran, the following events took place:
Having shot dead police officer Eliyahu Shahar, Kuntar and his accomplices headed for a nearby apartment block. Hearing the commotion outside, Danny and Smadar Haran scrambled to protect their daughters, Einat (age 4) and Yael (age 2), by hiding them from the terrorists. Smadar, Yael and one of their neighbors climbed into the small attic of the apartment, while Danny and Einat rushed to the front door in an attempt to reach safety in an underground shelter.
At that moment, Kuntar and his accomplices stormed the apartment and grabbed Danny and Einat. Upon hearing police approaching, the terrorists gave up searching the apartment for Smadar, Yael and their neighbor. Kuntar and the other terrorists then dragged Danny and Einat to the beach, where they shot Danny in front of 4-year-old Einat, so that it would be the last thing that she would see before being slaughtered herself.
After shooting Danny in the back, Kuntar dragged him into the sea and drowned him to make sure that he was dead. Kuntar then turned his attention to the young child. He repeatedly slammed his rifle butt into Einat's skull, smashing her head against a rock.
Despite Kuntar's initial denial of involvement in Einat's gruesome murder, the pathologist's report showed remnants of Einat's brain tissue on Kuntar's rifle butt.
Photo of Kuntar's rifle butt which was found to have traces of four-year-old victim Einat Haran's brain tissue
Tragically, Smadar accidentally suffocated her 2-year-old daughter Yael in a desperate attempt to keep her quiet while hiding from Kuntar.
Two of the terrorists were killed by police, but Kuntar and one other terrorist, Ahmed al-Abras, were arrested and jailed for their crimes. In May 1985, Al-Abras was released as part of a prisoner exchange called the "Jibril deal". Kuntar was convicted of kidnaping, attempted murder and murder. He was sentenced to five life sentences and a further 47 years in prison.
Kuntar's victims: Danny Haran and his two young children, Einat and Yael, one week before they were all murdered.
Danny Haran's Mother Bitterly Opposes Kuntar's Release
In an interview on Israeli television Danny Haran's elderly mother, Nina Keren, expressed her horror that Samir Kuntar would soon be released:
Has Kuntar Repented?
In a February 2008 letter to Sheikh Hassan Nasrallah, leader of the terrorist organization Hezbollah, Kuntar lauds terrorism and "martyrdom" and pledges to fight "until complete victory." He wrote:
"My dear and honored commander and leader, The Secretary General Hassan Nasrallah,

Peace be unto you and our Shahids, and may Allah's mercy and blessing be upon you.

Peace be unto the men in the convoys of the righteous.

Peace be unto he who has [given and has] not taken anything other than the Shahadah(Martyrdom), the highest rank of honor before Allah.

Peace be unto the distinguished, glamorous convoys [of Shahids] who travel toward eternity, toward the men of glory, dignity and pride, toward those who have marked our path for hundreds of years.

Peace be unto the last to leave, the Hajj and leader, Imad Mughniyeh.

Peace be unto him, as he passes the message on to those who await his arrival, as he brings them stories of the gl ory and victories, news of steadfastness and loyalty of the men of the fulfilled promise [a reference to the operation in which the two Israeli soldiers were kidnapped which was called the 'Fulfilling the Promise',] news of "those who still wait [for Shahadah]; but they have never changed (their determination for Shahada)." [Quote from Quran, Sura 33:23.]

Peace be unto him, as he announces to the most honored among the Believers [previous Shahids] that the waiting convoys have chosen [they await the Shahadah] to draw their swords, and their swords are calling out: "We are far from degradation" [in Nasrallah's phrase].

May peace be unto you, Hajj Imad. My oath and pledge is that my place will be at the battlefront, which is soaked in the sweat of your giving, and the blood of the most beloved among men [Shahids], and that I shall continue down the path, until complete victory.

I give to you, Sir Abu Hadi [name for Hassan Nasrallah] and to all the Jihad Figthers, my congratulations and [my] renewed loyalty."

[PMW translation from Al-Hayat Al-Jadida, February 19, 2008]
These are not the words of a repentant murderer.
Samir Kuntar is to be released on Wednesday, May 16, 2008, having served 29 years of his life sentence for murdering and being an accomplice to the murder of four innocent people, including two young children.