CAMERA's Israel office today prompted correction of a Times of Israel report which overstated Palestinian reports regarding the number of Palestinians killed in the southern Gaza Strip on Friday, Aug. 1, 2014, during a heavy bombardment aimed at rescuing Israeli soldier Hadar Goldin ("
New IDF directives allow massive force to prevent soldiers' kidnapping
"). (At the time, it was believed that Goldin was captured. In fact, he had been killed.)
The Times of Israel had originally reported: "According to Palestinian reports, the death toll reached 150, though the IDF estimated the number to be closer to 40."
Following contact from CAMERA, the Times of Israel immediately amended the article, which now states: "According to Palestinian reports, the death toll reached approximately 120, though the IDF estimated the number to be closer to 40." Editors did not append a note to the bottom of the article alerting readers to the correction.
In
January
(pictured below) and
July
2015, CAMERA had previously prompted
Haaretz
corrections regarding inflated figures of Gaza casualties from the day dubbed "Black Friday" by Palestinians.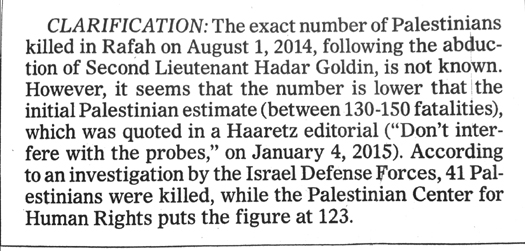 For additional Times of Israel corrections prompted by CAMERA, please see here
.