CAMERA's Israel office prompts correction of a Times of Israel headline and article which wrongly reported that Muhammed Abu Khdeir is the first Arab killed by Jews to be included in a monument for terror victims on Jerusalem's Mount Herzl national cemetery.
About the Jerusalem teen who was brutally murdered last July, The Times of Israel's headline originally stated: "In first, Arab slain by Jews added to terror victims monument."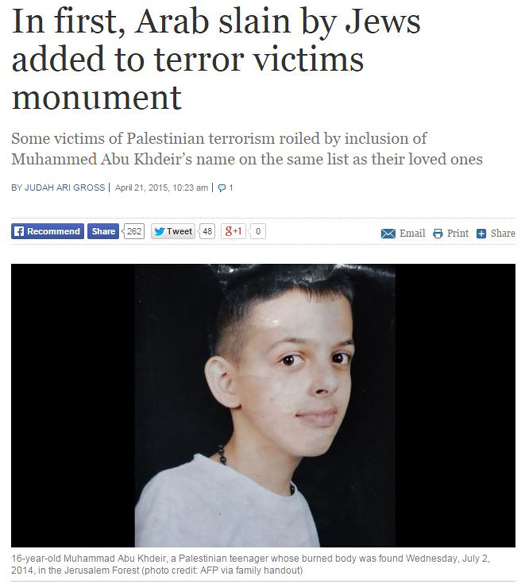 In addition, the article had reported:
Hagai Admon, director of Mount Herzl, told The Times of Israel that, to the best of his knowledge, Abu Khdeir was the first Arab citizen killed by Jews in a hate crime to be added to the Victims of Acts of Terror Memorial.
A brief search reveals that there are at least two more Arabs killed by Jews whose names appear on the Har Herzl memorial. They are
Michael Bachut
, 55, of Shfaram, shot to death on Aug. 4, 2005 by Eden Natan Zada (plaque 63 on the memorial) and
Hamis Eyob Tutnaji
, 32, of Shuafat in Jerusalem, murdered by Jewish passengers in his taxi April 23, 1985 (plaque 50).
In addition, Muhammed Abed Rabba, 23, of Tsur Bachar, in Jerusalem, killed April 25, 2002, by Israeli soldiers who mistakenly thought him suspicious, also appears on the Herzl memorial for terror victims (plaque 72).
A
Tweet
by CAMERA's Gidon Shaviv on this topic caught the attention of the Times of Israel reporter, and the headline was subsequently changed.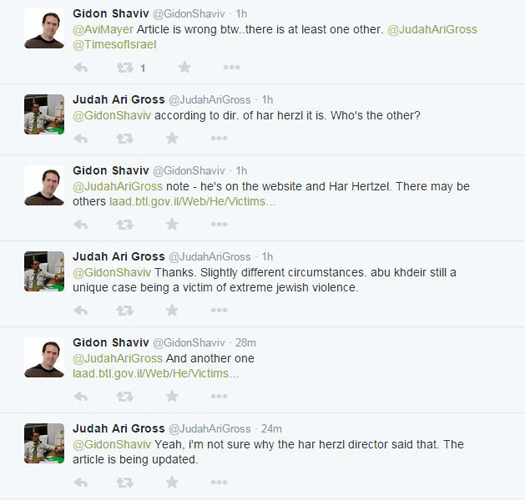 The amended headline now states: "Slain Palestinian teen added to terror victim monument."

In addition, the paragraph citing Hagai Admon, the Mount Herzl director who provided the misinformation, has been deleted. CAMERA commends The Times of Israel for the prompt correction, and notes that no notification of the changes was appended to the article, a standard journalistic practice.