After prompting corrections this week at
ABC News
and
Times of London
making clear that the United States does not view Israeli settlements as illegal, as well as an
important Associated Press
correction last month which appeared in countless digital and print news outlets, today CAMERA is responsible for a correction on the identical topic at the Times of Israel.
The Times of Israel article today, attributed to Agence France Presse and Times of Israel staff, erred, stating: "The United Nations, as well as the US and most of the international community, maintains that settlements are illegal" ("
Netanyahu urges US to veto UNSC settlements resolution
").

Since the Reagan administration, which explicitly said it did not believe the settlements were illegal, U.S. administrations have instead characterized the settlements as an obstacle to peace and illegitimate. The current U.S. government, and numerous preceding American administrations, have not characterized the settlements as "illegal."
The error does not appear in what seems to be the original AFP report upon which Times of Israel staff relied ("UN Security Council to Vote on Israeli Settlements"). The AFP accurately reported: "The United Nations maintains that settlements are illegal and has repeatedly called on Israel to halt them. . . "
In response to communication from CAMERA's Jerusalem office, Times of Israel editors immediately amended the text, removing the incorrect claim that the United States maintains that settlements are illegal, and adding that the U.S. "considers them illegitimate and an impediment to peace."
Contrary to common journalistic practice, Times of Israel editors did not append a note alerting readers to the correction. The ABC and Times of London corrections, prompted by CAMERA and CAMERA's UK Media Watch, respectively, earlier this week, follow: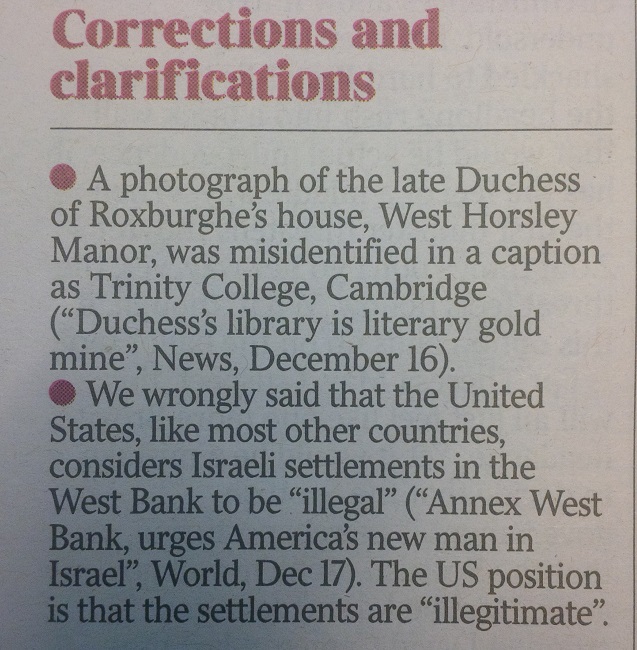 For additional Times of Israel corrections prompted by CAMERA, please see here.