In response to communication from CAMERA's Israel office, the Toronto Star has corrected an article which last week falsely alleged that actor Bruce Willis has refused to visit Israel due to his support for the anti-Israel BDS campaign against Israel. Moreover, Kathy English, the paper's public editor, on Friday (May 17) published a column detailing the error and correction, including CAMERA's role ("Bruce Willis and the Israel boycott that never was: Public Editor.")
On May 8, in an article about Stephen Hawking's decision to boycott Israel, environment reporter Raveena Aulakh incorrectly reported:
Celebrities from around the world have refused to perform in Israel in recent years as part of an effort to promote the Palestinian cause, including musicians Elvis Costello and Stevie Wonder, and Hollywood actors Bruce Willis and Meg Ryan.
CAMERA first noted the error in our Snapshots blog last week:
Aulakh is apparently relying on the Palestinian Campaign for the Academic and Cultural Boycott of Israel (PACBI) as her source, and that's her mistake. Indeed, according to PACBI, in July 2012:

Anti-apartheid fans of Hollywood actors Bruce Willis and Jean Claude Van Damme were relieved the two stars cancelled their planned visit to Tel Aviv, where they were scheduled to attend a local premiere screening of their latest film Expendables.

Reports indicate that Mr. Willis, Mr. Van Damme and Mr. Stallone, along with Avi Lerner, the Israeli-born chairman and founder of Millennium Films, canceled their trip to Israel in which they had planned to promote their film "Expendables II" due to the untimely death of Mr. Stallone's son — and not due to any cultural boycott of Israel in support of Palestinians. As reported in the Algemeiner:

In an email, a spokesman from the film's production company explained the cancellation of the premiere.

"I'm sure you heard about the Stallone family's tragedy that happened in recent weeks," he wrote. "In response to the unfortunate event we are forced to cancel our Israel premiere, because Sly will not be able to attend, as well as the other actors, due to changes in schedule."

"Please accept our apologies for cancelling at such short notice," he added, noting a promise to make it up to Israeli fans. "We will do our best to bring the actors to Israel at a later date in the future."

And, as reported by the Los Angeles Times, Stallone canceled all of his public appearances following the July 2012 untimely death of his son Sage.

Finally, given the fact that Mr. Willis has come out in the past publicly expressing strong support for Israel, by signing, for instance a 2006 ad (below) in the Los Angeles Times condemning Hamas and Hezbollah, on what basis does the Star allege that his 2012 cancellation was intended to promote the anti-Israel boycott?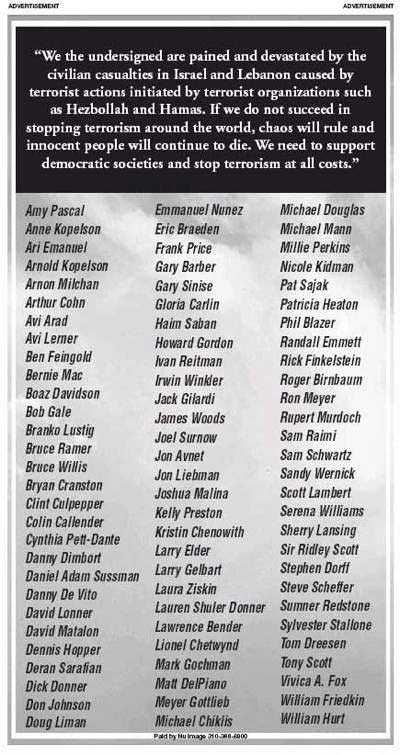 CAMERA contacted editors at the
Toronto Star
, and on May 15, the paper ran the following commendable
correction
:
The online article has been corrected, and the following correction appears at the end of the article:

In her column Friday, public editor Kathy English writes that "erroneous information" that Willis boycotted Israel
continues to circulate in the echo chamber of the Internet where a false claim from a biased source can easily become a "fact" amplified many times over to the point that journalists no longer think to verify it, as was seemingly the case here, with both the Star and the Globe and Mail reporting that Willis was among those stars who've boycotted Israel.

To her credit, Aulakh went directly to the source — or at least his people — after being informed that she had most likely been wrong about Willis. She reached his Hollywood publicist via email and asked: "Has Bruce Willis ever boycotted Israel?"

Samantha Mast, publicist with the star powerhouse agency Rogers& Cowan, provided an unequivocal response: "That is categ
orically not true."

How this mistake happened and how it was brought to the Star's attention is a tale caught up in the intractable politics of the Middle East and the interest groups that look at the issues through their own special lens and scrutinize the media with the sharpest lens of all.

The mistaken information about Willis seems to have emanated from the website of the Palestinian Campaign for the Academic and Cultural Boycott of Israel (PACBI). In a list of "Academic & Cultural Boycott of Israel Highlights" the website includes a reference to Willis having cancelled a planned trip to Tel Aviv where he was scheduled to attend a local premiere screening of the ensemble film, The Expendables 2.

That fact seems to be the source for numerous other online lists of "pro-Palestinian celebrities" that count Willis in those ranks. Lest you think only one side of this issue is taken to proclaiming celebrity support, a Google search also turns up numerous lists of "pro-Israel" celebs.

It is indeed a fact that Willis cancelled a trip to Tel Aviv. But there is more to this story. The "what's more" are the facts that do not support adding Willis's name to the "pro-Palestinian" star list.

Following publication of Aulakh's article, we received an email from the U.S. based pro-Israeli group, Committee for Accuracy in Middle East Reporting in America, (CAMERA), seeking to know how the Star could "substantiate" reporting Willis as a pro-Palestinian boycott supporter.
English goes on to detail the points we raised in our blog post, and concludes:
. . . foreign editor Lynn McAuley urged Aulakh to make further efforts to verify the facts here before we corrected. In doing so, the reporter determined the truth that Willis has never boycotted Israel.

In an ideal world, that fact would have been verified before the Star had reported Willis among the list of pro-Palestinian celebrities. Having looked at the many online sources for that "fact," I see this as an understandable error, especially given the deadline pressures here.

But it is also a strong reminder for journalists that just because the Internet says it's so, doesn't make it true.