Update (Dec. 24): After further correspondence, the Associated Press settled on a more precise, informative and fair headline: "Palestinian stabbers kill Israeli, assailants shot dead." Its lede, which had initially focused on only the Palestinian deaths (see image below), was modified so that the Palestinian attack that murdered one Israeli was highlighted, while sharing all the relevant information about the four deaths.
Update (Dec. 23): Shortly after CAMERA contacted AP and the New York Times, the Associated Press revised its headline. It now reads, "2 Palestinian attackers killed, 2 Israelis die in Jerusalem."
Two Israelis died today after a stabbing attack by Palestinians outside Jerusalem's Old City. The attackers were shot and killed by Israeli police, as was one of the Israeli victims, who was mistakenly hit as police tried to neutralize the attackers. The other Israeli died of multiple stab wounds, and a third was badly injured.
An Associated Press headline about the Palestinian terror attack, though, failed to mention the Israeli victims, neglected to specify Palestinians were the attackers, and instead conveyed to readers that it was Palestinians who were killed in a stabbing attack. "2 Palestinians killed following stabbing attack in Jerusalem," the headline stated. The New York Times website also published the AP story, and ran the same skewed and misleading headline.
CAMERA has contacted both outlets and called for the headlines to be immediately revised so that they accurately depict the attack and the deaths.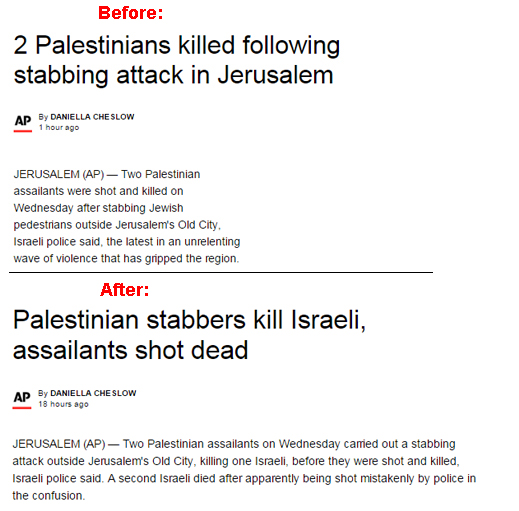 With the modification, the AP story on the New York Times website also appeared with the improved headline and lede:
As did countless others: