DEC. 7 UPDATE:
Following communication from CAMERA staff, CNN corrected and clarified the inaccurate claims. Details here.
CNN reported on Dec. 3 that more than 60 soccer players have signed a petition calling on a European soccer federation to move the Under-21 European Championship from Israel; that soccer star Didier Drogba was one of those players; and that Israel's bombing of a stadium in Gaza resulted in the deaths of four young people playing soccer.
All three claims are false.
As the Associated Press reported yesterday, "Didier Drogba says he wasn't among the soccer players to sign a petition protesting the decision to hold next year's European under-21 championship in Israel." (See more at CiF Watch.)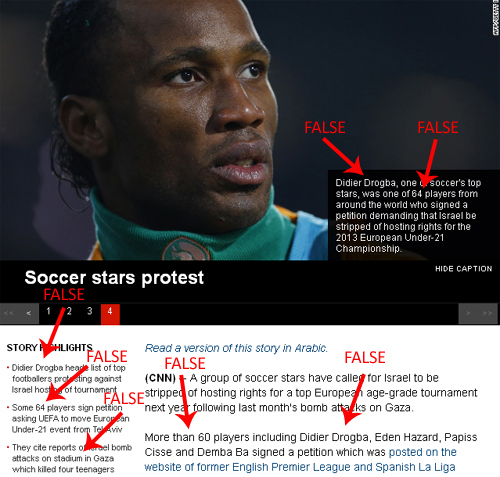 And because at least one other player listed among the purported 62 signatories, Yohan Cabaye, also denied signing it, CNN's claim that "More than 60 players" signed the petition is likewise false.
Perhaps most importantly, the CNN story restatement of the petition's claim that "a bomb attack by Israeli forces on a football stadium in Gaza on November 10 … killed four teenage players" is also false, according to a Palestinian witness to the fatal attack quoted in the New York Times, who is also a relative of one of the teenage boys.

The petition states that "the Israeli army bombed a sports stadium in Gaza, resulting in the death of four young people playing football, Mohamed Harara and Ahmed Harara, 16 and 17 years old; Matar Rahman and Ahmed Al Dirdissawi, 18 years old."
But according to the New York Times and the Palestinian witness, the four civilians were not killed while playing soccer, but when they rushed to the site of a shelling that wounded Palestinian militants:
The leftist Popular Front for the Liberation of Palestine claimed responsibility for Saturday's attack on the military jeep. Soon after the antitank missile was fired, Israeli forces aimed shells at a hill on the Gaza side of the border where a group of militants was monitoring the Israeli forces, according to a Palestinian witness, Mohanned Abu Alatta, 20, who was wounded.

Mr. Abu Alatta, interviewed at Al Shifa hospital in Gaza, said civilians who were gathered in a mourning tent nearby, including several teenage boys, ran to the scene to help the wounded militants and were themselves hit by subsequent shells. The four civilians killed were identified as Ahmed Mustafa Harara and his cousin Muhammad Osama Harara, who were both 17; Mattar Abu Alatta, 19, a distant relative of Mr. Abu Alatta; and Ahmed Kamil Dardasawi, 20.
It is not even clear that the stadium, which Israel notes was used for firing rockets, was actually bombed on November 10, as claimed in the petition. According to reports, a stadium in Gaza was bombed on November 16 or 17, and on Nov. 21. The earliest relevant report appearing on the Lexus Nexus database is from the November 17 CBS This Morning program, during which a CBS correspondent reported that "
A massive explosion rocked the Gaza City soccer stadium this morning and speculation was that the target was a rocket launching site." The Nation claims a Gaza stadium was bombed on the 16th. And Ha'aretz reports that a stadium was bombed on the 21st.
CAMERA has contacted CNN about the errors.