CAMERA Arabic has prompted Reuters corrections in both the English and Arabic versions of an article about an Israeli military raid in Nablus which had given an erroneous breakdown of Palestinian fatalities (combatants versus civilians).
Entitled "Israelis, Palestinians pledge to curb violence at Jordan meeting," the Feb. 27 English report had originally read:
In the latest violence, a Palestinian gunman killed two Jewish settlers in their car in the West Bank on Sunday, Israeli officials said. There was no immediate claim of responsibility.

Hamas said it was "a natural response to crimes conducted by the occupation, the last of which was the massacre in Nablus"' where 11 Palestinians were killed – six gunmen and five civilians – in an Israeli raid on Feb. 23. (Emphasis added.)
Reuters' practice of breaking down the casualties of any violent clash into the separate numbers of militants ("gunmen") and civilians involved is, of course, commendable. However, in this particular case the correct breakdown of the death toll caused by the IDF's Feb. 22 (not 23) operation in Nablus was seven militants and four civilians.
This more accurate number was evident from official press releases by Nablusian militia "Lions' Den". Thus, its Telegram channel issued two subsequent posts (dated Wednesday, Feb. 22 and Thursday, Feb. 23) listing the militants killed in the city that day: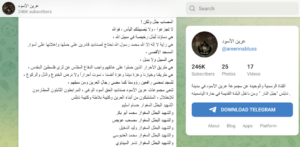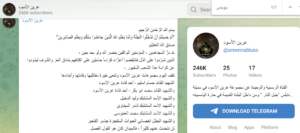 The first message lists six militants, reportedly belonging to various groups: the Lions' Den itself, as well as the "Nablus Battalion" and the "Balata Battalion": Hussam Eslim, Muhammad Abu Bakr, Mus'ab 'Aweis, Waleed Dakheel, Muhammad 'Anbousi and Tamer Minawi. The six are all documented as militants in other social media platforms as well.
A seventh casualty, Jaser Qan'ir, is documented holding a gun next to now-killed 'Anbousi.
The second message again lists six militants; but unlike the previous post, includes Jaser Qan'ir in the list as an "explosives specialist," while Mus'ab 'Aweis does not appear. This time, Lions' Den mourned "its" militants, without mentioning other groups.
It seems that 'Aweis belonged to the "Balata Battalion" (here he is documented in video, complete with his gun and headband).
Furthermore, a prominent note to readers appears at the top of the article in both languages: "This Feb. 26 story has been corrected to rectify the number of militants and civilians killed, and change date to Feb. 22 from Feb. 23 in paragraph 22."