"[T]here should be more," one reader posts on France24's official Arabic Facebook page, referring to the deadly 2019 shooting attack at a California synagogue. Another commentator celebrates the murder by calling for mass genocide: "Death to all the Jews of the world."
The dust has barely settled since a CAMERA Arabic exposé into the antisemitic and anti-Israel social media activity of France24 Arabic journalists stirred up a media firestorm and resulted in the network's severance of ties with one reporter and mild warnings for others. Nevertheless, CAMERA Arabic's newest investigation unearths unchecked anti-Jewish bigotry thriving in the comments sections of the media outlet's Arabic social media. Clearly, last month's antisemitism scandal did not move the publicly-funded French network to undertake necessary house-cleaning.
A groundbreaking report by @CAMERAArabic exposed the vile antisemitism displayed by employees of the French taxpayer-supported @FRANCE24. Watch: pic.twitter.com/pZQkQXBnHH

— CAMERAorg (@CAMERAorg) March 28, 2023
CAMERA Arabic's latest research reveals that France24's Arabic social media team has repeatedly failed to monitor and filter out readers' hateful talkbacks responding to posts on France24's Arabic social media. A thorough examination of France24 Arabic's YouTube and Facebook posts about fatal attacks on Israeli civilians since the May 2021 Operation Guardian of the Walls revealed several hundred Arabic comments celebrating the murders. As of the publication of this article, all of them are still viewable.
In 19 out of 31 such France24 posts, more than half of the comments either cheered for the attacks and the attackers or merely expressed joy over the death of innocent civilians. In all but one post (which had no comments), the ratio of hateful comments of this sort reached 20 percent or more.
In the image at left, commentators on France24 Arabic's official YouTube page celebrate the deadly November 2022 stabbing and car-ramming attack in which a Palestinian terrorist killed three and wounded three more near Ariel. One commentator exhalts: "My Lord will [make] the martyrs of Palestine prevail over the sons of pigs and apes [i.e., Jews]"
Elsewhere on France24 Arabic's YouTube page, commentators fete the March 2022 Bnei Brak terrorist attack in which five were murdered. One commentator write: "We wish the number [of the dead victims] reach five million"
Commentators on France24's official Arabic Facebook page found cause for celebration in the March 2022 terror attack in Beersheba, in which an Israeli Arab with ties to the Islamic State murdered four and wounded two. One commentator wrote: "A heroic act, four pigs [killed] at once, bravo and [there would be] more, Allah's willing"
News posts on Jewish affairs completely unrelated Israel are not spared the hate. Indeed, vile antisemitism, and Holocaust denial in particular, permeates France24's social media. France24 permits antisemites to freely spew their hate when commenting, for example, on statements by Sergey Lavrov on Hitler's alleged Jewish origins, on survivor testimony in commemoration of International Holocaust Remembrance Day; or on the introduction of Holocaust studies into school curricula in the UAE.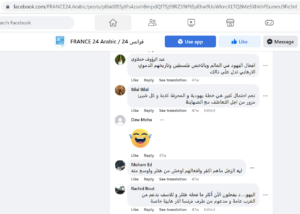 At left, France24 Facebook commentators can't hold back — and France24 doesn't hold them back — in response to Sergey Lavrov's May 2022 statements about Hitler's alleged Jewish origins. One commentator maintains that "the Holocaust is a lie, everything is fabricated to empathize with the Zionists," another opines that "they [the Jews] are the more heretic ones, and their acts are more barbaric and filthy than Hitler's." A third shares that "the Jews' deeds in the world, especially in Palestine, and their bloody history of terrorism indicate this [i.e., that Hitler was Jewish]"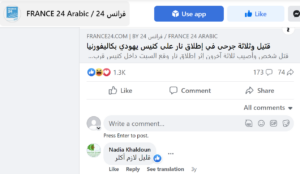 Similarly, more than a third of the respondents weighing in on France24's Facebook report about the April 2019 synagogue shooting attack in Poway, Calif., in which one worshipper was killed and three more wounded, shared their glee along with hopes for more of the same. Commenting on the headline which announced one fatality, the first commentator sets the tone: "[too] little, there should be more." (See screenshot at left, with the first comment at the bottom of the image.) Another adds, "Death to all the Jews of the world."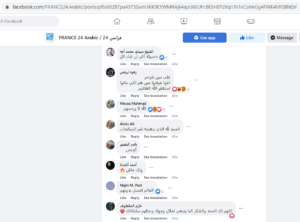 Jews are not the only victims of France24 Arabic's abiding tolerance for hate speech against minorities. The network also gives free rein to homophobes leveraging the network's social media comments sections to incite violence against the gay community. For example, in the wake of the June 2022 deadly shooting attack in a gay club in Oslo, Norway (two killed, 22 wounded), a majority of those responding to France24 Arabic's Facebook report heap praise on the massacre. "A greater [death] toll, Allah's willing," another said "the world is better without them."
Twitter, unlike Facebook and YouTube, does not enable authors to regulate and delete others' comments to their posts. While France24 cannot monitor and delete tweets responding to its own tweets, it can lock its tweets in advance, thereby preventing any talkbacks. Given the hate that France24 tweets about terrorism against Israeli civilians, the Holocaust and LGBTs attract, it would be prudent for the news outlet to take this precaution before tweeting about these evidently volatile topics. (Notably, in response to a CAMERA Arabic exposé in collaboration with The Jewish Chronicle, BBC Arabic has already started to do so.)
"Liberté – Égalité – Actualité" — freedom, equality, news — is France24's lofty motto (playing off the French national motto of "liberty, equality, fraternity") plastered across the network's Arabic social media platforms which normalize hatred, incitement to violence and lies. If the network won't — or can't — clean rid itself of the enduring refuges for antisemitism in its midst, the French tax-payers footing the bill have every right to demand: "Assez!" Enough!
With editing by Tamar Sternthal.
For the French version of this post, please see InfoEquitable.
April 17 Update: France24 Cleans Up Many of the Comments
In the wake of the publication of this post, France24 heavily edited the talkbacks on all of the Facebook and YouTube items, deleting all or most of the hateful comments in each of them.