How do you go from 4,000 outposts to 4,000 homes in under a minute? Only Down Under.
On Monday, the Australian Broadcasting Corporation (the other ABC) posted a
news story
about Israel's "Normalization Law," a bill to legalize settler houses illegally built on private Palestinian land, with this incorrect headline:
CAMERA's Israel office informed the network that the bill would affect a (speculated) 4,000 homes and not 4,000 outposts. Mistaking individual residential units for entire settlements has been a staple media error, one that CAMERA
has
corrected
time
and
again
.
Nevertheless, we were pleasantly surprised when the network (@abcnews) responded to a
tweet in record time – less than a minute – promising to correct the headline: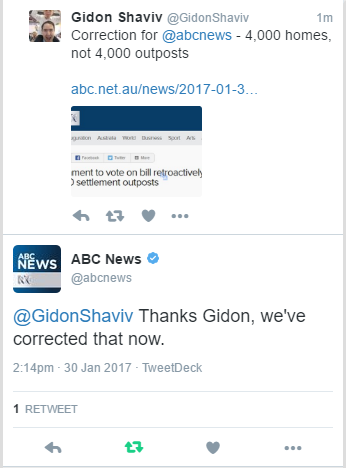 And indeed within seconds editors corrected the headline:
CAMERA commends ABC for this new record in efficiency.