Following communication from CAMERA's Israel office, the Agence France Presse today corrected a photo caption which omitted the essential fact that the pictured Gaza site, bombed during an Israeli airstrike, was a Hamas training camp.
Yesterday, CAMERA's
Snapshots blog
flagged the Sept. 19 image by AFP, an influential wire and photo service whose items are reproduced in media outlets around the world.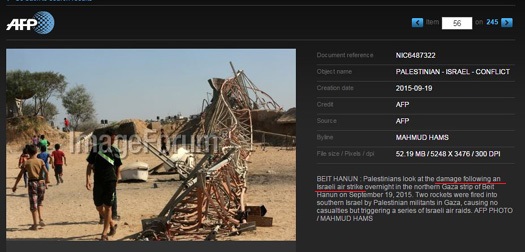 The caption reads:
BEIT HANUN: Palestinians look at the damage following an Israeli air strike overnight in the northern Gaza strip of Beit Hanun on September 19, 2015. Two rockets were fired into southern Israel by Palestinian militants in Gaza, causing no casualties but triggering a series of Israeli air strikes. AFP PHOTO/MAHMUD HAMS
As Snapshots reported yesterday, captions by both Associated Press and Reuters identified the very same site as a Hamas facility. AP referred to "a Hamas training camp in Jabaliya," and Reuters referred to "a training camp belonging to the Islamist group Hamas."
Editors at AFP commendably heeded CAMERA's call for a correction, and today sent out the following correction over the wire: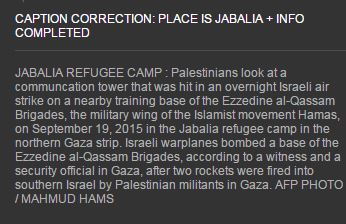 In addition to adding the key information that the site in question belonged to Hamas, the correction also notes that the Hamas base is located in Jabalia. (The original caption misidentified the location as Beit Hanun.)
The original erroneous captions have been removed from the archive and the AFP has replaced them with the corrected captions.
For additional AFP corrections prompted by CAMERA, please see here.